Ready to make a DIY Head Wrap? I have 3 kids and we tend to lead a fairly busy life. With running everyone to activities, cleaning, making meals, etc. my days fill up quickly. I'm going to be completely honest with you, I don't shower every day, gasp! I know, but dry shampoo and a ponytail holder are SO much easier! But to spice it up a bit and maybe take away from my unwashed hair I have fallen in love with these easy-to-make flower head wraps.
DIY Head Wrap | How to Make a Head Wrap
My daughter and I share a large assortment of colors and patterns to mix and match with just about any outfit we own. She loves a wrap too. And was overjoyed that I was making more fresh new wraps for this blog post. She has already started planning outfits to go with each wrap. Did I mention she was 4? Yeah we're in trouble as she gets older!
Anyway, on to the tutorial! Did I mention the hair wrap is super easy to make! And a great scrap buster!!!
Sewing a Flower Head Wrap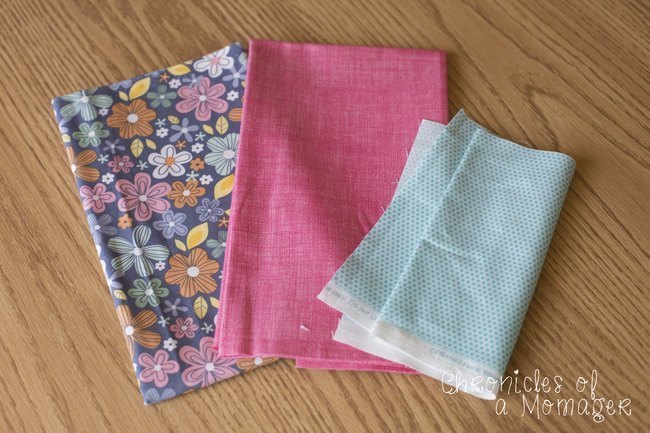 Pattern Pieces
Before we get started, you need to make sure and download the headwrap pdf sewing pattern pieces I made up for you:
Cutting the Headwrap
First, decide on your head wrap fabric. Then, get your pattern and let's start cutting:
Cut 1 headband on the fold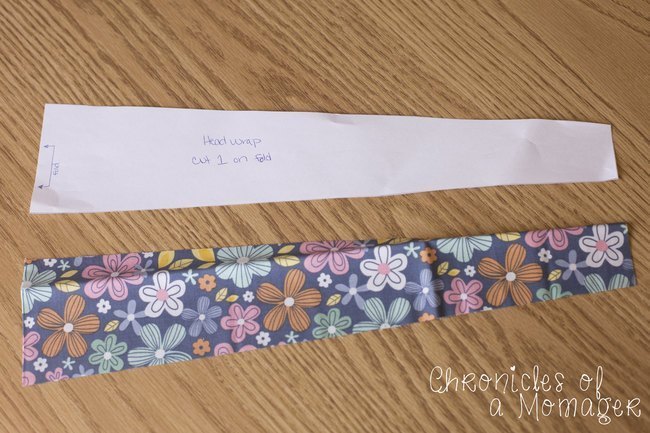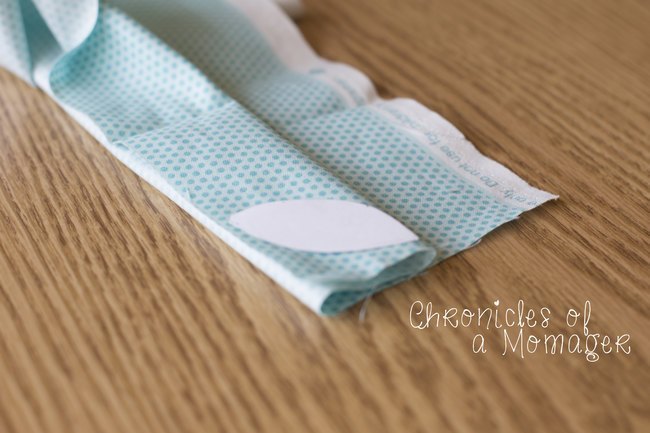 Cut 1 strip for the flower. To do this I start by making a small cut in the fabric and then I rip it all the way up to get a raw edge.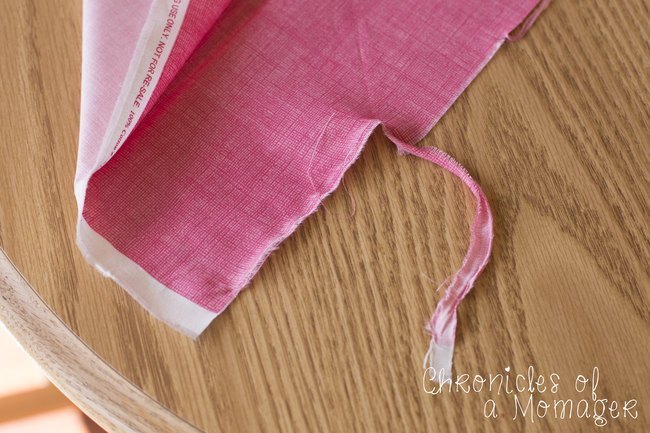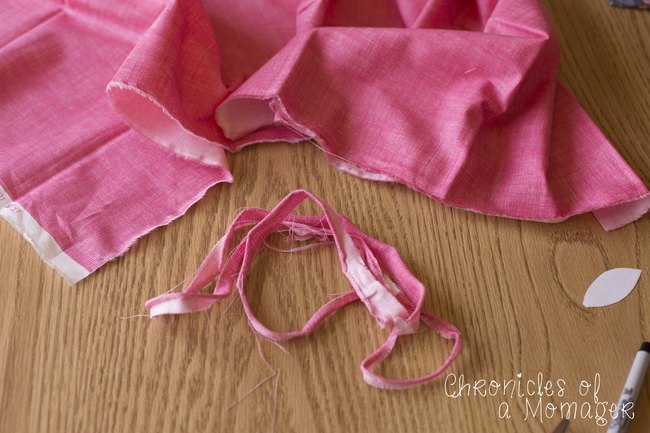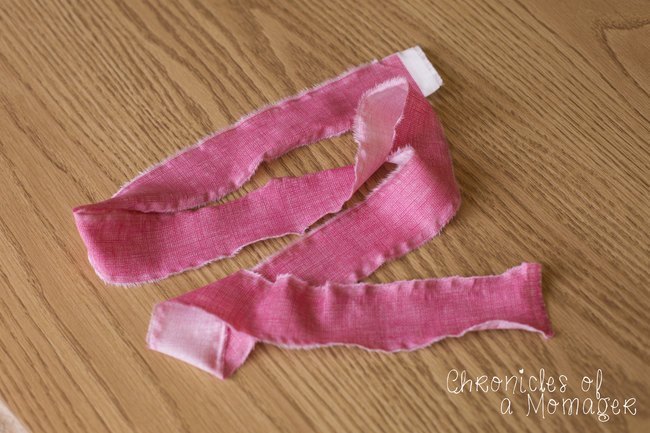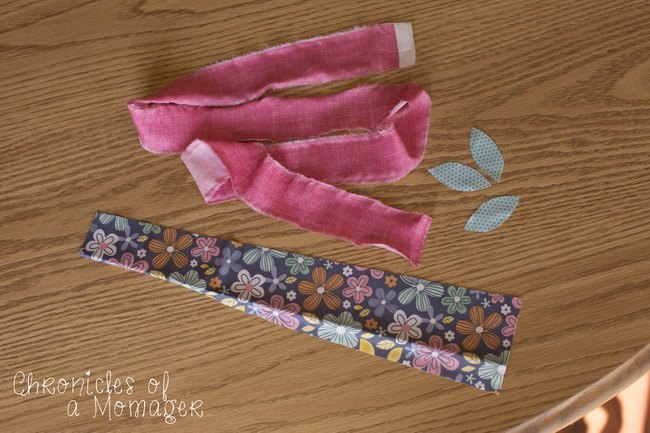 Head Wrap Instructions:
Head Wrap Step 1: Press long sides of the head wrap piece in 1/4″. Press in another 1/4″. Topstitch both long sides.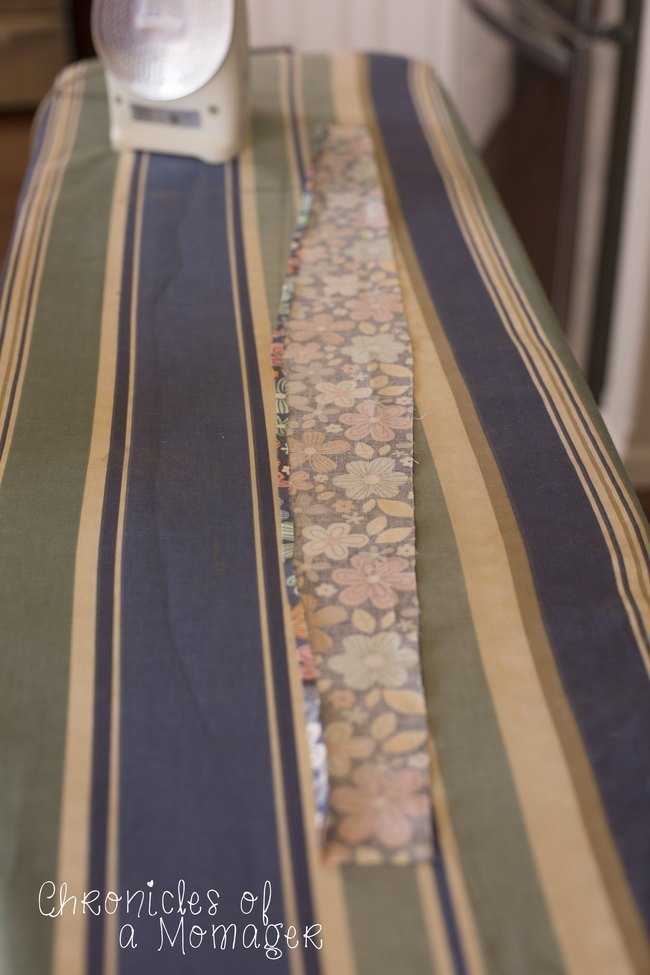 Head Wrap Step 2: Press short ends in 1/4″. Press in another 1/4″. Topstitch both long sides.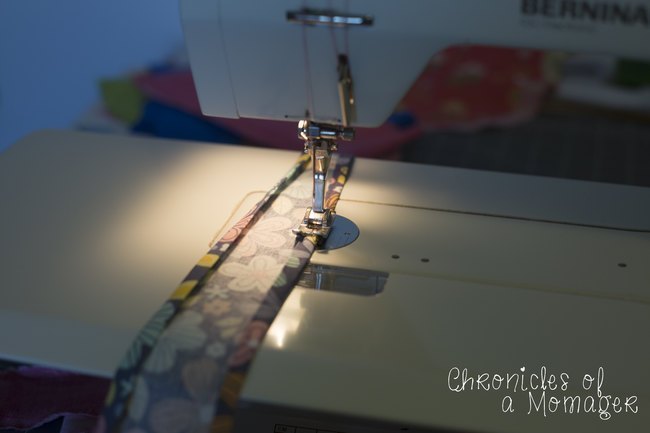 Head Wrap Step 3: Fold the wrap in half to find the center. Starting pinning the strip for the flower just to the right of the center. It doesn't mater which side it goes on. Fold the strip over as you go so that you only see the right side of the fabric. Continue to fold it around until your flower looks like you want it. I only ended up using about half of the strip of fabric I ripped. On some of the head wraps I made I used smaller pieces because that's what I had in my scrap pile. Use as much as you like to give you the desired effect you want for your wrap.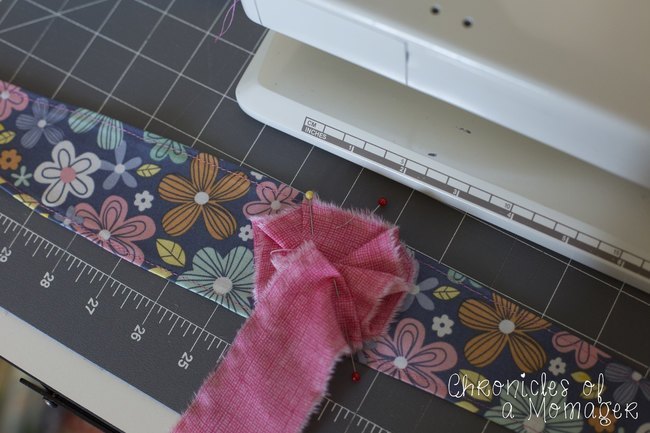 Head Wrap Step 4: Once your flower looks like you want it, sew a straight line in the center to hold it in place. Then you will sew a square around that line, followed by an octagon around the outside edge. This doesn't have to be perfect and if it's a little wonky it will help give your head wrap some character!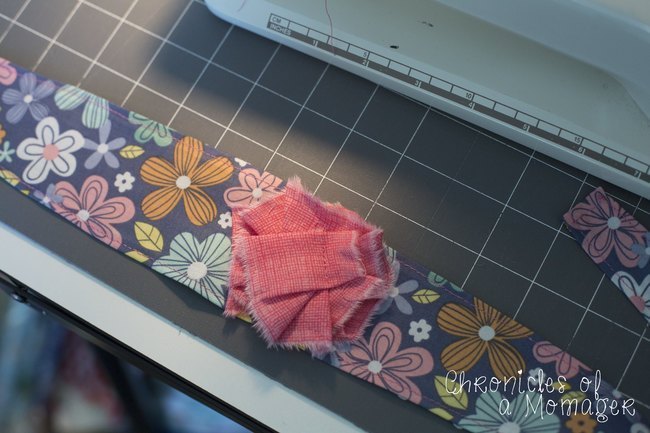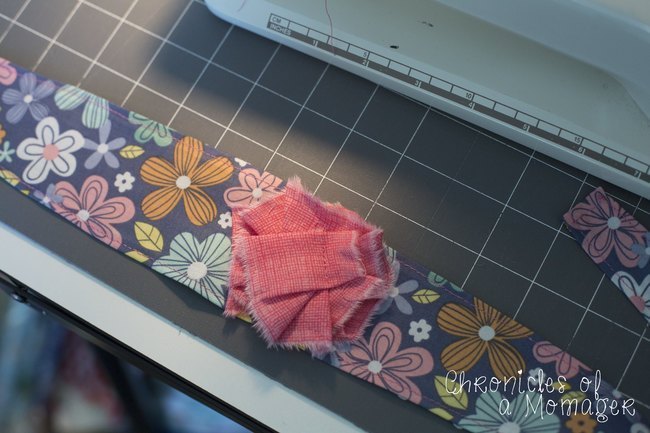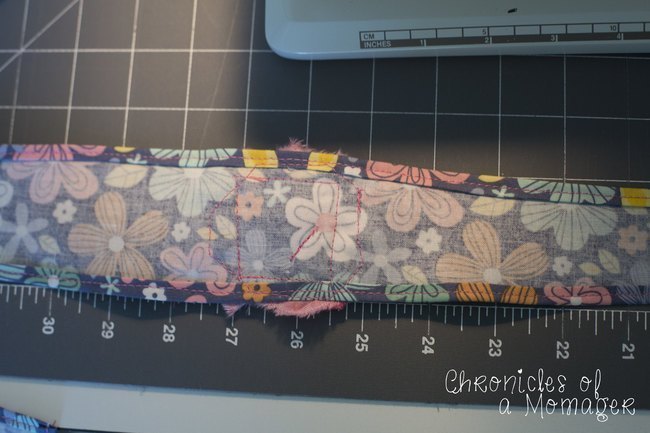 Head Wrap Step 5: Find the half way point again, on the other side of the flower sew on two of the leaves. To do this, start with 1 leaf. Sew straight down the middle, and then around the edges. Again this doesn't need to be perfect and looks good when it's not. Next sew the second leaf on the same way. On the other side of the flower you will add the third leaf. Once those are sewn on, your head wrap is complete!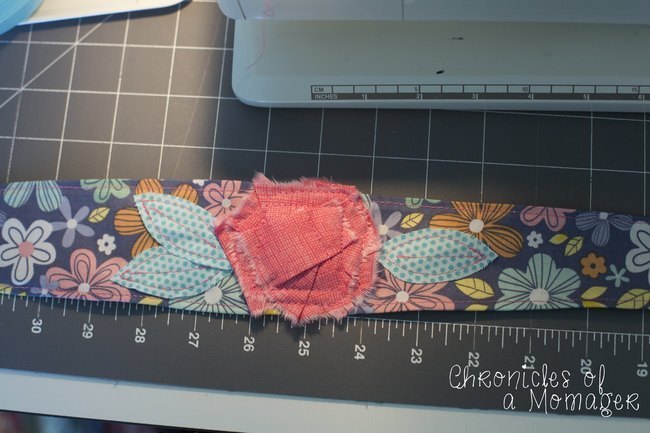 Now go wear each wrap in your unwashed mom hair with pride! or wash you hair and wear them to be an overacheiver. Whatever works!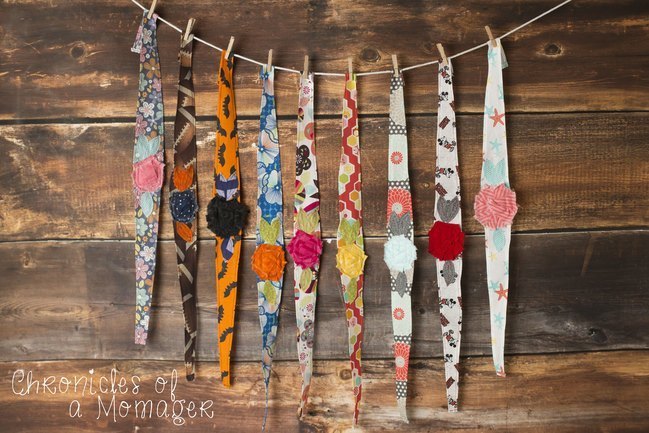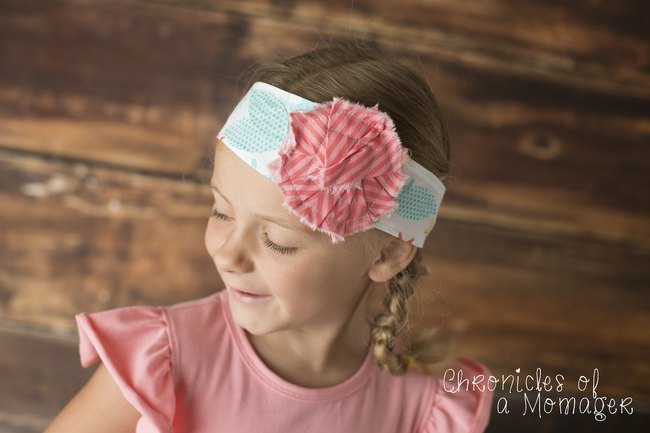 Other Head Wrap and Head Band Tutorials
We'd like to thank Tina for her excellent tutorial on how to make a wrap to go around your head. We have several other DIY tutorials for different headbands and other head accessories. Take a look at a few of them here: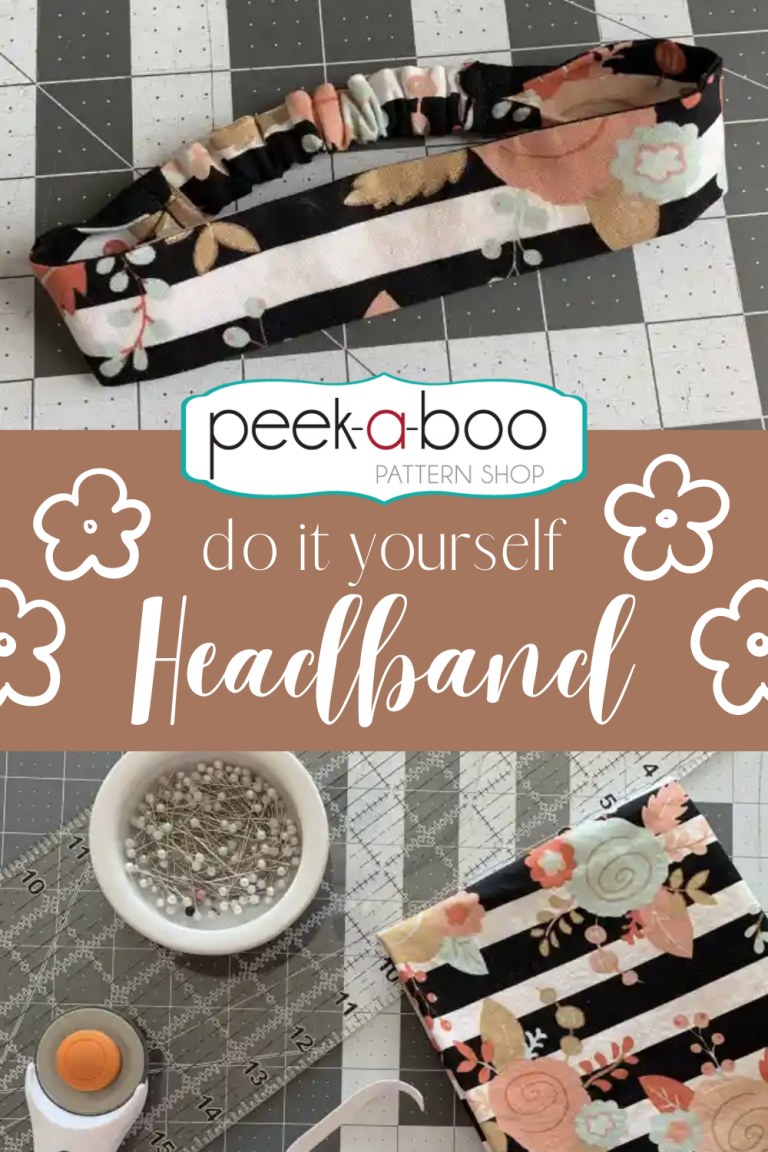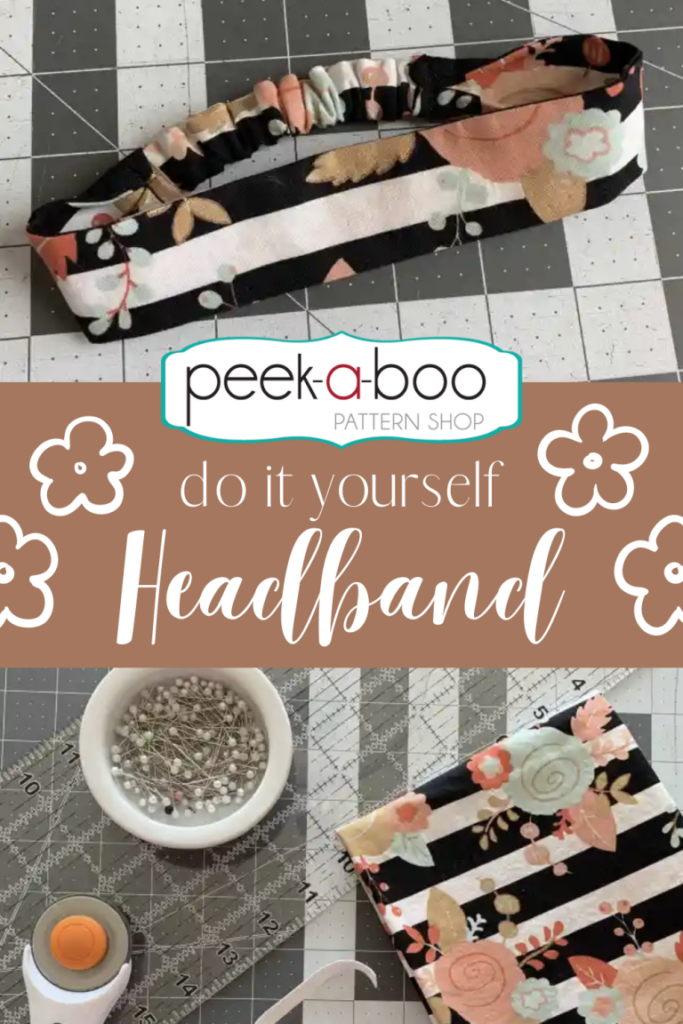 Stephanie provides multiple tutorials for us on how to sew a DIY headband. She'll go over both an elastic headband and twist headband variation.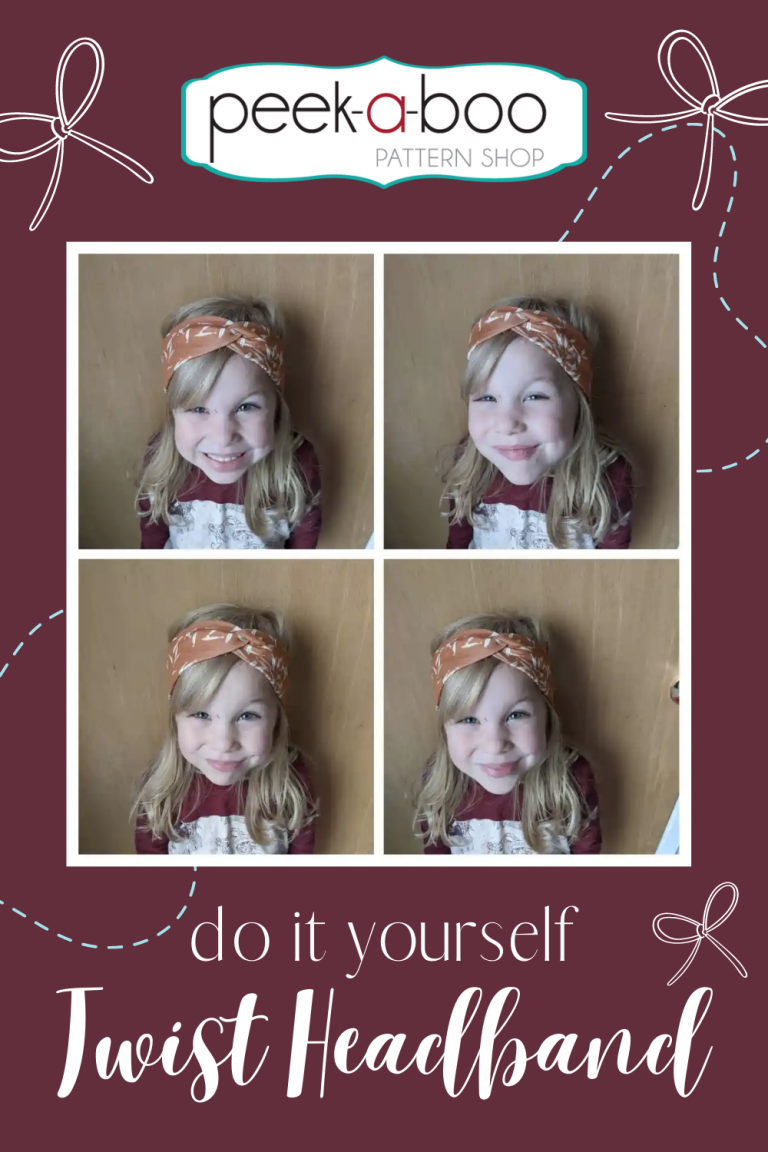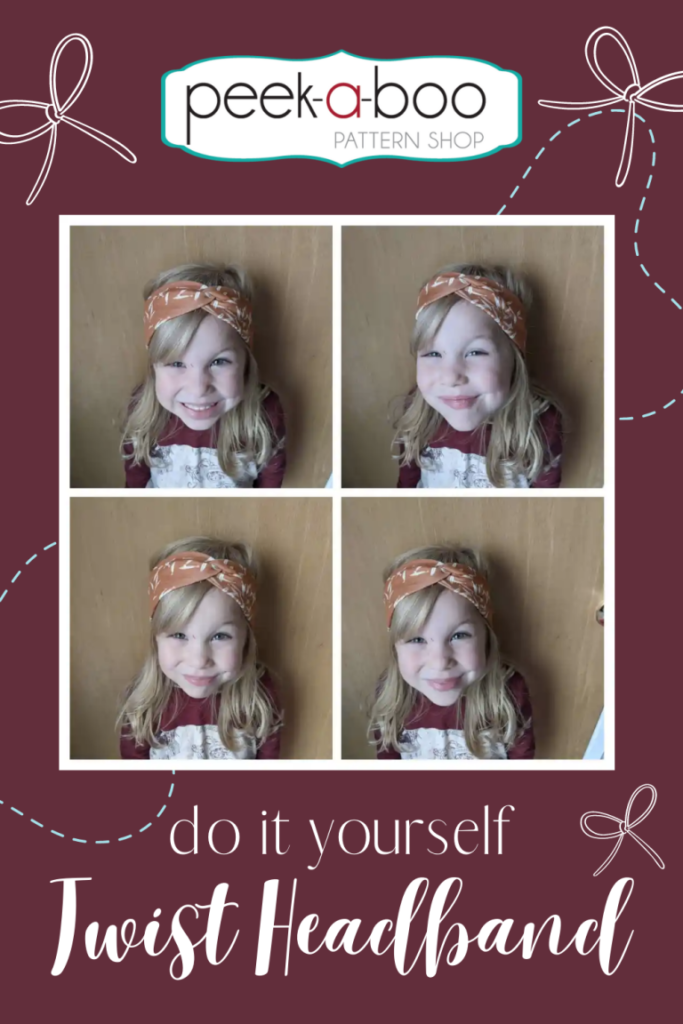 Heather put together this Twist Headband for us that is perfect for scrap busters. This stylish look is a great way to use left over fabric.
Also – as always be sure to come join us in our Peek-a-Boo Pattern Shop Facebook Group to share what you make and ask your questions.