Hello everyone. Today we have a fun DIY Easter Basket tutorial from Sara – she'll show you how to make a fun easter basket out of fabric. We'll also share our Top 10 DIY Easter Baskets from around the web so you can choose which basket would be right for you.
DIY Easter Basket | Make Your Own Easter Basket
Tutorial #1 | DIY Fabric Easter Basket from Sara
Hi everyone! Sara here from Made by Sara with my contributor's post. This last week my kids asked me to make them baskets for Easter egg hunting. We are still a couple of weeks away but you can already tell how excited they are!
I made them these easy fabric baskets and I thought I would share a tutorial with you. There are several ways of making fabric baskets, but I have opted for this one that I have been using for years that does not require any hand sewing. A winner right?
Instead of making a single or double handle I decided to sew two ribbons and make tie them to a bow. Doesn't it look precious?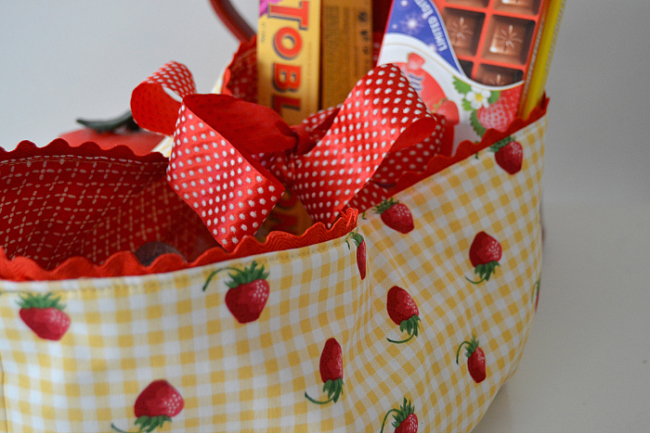 The final measure of this basket is 6" (width) 11" (length) x 6" (height).
Fabric Easter Basket Materials
2x exterior fabric: 10" (length) x 18" (width)
2x interior fabric: 10" (length) x 18" (width)
2x fusible interfacing: 9" x 17"
2x ribbon: 20". Note: I have used a ribbon with about 1.5" width but you can use any ribbon 1-2" wide.
1x rick rack (or other embellishment, like pom pom trim): 35"
Optional: bating or any sturdier interfacing, if you want your basket to be really sturdy.
How to make an Easter fabric basket
Fabric Easter Basket Step 1: Cut all pieces according to the measurements above.
Fabric Easter Basket Step 2: Fuse the interfacing pieces to the wrong side of the exterior fabric pieces.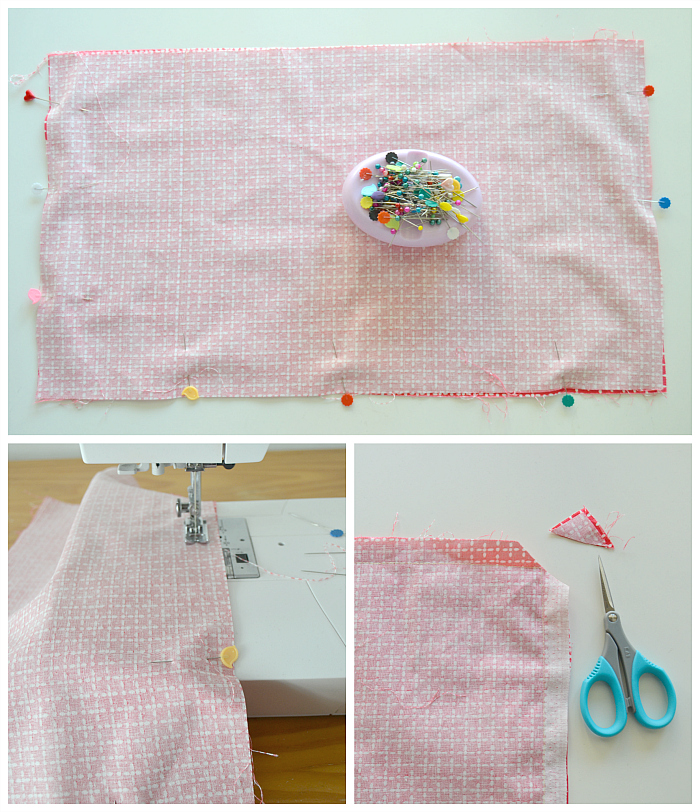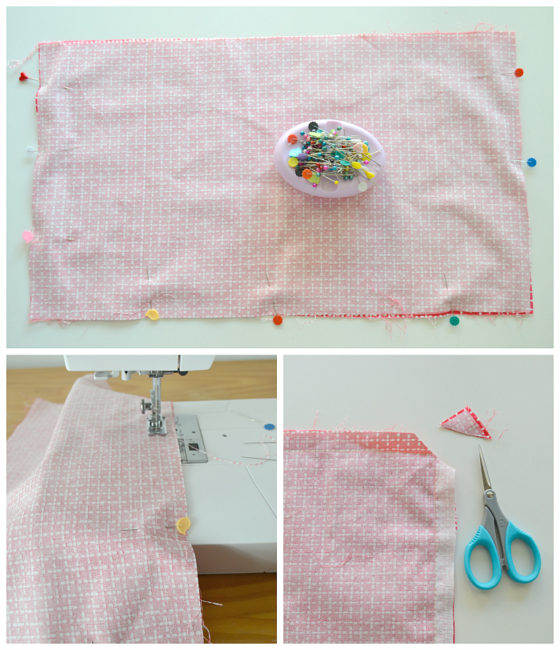 Fabric Easter Basket Step 3: Place both exterior pieces together, right sides together. Pin both sides and bottom side. Stitch at 1/2". Make sure to leave the upper side open.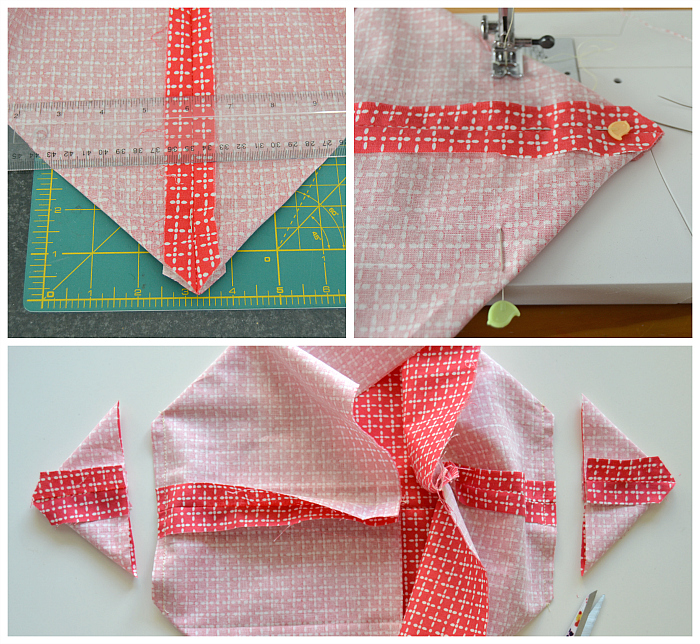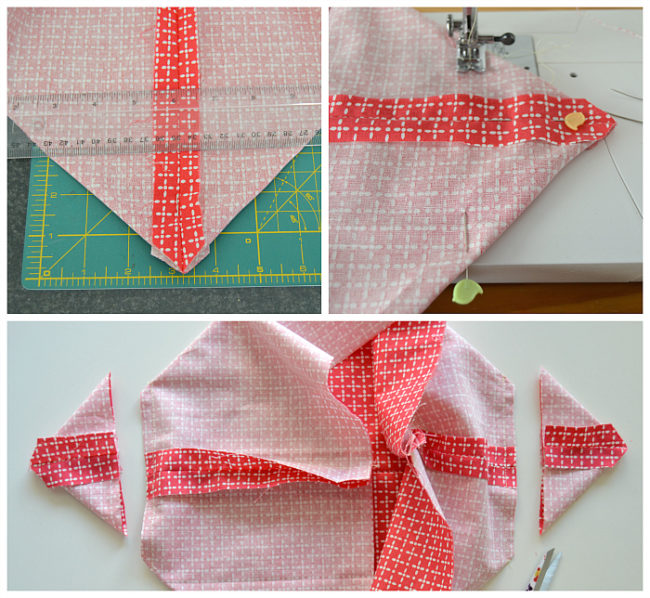 Fabric Easter Basket Step 4: Cut both corners close to the pivoting stitches. Pull one corner out, matching the seams at the center. Mark a line (either with a tailor's chalk or with pins) 6" long. Stitch along the line. Trim at 1/4". Repeat on other corner. Turn right side out. Push out to form boxed corners.
Fabric Easter Basket Step 5: Repeat with the interior pieces but in the end keep it with the wrong side out.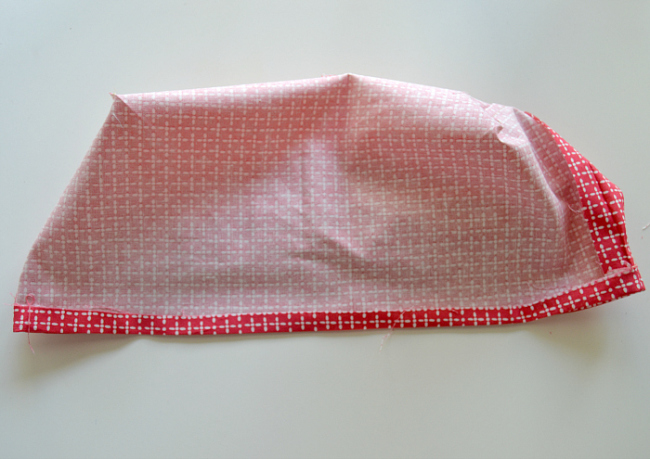 Fabric Easter Basket Step 6: Press the edges of both the interior basket and exterior basket 1/2" to the wrong side.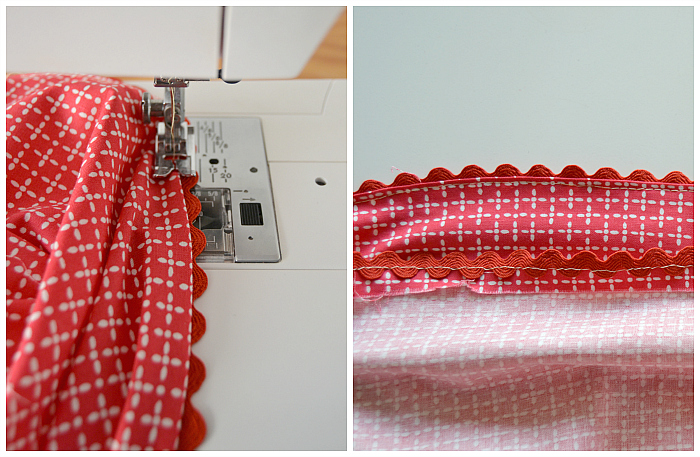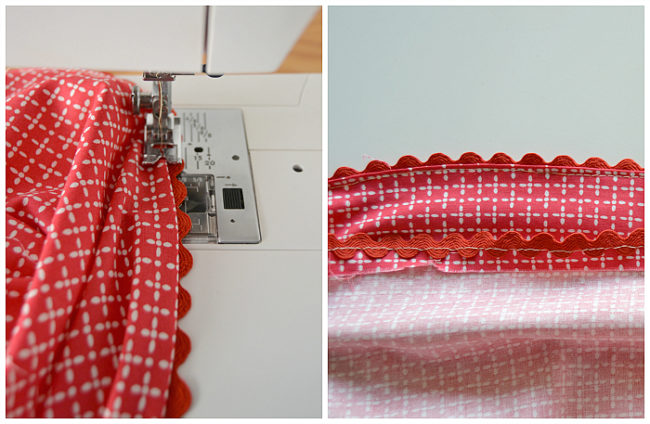 Fabric Easter Basket Step 7: Get the rick rack. Baste it along the folded edge of the interior basket.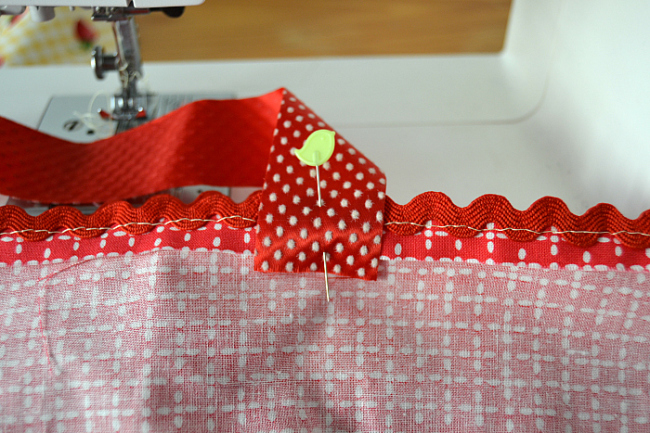 Fabric Easter Basket Step 8: Place the ribbon strips at the center of each side of the basket. Pin in place.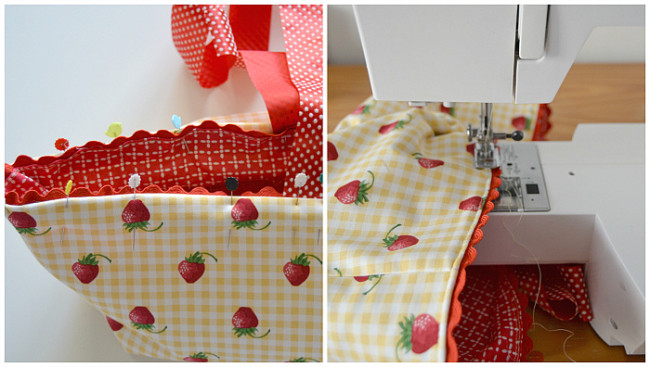 Fabric Easter Basket Step 9: Place the interior piece inside the exterior so the wrong sides are together. Carefully match the folded edges of both pieces all around. Pin. Edgestitch.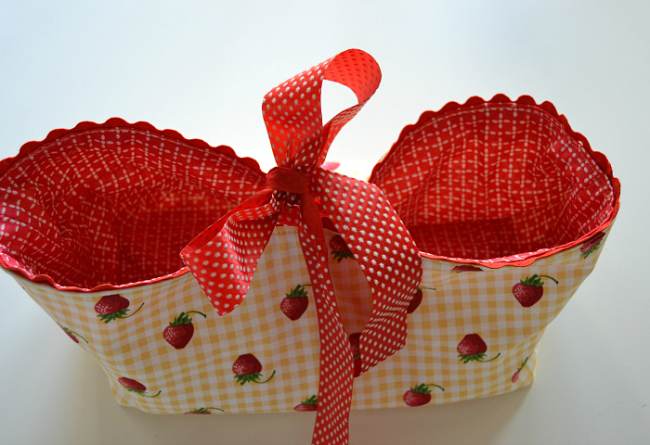 Fabric Easter Basket Step 10: Remove the basting stitch (from the rick rack). Tie the bow. You're done!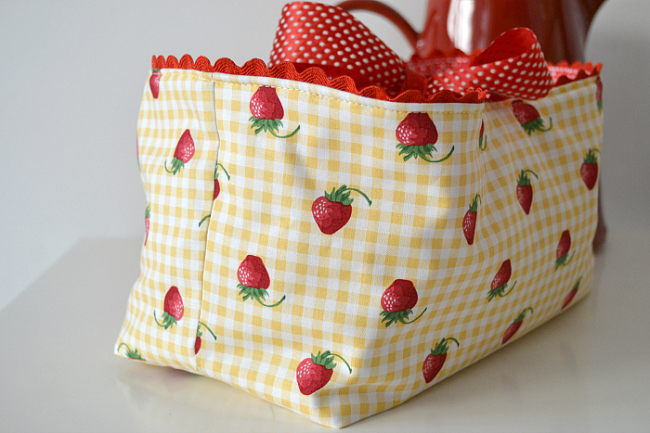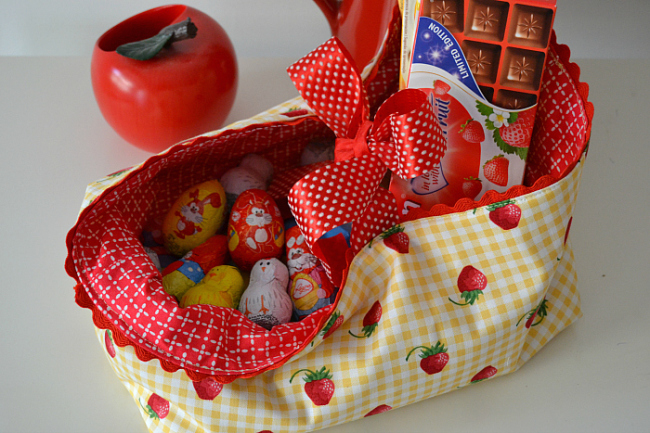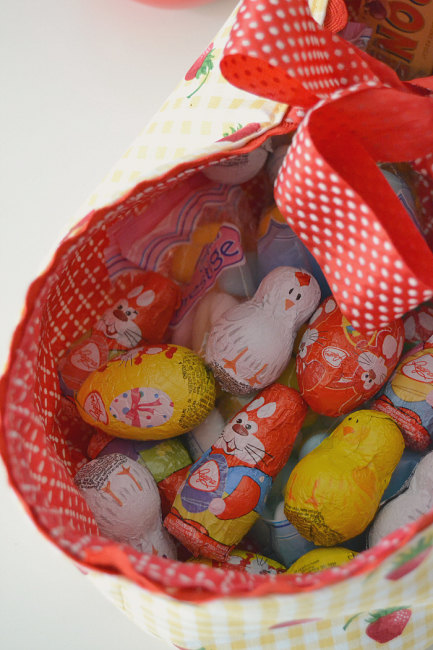 You can make this basket as an Easter egg hunt basket or as a gift basket! I am having a baby shower later this month and I am already pulling some sweet blue fabrics to make one to offer along with a gift inside. Happy Easter!
Top 10 Easter Basket Ideas & Tutorials
Easter is right around the corner, which means it is time for Easter egg hunts! We have rounded up 10 free Easter basket tutorials to make the day even more magical and exciting for your little ones. Click the link above each picture to find the tutorial.
Here's a fun beginner sewing project to make fabric easter baskets. You'll need some fabric, batting, interfacing, and sewing supplies. She also has a YouTube tutorial to go along with the easter basket.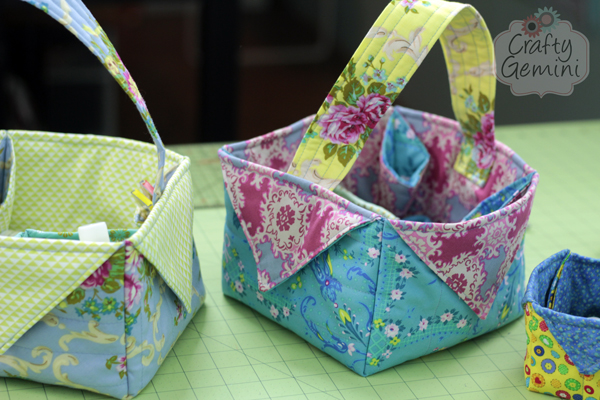 This is more of an "Easter Bag" tutorial. Aki will show you how to take a blank canvas bag and use her bunny template, some fabric, freezer paper, and a few other things to make a bunny themed tote bag for Easter time.

This is a clever design of how to make no-sew fabric easter baskets. You basically use a good amount or rope or cording and wrap it in woven fabric around the plastic bucket to make these fun DIY baskets.

If you want to really take your Easter basket designs up a notch you can make one that looks like an actual Bunny. The ears will take a little extra time but not too much for this fun basket.
Hawthorne Threads has some fun Easter themed fabrics as well as a fun and easy fabric easter basket to go along with it.
These Mini Bunny Easter Baskets are easy to make with some felt and vinyl. The tutorial includes a free PDF file to create the basket shapes. You will have to do a little sewing around the edges.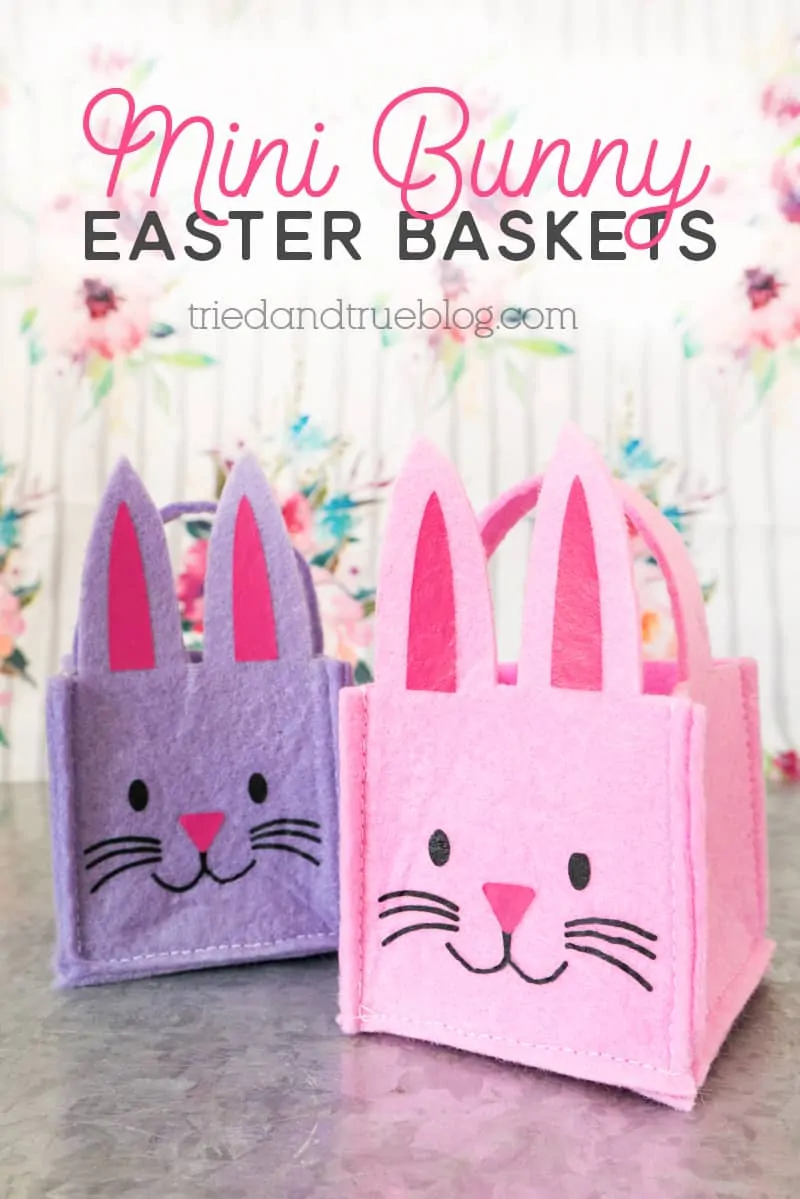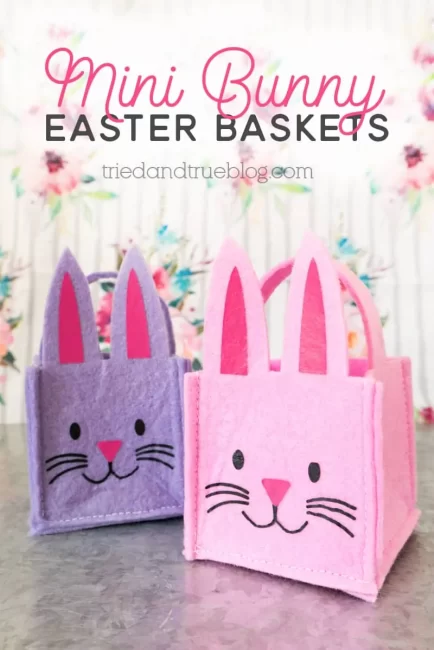 You can make these adult themed easter baskets with some placemats, a gift bag, and a sewing machine.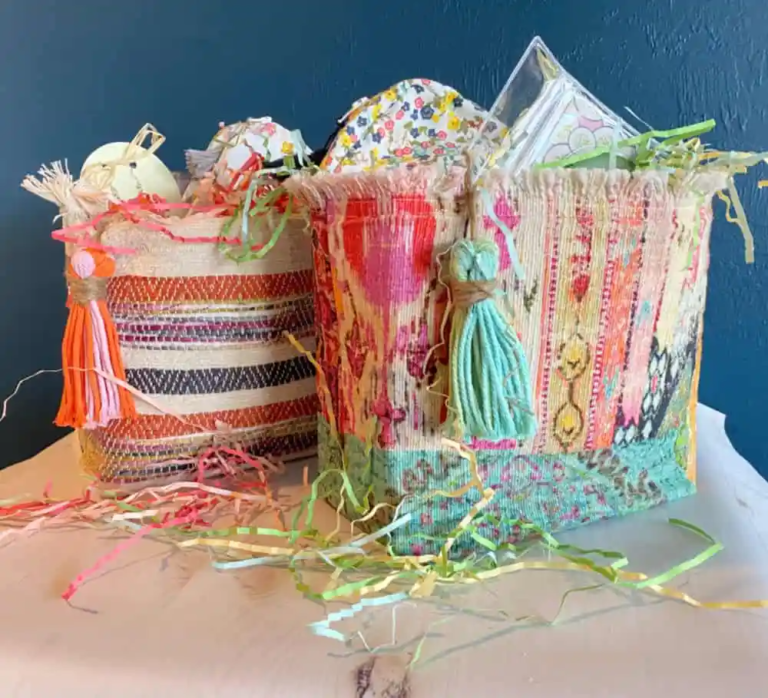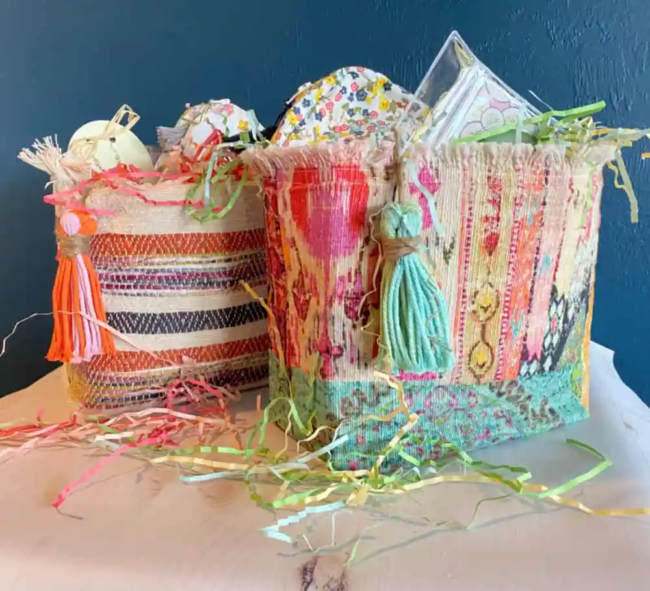 These fabric easter baskets have a ton of color and make an excellent decorative easter basket. You'll need 3 coordinating fabrics, fusible fleece, interfacing, and a few things for decorations.
This unique linen fabric basket comes with a great step-by-step tutorial to help you put it together quickly.
Here's our last entry from Somewhat Simple. This is a great fabric basket tutorial that can be used for many different applications – of course, one of those is as an Easter Basket. Pick your fabric from KnitFabric.com and make the perfect one.
I hope this inspires you to go out and create some Easter cuteness!
Other Fun Tutorials
I hope you enjoyed all of these different Easter basket tutorials. If so, you might enjoy some of these other Easter-themed and other blog posts: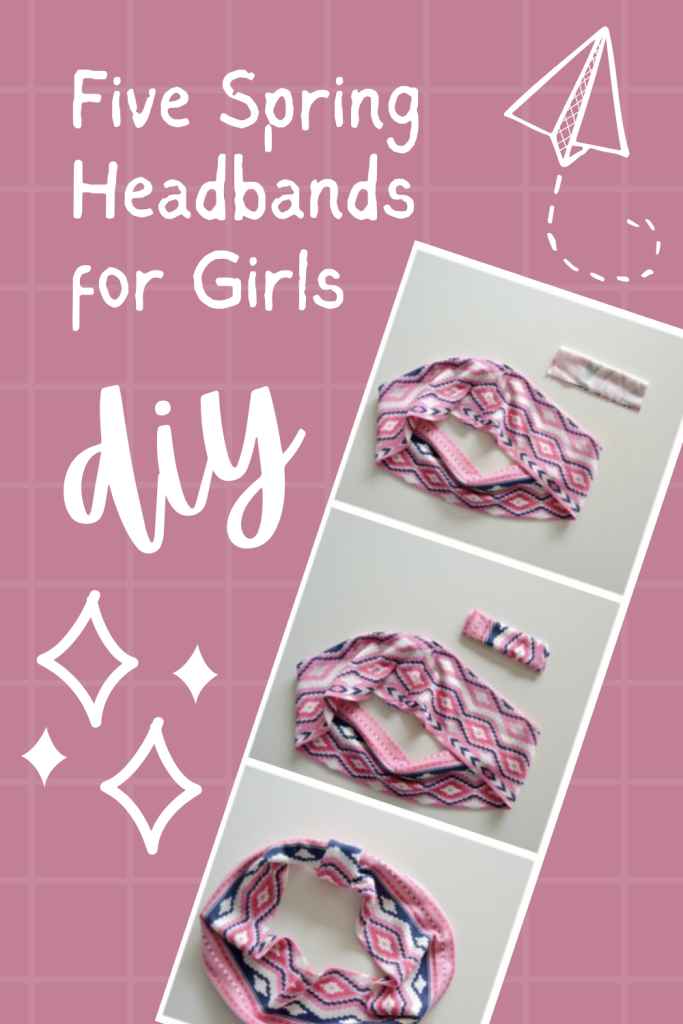 As always, be sure to come join us in the Peek-a-Boo Pattern Shop Facebook Group to share what you make and ask sewing-related questions.