I hope you're excited for our DIY Dragon Costume today. We love Halloween at Peek-a-Boo Pages. If you haven't had a chance to peruse all of our Halloween costumes make sure you head over to our diy costume section. I've made lots of different costumes for my kids over the years – from princesses to pandas, from Star Wars to Dorothy from the Wizard of Oz, I have tutorials over there for a bunch of fun costumes.
On top of all of my tutorials, I also have had some amazing blog contributors over the years that have made all sorts of costumes. You have to sew some of the costumes or maybe use felt or glue to make others. Some costumes are simple and some of the costumes require a little more experience. Go and see for yourself.
Today, I'm going to show you how I made my son a Dragon for Halloween a few years ago.
How to Make a Dragon Costume
I'm in the habit of letting my kids choose their costumes for Halloween. For one reason or the other my son wanted to be a dragon one year. The costume is one of our favorites and has spent a long time in the dress-up bin for other kids. Sometimes the dragon tail makes an appearance with other costumes.
I was able to make this easy diy costume out of some of our other patterns from Peek-a-Boo Pattern Shop. Sorry, you do purchase a couple patterns if your going to make this dragon just the way I made the costume.
So here it is – my son had his little heart absolutely set on being a red and orange dragon for Halloween. I did my best to make it happen! You can too with this DIY Dragon Costume.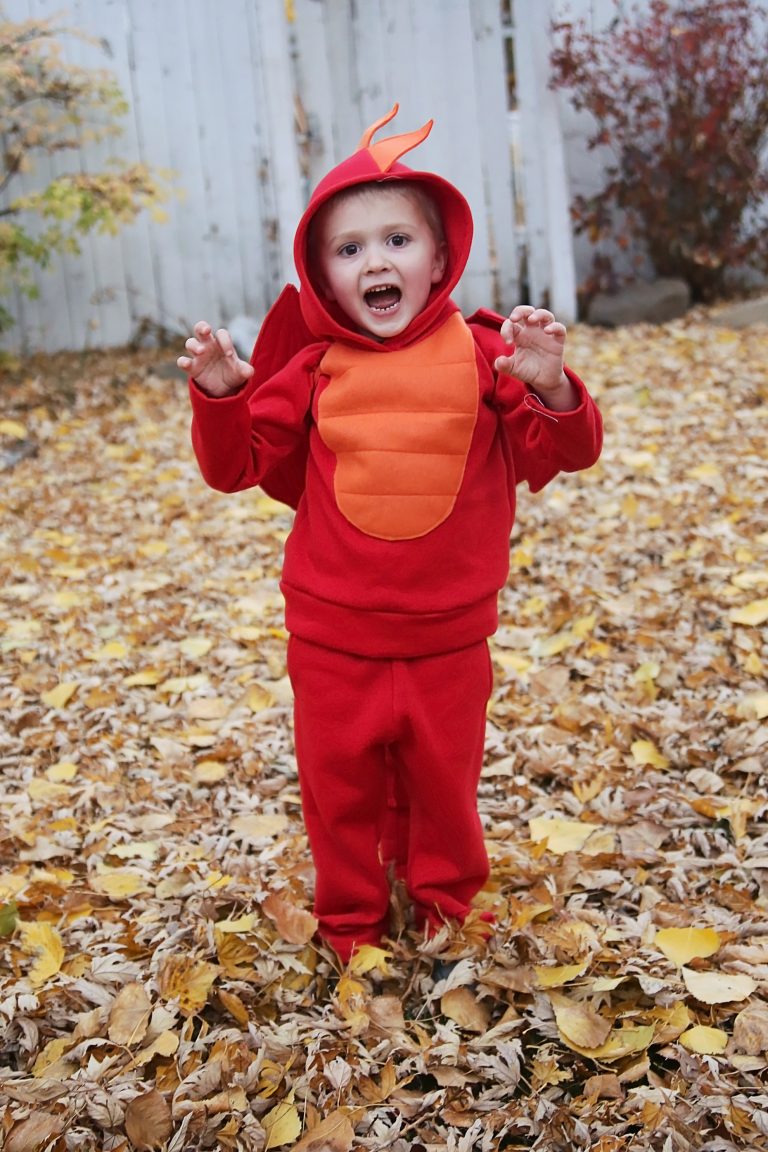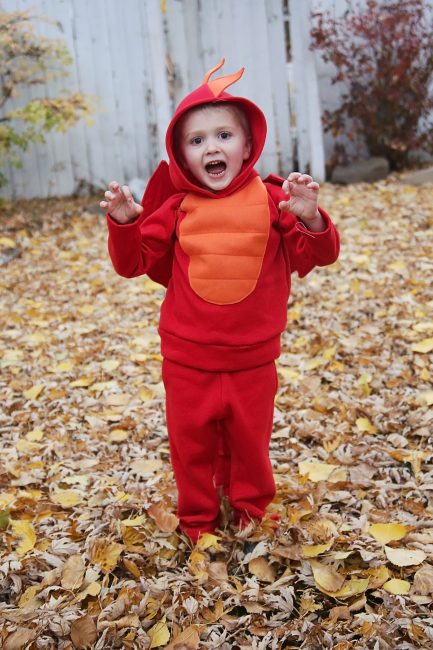 I didn't take any pictures along the way but it's actually a pretty simple costume.
DIY Dragon Costume Patterns
Dragon Tail: For his tail I used the free pattern from Running with Scissors. She markets this as a dino tail but it worked great for a dragon. Her tutorial shows you how to take a couple collors of fabric, velcro, and batting, and sew it into a tail. I found the instructions easy to follow and helpful in making this dragon kids costume.
Dragon Pants: For his pants I used the Essential Sweats from our shop at Peek-a-Boo Pattern Shop. These pants are a quick and easy sew and comfortable. You'll be able to use these pants not just for your dragon halloween costume – they'll get plenty of wear throughout the year. In the alternative, if you don't want to make pants for the costume you could just purchase some solid pants
Dragon Sweatshirt: The sweatshirt is the Classic Sweatshirt from Peek-a-Boo Pattern Shop. Before I sewed the 2 hood pieces together I added some orange felt triangles in-between the seams to make the spikes. I also added a patch of orange felt to the front sweatshirt piece for the dragon's tummy. Again, you could purchase a plain sweatshirt, cut the hood seam open, add the spikes and then sew it shut again. Either way, you'll have to do a little bit of sewing to get the look above for the dragon costume.
Dragon Wings. His wings were made using the Wonderland Wings pattern from the shop. I used the same sweatshirt fleece as the rest of his outfit for the wings which was a bit bulky. Next time I will definitely follow the pattern directions (that I made) and use cotton for the wings 🙂
If you'd like to make this costume just the way I did then you might need a least a couple of those patterns mentioned. Remember, when you buy multiple patterns from Peek-a-Boo Pattern Shop there are good Bundle Discounts.
There's you have it – your kids dragon costume!
Other Ways to Make Dragon Costumes | Ultimate Costume Creator
Before we leave, I do have more suggestion or way that you could make a diy dragon costume. A couple years after this I came out with the Ultimate Costume Creator from Peek-a-Boo Pattern Shop. The Ultimate Costume Creator has become one of our best selling patterns over a short period of time. Here's what some of our customers ( 2 Who Actually Made Dragons) are saying:
"Great pattern. This pattern was so easy to sew. The dinosaur became two dragons in our world. So much fun." – Margaret
"Great pattern for my little dragon! Clear directions and everything came together quickly and easily. I added some wings to turn the dinosaur into a dragon. I'll definitely be using this again."
"As a novice / inexperienced sewer, I purchased this to do a costume for my daughter's Nativity. I was able to put it together quite easily and also make a few tweaks / additions to make it a sheep costume! I would have no hesitation in purchasing another pattern from Peek-a-Boo again as I know the instructions will be clear and I'll end up with a fabulous item."
The Ultimate Costume Creator has loads of options and makes a perfect staring point for literally dozens or hundreds of costumes, including a dragon. The pattern includes options or designs for the following:
Collar
Neckband
Hood
Ears: Cat/Fox, Dog, Lion/Bear, Horse/Unicorn
Dinosaur Spikes
Unicorn Horn
Tails: Contoured, Standard, Dinosaur
Manes:Horse/Unicorn & Lion
Optional Cinched Waist
Short or Long Sleeves
Hemmed or Cuffed Sleeves & Pants
I made my younger son this diy dino costume below with the Ultimate Costume Creator. As noted above, in the first 2 reviews, the dino options can easily be modified a bit to make an awesome dragon costume. One option is to use the Wonderland Wings above. The Ultimate Costume Creator is another one of those costumes that is easy to take on and off and will get a lot of use throughout the entire year – not just Halloween.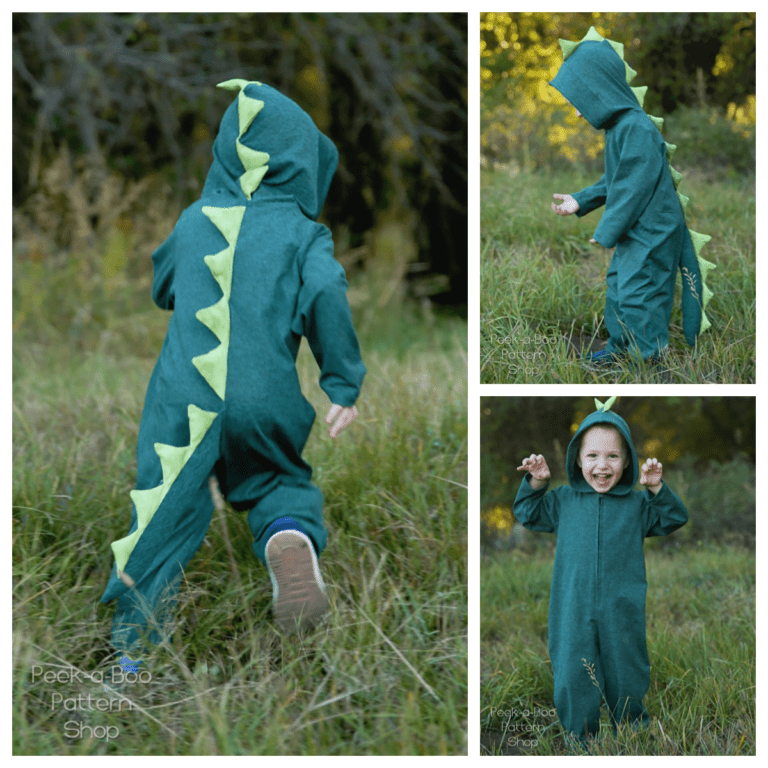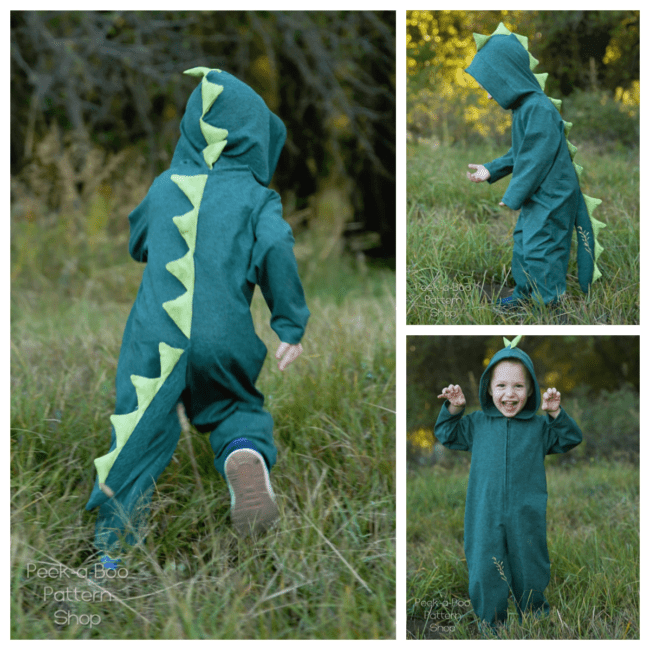 There you have it. Two different ways to make your kids into a dragon. I hope you learned something today and got some inspiration on how to make Halloween fun at your house this year with a diy costume. Be sure to check out our other Free Costume Tutorials at Peek-a-Boo Pages. Thank you for joining us to make this costume for Halloween. Happy sewing!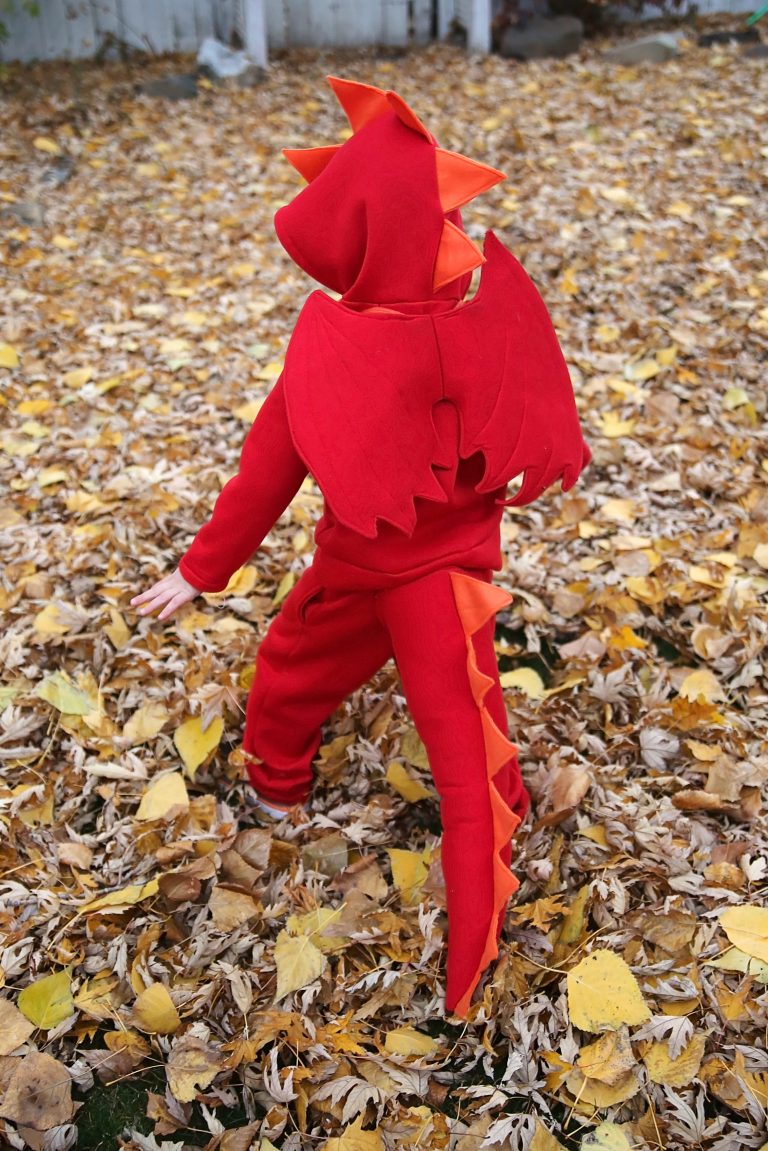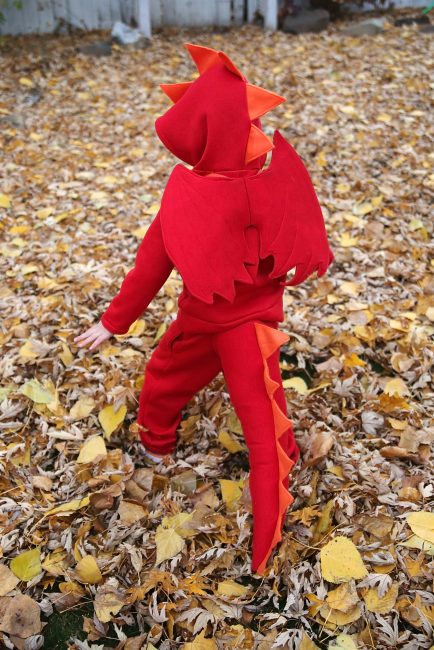 Other Costume Tutorials