DIY Beast Pattern | Beauty and the Beast Halloween Costume
Several years ago, I decided to make my kids into Beauty and the Beast and came up with this fun DIY Beast costume! We love Halloween around here, and you'll find that we have many different patterns and tutorials HERE.
We also have some excellent costume sewing patterns for Halloween Sewing. Our favorite is the Ultimate Costume Creator. It is a base that you can use for hundreds of costumes. But today….we're sewing the Beast from Disney's Beauty and the Beast. Check out this DIY Beast Costume Tutorial and PDF Sewing Pattern to Make Your Little Man Into a Little Beast!
I've provided a free tutorial for the Beast coat or jacket costume. I'll also show you how I made the hat and mittens using some Peek-a-Boo Patterns.
Also, just as a reminder, we also have the free tutorial for Belle HERE. The Belle Costume – also inspired by Beauty and the Beast – shows you how to make Belle's yellow dress from the Ball. To make the costume, I used satin and sway fabric. The tutorial will give you step-by-step instructions on how to make the costume, and you can make sure to have a Beauty to go with your Beast.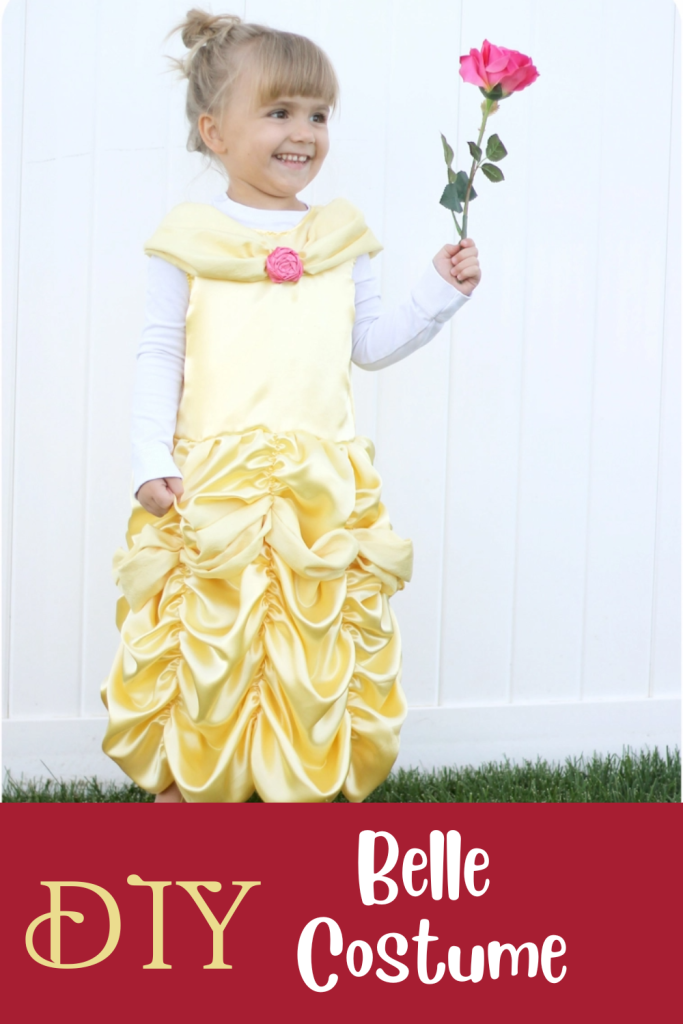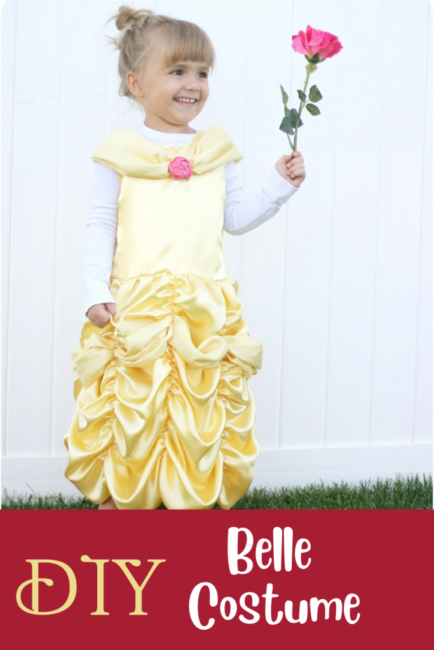 Homemade Beast Pattern and Instructions
Alright, now that Belle's out of the way, let's focus on the Beast costume from Beauty and the Beast. Watch out; the Beast has a bit of a temper…at least at our house 🙂
As much as I love that little face from the front, the back view is equally hilarious 🙂 Anne was this costume project's creative director and ensured I didn't forget his ponytail and blue bow.
Beast Coat or Jacket Materials and Pattern
My jacket is an 18 mos size. I used around 1/2 yard of blue costume silk and scraps from Belle's dress for the collar.
The pattern is an 18 mos but if you need a different size, here's what I did to make it:
DIY Beast Costumes Instructions
Sewing the Cravate (Neck Ruffle) for the Beast
The other defining feature of his costume is the cravate. The lovely "neck ruffle," as I call it 🙂 I spent about 2 minutes on this, so it's a straightforward costume addition. I cut a long rectangle from white knit and a super skinny one for the tie.
Lay the tie on top of the bigger rectangle.
Then wrap the rectangle around the tie and bunch it up around the middle. I made a few pleats and secured them with a needle and thread and then added a blue button. Super easy! He wears a collared shirt with his costume, so I tie it on, but you could do velcro instead if that works better for you.
Instructions for Sewing the Beast Furry Head
Beast's Mittens & Tail
To finish up the furry portion of the costume, I made some little mittens. I didn't even bother with thumbs since they're so thick. They are also lined in fleece to keep them from being itchy, and I slipped in some little fingernails made from felt before sewing the front and back of the fur layers together. Once I had a fleece mitten and fur mitten, I just slid the two together with the wrong sides together; I added a little casing at the wrist for the elastic and topstitched the bottom edges closed.
The costume tail is just a simple tube with a bit of fluff. I topstitched the end shut and sewed it into an elastic loop to slip over his waist.
What Pants I Used for the Beast
I snuck in a little fleece lining for extra warmth. And I couldn't resist including the little welt pockets on the bum 🙂
There you have the DIY Beast Costume…. make sure you make a Beauty to go along with your Beast. Making a homemade costume is a lot of fun. I hope you enjoy it! Happy Costume Sewing!!
Other Costume Tutorials