Coverstitch 101
What is coverstitching? Do I need a coverstich machine? What does one use a coverstitch machine for? Can't I just use my serger or sewing machine to achieve the same look?
If you'd had any of these questions you're in the right place. We're here to help get all the info you need to know whether purchasing a coverstitch machine is right for you. We'll teach about the coverstitch machine, show you what coverstitching is, and let you know the difference between a coverstitch machine, a serger or overlock machine, and a sewing machine.
What is a Coverstitch?
The first question we should probably answer is what is a coverstitch. A coverstitch is a professional looking hem that has two parallel stitches on the outside of the garment. On the backside of the garment the coverstitch has a serger like stitch called a chainstitch that strongly holds the hem together. This coverstitch hem makes a strong seam on the edge of clothing. This stitch is created by the 1,2, or 3 needles on top of the coverstitch machine and the looper underneath which a create a chain stitch. These chain stitches are durable and tolerate stretching.
We have a picture of the stitch below to demonstrate the two parallel lines on a coverstitch but if you want to take a further look you can probably just go to your closet and look at the stitches on the sleeves of a store bought t-shirt to get an idea of what a coverstitch is.
You'll find a coverstitch primarily on the hem of the clothing – including sleeves, pants, necklines, etc.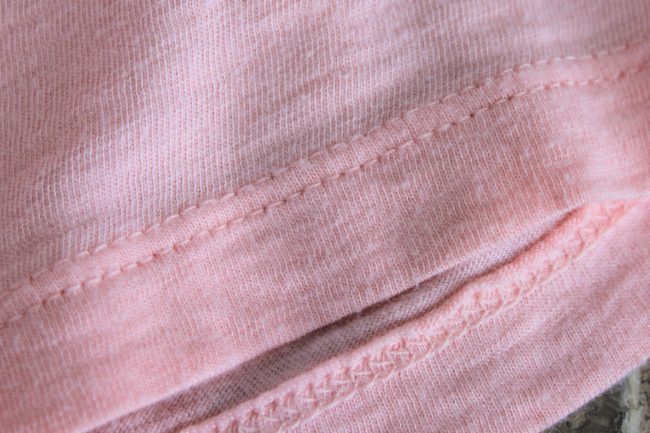 What Machine Sews This Stitch? Can a Serger or Sewing Machine do it too?
A coverstitch machine is a specialized sewing machine that creates this coverstitch for hems. A sewing machine or serger will not create the same stitch with the durable chain stitch in the back. Most coverstitch machines use one, two, or three needles plus a thread looper below the machine. The threads weave together to create stitches that allow for stretch – making it perfect for knit fabrics. Yes, the machine looks very similar to a serger, but it functions completely differently sewing.
While a serger is used in sewing construction and finishing seams, a coverstitch is used to achieve that professional looking hem with your stitches. Those coverstitch hems are what a coverstitch machine can allow you to do sewing!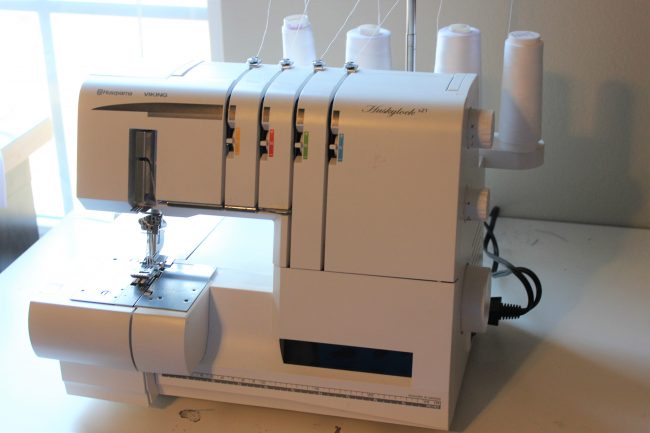 Do I Need A Coverstitch Machine to Sew With Knits?
A coverstitch machine is particularly helpful when sewing with knit fabric. Knit fabric is stretchy and seams and prone to popping if the stitches aren't properly reinforced. If you sew with a lot of knit fabric then it probably be worth the investment to get a coverstitch machine.
Is a coverstitch machine absolutely necessary when sewing with knit fabric? Absolutely not! While the coversttich does give a professional finish to your hems, it is not essential for sewing knit fabric. You can create a faux coverstitch hem with a twin needle on a regular sewing machine. It won't be the exact same , but it works great if you don't own a coverstitch machine.
What is the Most Common Cover Stitch?
Using two needles is probably the most common way to use your coverstitch. You have the option of creating a 2-needle narrow stitch or wide stitch depending on the placement of your coverstitch needles. The narrow stitch is most often used with lighter weight fabrics and can help prevent tunneling between the rows of stitches. The wide stitch is usually used with more sturdy knits. Ultimately, it comes down to what works best with the fabric you are using and the look you are going for when using your machine.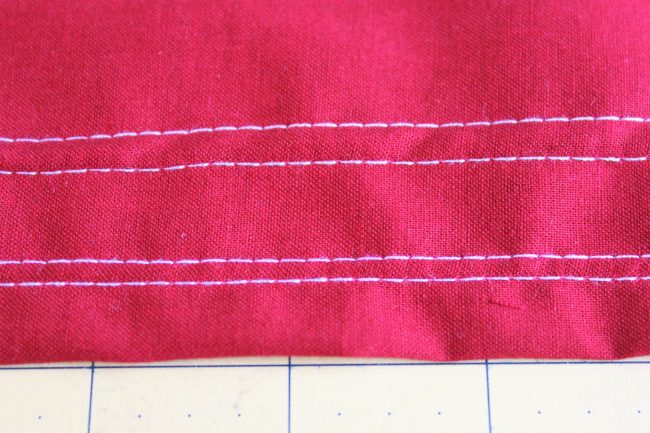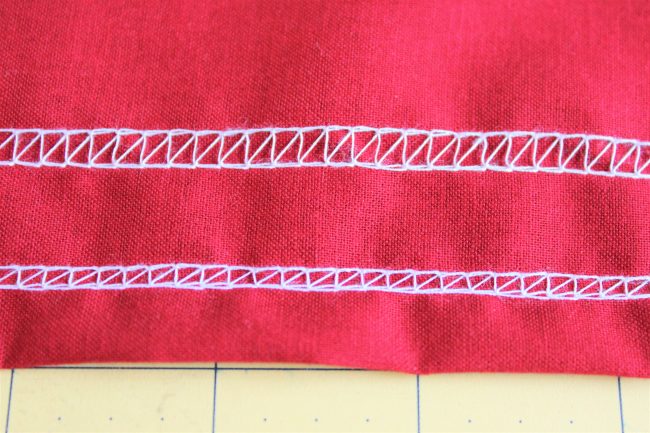 Most coverstitch machines also have the capability to use three needles when coverstitching. Creating a triple row of parallel coverstitch stitches can give your garment a unique and decorative look. You can even use different colors of threads in each needle for a fun twist. You can see the comparison of the 2-needle narrow, 2-needle wide, and 3-needle stitches below. I would suggest practicing on a scrap of your fabric before hemming to decide which works best.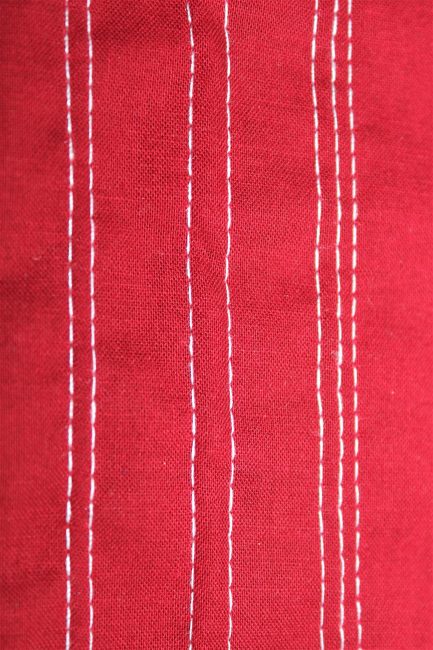 How to Hem With Coverstitch Machines
Once you've decided what coverstitch stitch to use, hemming is really quite simple with a coverstitch. First, fold your hem up towards the backside of your fabric. Press it in place with a hot iron, creating a nice crease.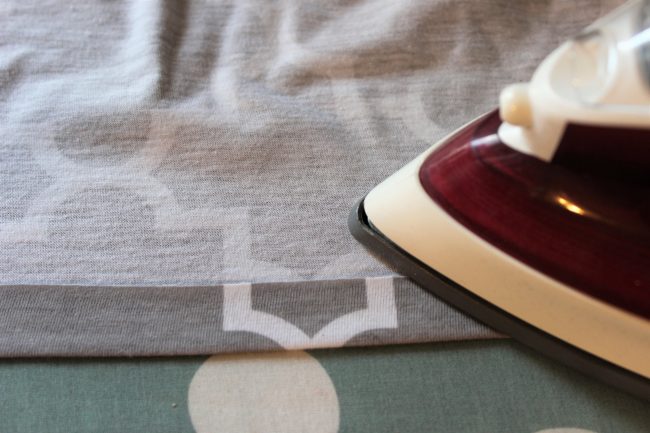 Next, raise your presser foot. Place your fabric underneath and line it up with the corresponding seam allowance guide. Lower your presser foot and begin sewing.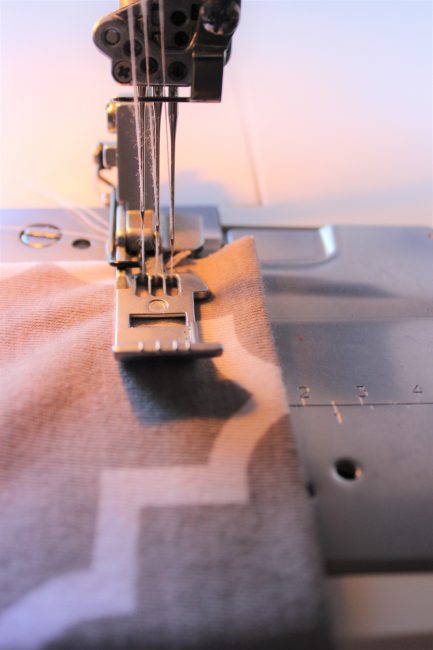 When you get to the end of your hem, you will have to release your threads from the machine. This is the only "tricky part" with the coverstitch but it's really easy once you know how to do it. First, lift your presser foot and raise your needles to the highest position. Next, use a long, skinny object to sweep under the presser foot back to front. This will bring the needle threads towards you.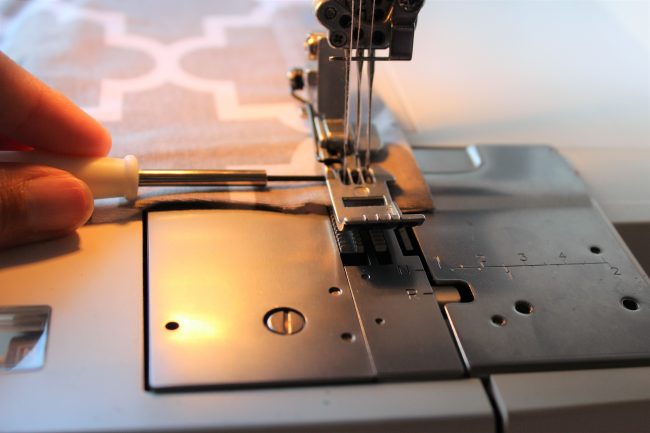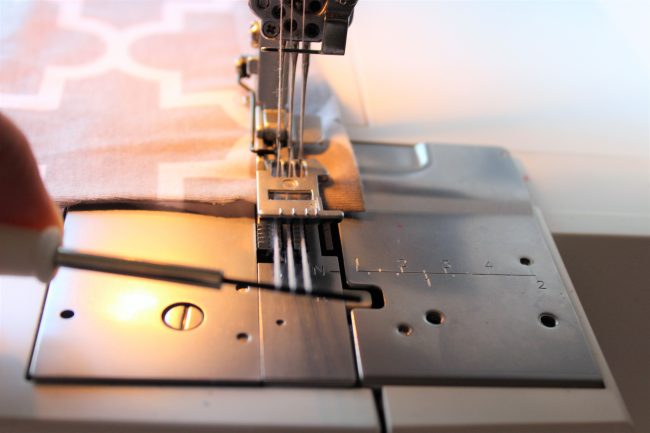 Snip the threads. Then pull the fabric towards the back of the machine. This will pull the needle threads to the bottom side of the fabric. Cut the looper thread and tie a knot in all the threads. That's it for the coverstitch!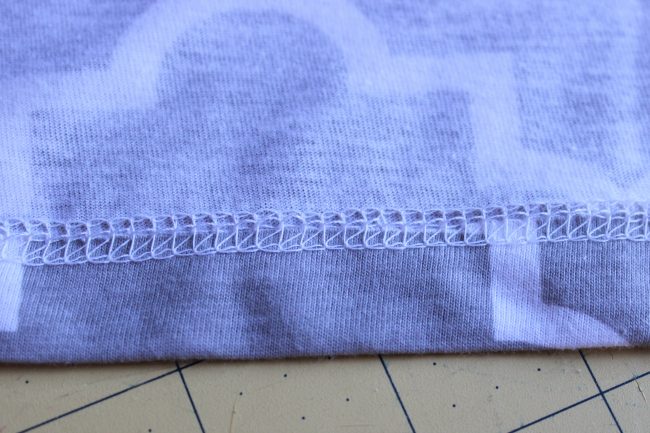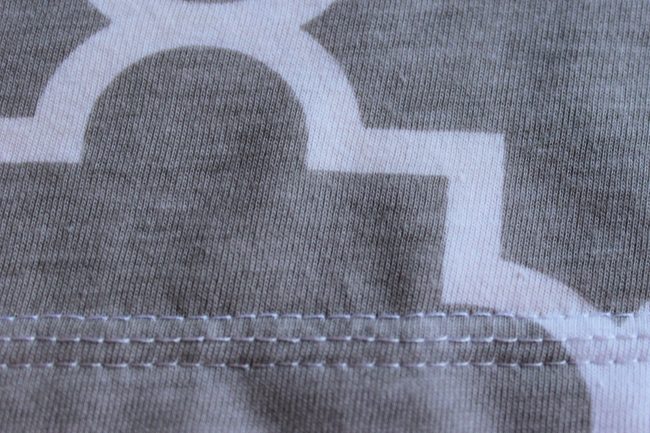 A coverstitch machine can create such beautiful, professional looking hems. They are easy to learn to use as well. The coverstitch machine is definitely a great tool to have when sewing with knits.
Which Coverstitch Machines to Buy
A big thanks to Laurel for showing us all the importance of a coverstitch machine and how to coverstitch – especially when sewing with knit fabric. To sum it up, a coverstitch gives you a beautiful stretchy hem like you find on all store bought tees. You get 2 (or 3) lines of stitching on top and a finished edge underneath. It is a bit pricey but if you sew a lot of knits in my opinion it is well worth it and a good item to save up for.
While we have you here learning about the machine I thought it would be important to point out a few different overstitch machines that I've used or are popular among our group members and that will help you on your coverstitch journey.
I use to include a list of all the different coverstitch machines right here but I've moved on now and decided to write a separate article on the Top 10 Coverstitch Machines to buy. This article dives deeper into coverstitch machines and gives you beginner coverstitch machines, advanced coverstitch machines, and more. Do you have a favorite coverstitch machine that you've enjoyed sewing with? If so, let us know in the comments.
Can I get a Coverstitch and Serger in 1 Machine
Yes! A few high end machines serve as both sergers and coverstitch machines. For instance, the Baby Lock Accolade is a very high end machine that serves both purposes. Baby Lock is known for their high quality sewing machines.
That being said, there are many sewists prefer to use separate sergers (or overlock machines) and coverstitch machines. The combo machines often require a couple steps to switch between functions and for someone who is sewing a lot of clothing and has adequate space it may be worth just buying multiple machines that are properly set and ready for action when you need them.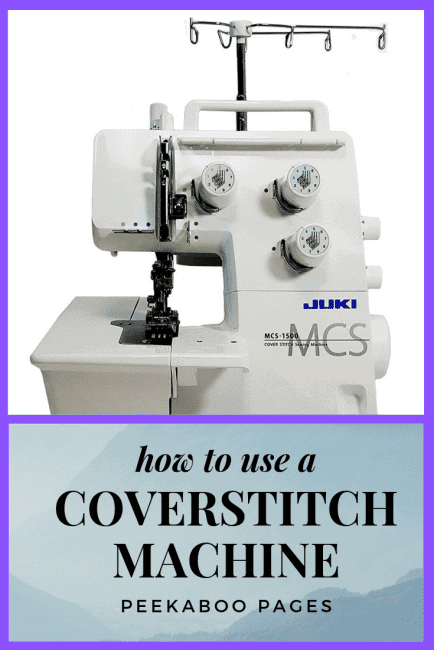 If you enjoyed this coverstitch 101 post and a look into the coverstitch machine, you should look at some of Peekaboo Pages other posts: