Are you ready for our Christmas Tree Skirt Pattern? This DIY Christmas Tree Skirt Tutorial will add something fun to your Holiday.
Do you have your Christmas Tree set up yet? We don't have ours quite yet but we're planning to go chop a Christmas tree down soon! Christmas is a special time of year and putting up the tree is always a favorite activity. One way to make putting up the Christmas tree even more special is to be able to get out your custom-made Christmas Tree Skirt when you set up the tree every year. You can add fun or meaningful fabrics to your tree skirt to make it even more unique.
When we were first married I made an easy scalloped tree skirt out of felt – just for fun I've added that tree skirt tutorial below this post in case you want something really simple.
After I started sewing more I made up my own Christmas Tree Skirt Pattern. This DIY Christmas Tree Skirt Tutorial will show you all the steps that I used to make a fun tree skirt:
Christmas Tree Skirt Patterns | Patchwork Christmas Tree Skirt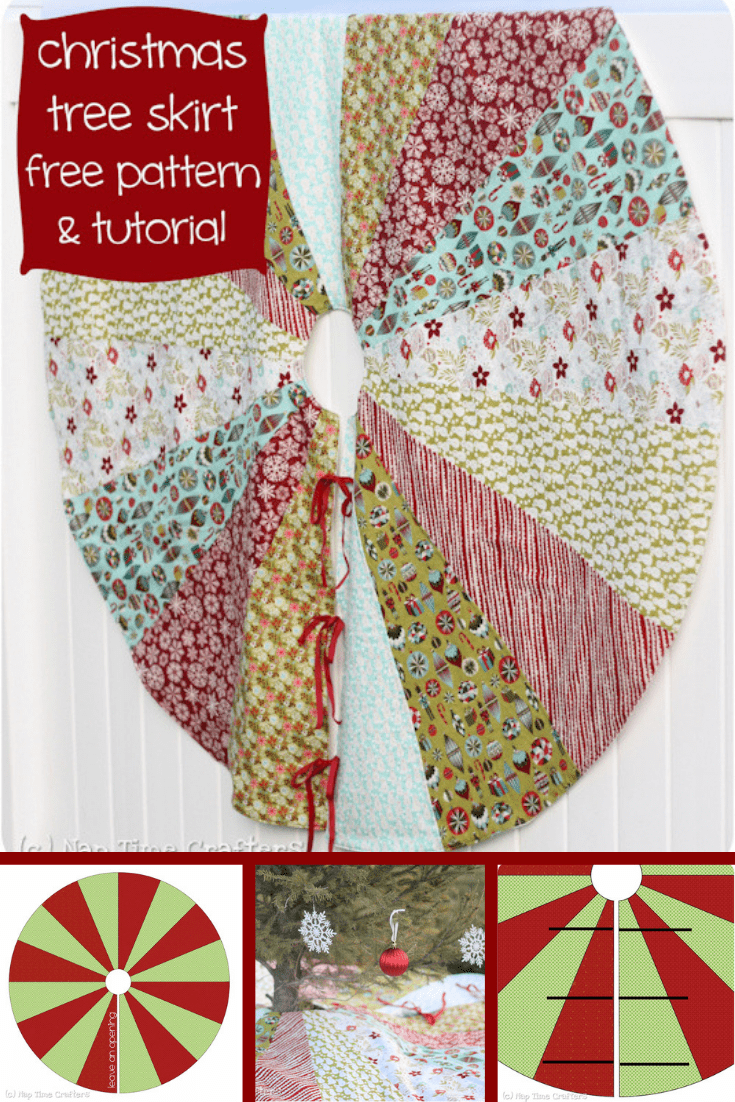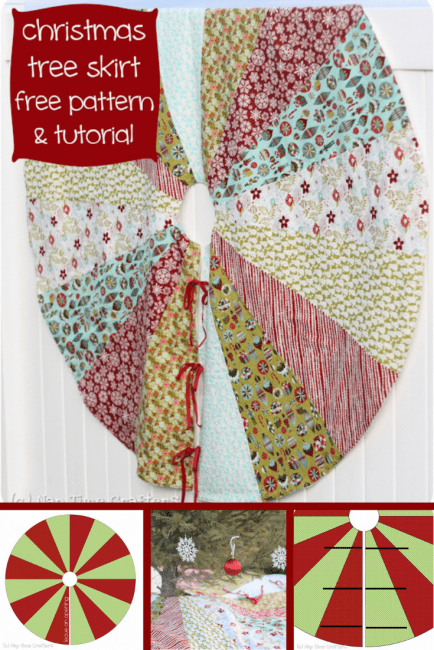 In case you missed it make sure you go check out my post for a free
Christmas Stocking Pattern
! And the good news is if you cut the tree skirt carefully you'll have enough scraps leftover from this project to make a few stockings 🙂
When I made this tree skirt, it was for our little family's first Christmas in our own home. I was so excited to decorate and create some lasting memories around the Christmas tree! With so many darling prints to choose from I ended up doing a 16 panel skirt so I could show them all off.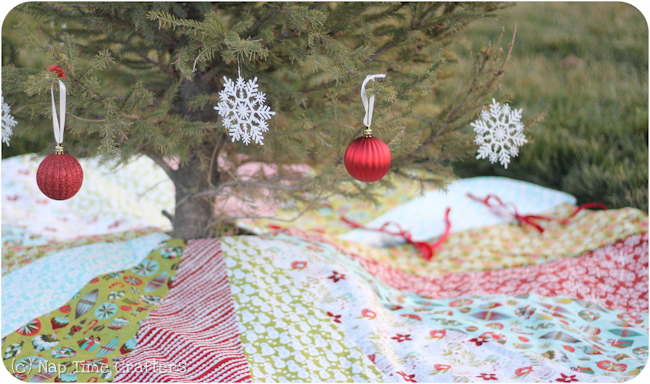 The DIY Christmas Tree Skirt has a simple bow closure in back to hold everything in place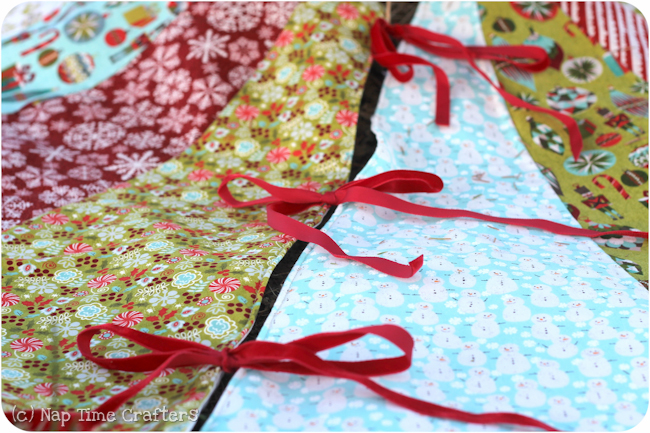 Ready to get started?
Christmas Tree Skirt Materials:
3/4 yard cuts of fabric in 8 prints. If your prints are non-directional you could do 4 prints instead. The tree skirt has 16 panels so with 8 prints each print appears twice. If you do 4 you will need to cut 4 in each print instead of 2. I used the Aspen Frost line
3 yards of muslin for the backing
3 yards of fusible fleece interfacing: this makes a huge difference in the finished product. You won't want to skip it 🙂 If you cut super carefully and use all your scraps you can get away with 2 yards
Instructions to Sew the Christmas Tree Skirt
Tree Skirt Step 1: Get the tree skirt pattern! The pattern is free when you Subscribe to our Newsletter or Join our Facebook Group. Coupon Code is found in New Subscriber E-mail and/or the first post in our Facebook Group.
Download your FREE tree skirt pattern and cut out your main skirt panels. You need 16 total. I did 2 of each print. The finished tree skirt is 60″ across. For a smaller skirt trim your pattern piece along the bottom edge.
Tree Skirt Step 2: Decide on a layout and then with right sides together (RST) sew the first 2 panels together along the long edge using a 1/4″ seam allowance.
Tree Skirt Step 3: Continue adding your adding panels with RST until you have gone all the way around leaving an opening in back between the last 2.
Tree Skirt Step 4: Baste the tails of your ribbon to each edge of the tree skirt opening. I did 3 ties and my ribbon segments were 12″ long.
Tree Skirt Step 5: Press flat and then add your fusible fleece to the wrong side of the fabric. I found it easiest to lay my tree skirt upside down on the floor and cut the fusible fleece to size. Then a did a quick once over with the iron (while still on the floor) and flipped it over so it was right side up. Working from the right side I pressed it thoroughly to get the fleece fused on. I did this on the floor as well making sure to be extra careful with my iron 🙂
Tree Skirt Step 6: Lay your muslin over the tree skirt and cut to size. I did one panel across the front half leaving room for a seam allowance along the straight edge and then 2 panels across the back half also leaving room for my seam allowance along the straight edge. The dashed lines in the diagram show where I pieced things together. If in doubt just leave a little extra around the edges and you can trim later. Sew your panels together with RST and then trim away any excess backing.
Tree Skirt Step 7: With RST sew the backing to the main layer around all edges leaving a 6″ gap between 2 ribbon segments for turning. Clip the seam allowance along the inside seam allowance so it will lay well when turned.
Tree Skirt Step 8: Turn right side out and press flat. Topstitch around all edges
There you have the DIY Christmas Tree Skirt. Enjoy!!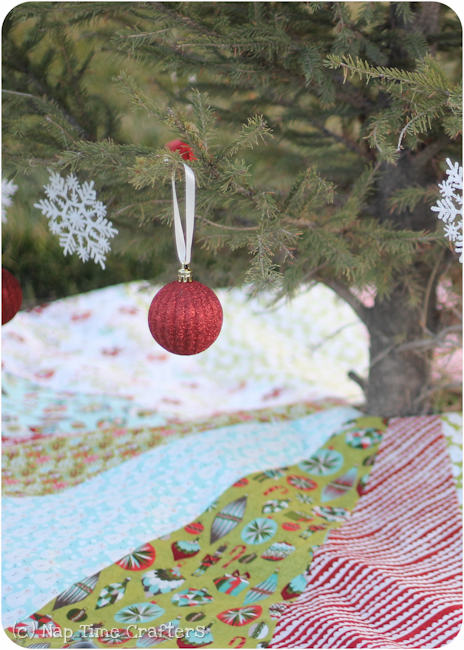 Free Scalloped Christmas Tree Skirt Tutorial | Pattern for Felt Tree Skirts
As promised, I'll also include this short diy Christmas Tree skirt tutorial I did when we were first married to make a scalloped tree skirt – just in case you want something simple.
Is your Christmas tree still naked? Never fear- you can make it a cute scalloped tree skirt with some appliques in no time with this Scalloped Christmas Tree Skirt Tutorial!
Felt Christmas Tree Skirt Materials:
Felt tree skirt (Family Dollar- $3 and most big box stores)
Green felt
Christmas print fabric
White & Green baby ric rac
Buttons
Felt Christmas Tree Skirt Instructions | Sew a Christmas Tree Skirt
Felt Tree Skirt Step 1: Admire your blank canvas! Or… if you couldn't find a tree skirt here's a look at how to make one. Big circle w/ a cutout in the middle and a slit up one side
Felt Tree Skirt Step 2: Fold the skirt in half, now fold it in half again. Cut out a semi-circle template- I traced around a bowl and cut it in half. Make sure it fits well going all the way across your folded segment. You can trim it a bit to make it fit or just scoot each scallop together a smidge as you cut (that's what I did). Start at one end and work to the other cutting scallops.
Felt Tree Skirt Step 3: ***Optional- If you want a nice finished edge you can use a zig-zag stitch to go all the way around the tree skirt
Felt Tree Skirt Step 4: Cut out 4 Christmas trees and sew on some button ornaments
Felt Tree Skirt Step 5: Add some ric rac lights. Stitch the tree to the skirt using a zig-zag stitch tucking in the tails of your light strands as you go. I laid the trees out on the skirt, so that there was room for 4 trees and 3 presents in between- I didn't do a present where the slit is to get the skirt on the tree
Felt Tree Skirt Step 6: Add a button star to the top
Felt Tree Skirt Step 7: Cut out 3 presents to go inbetween the trees. Stitch down with a zig-zag stitch tucking in your ric rac tails as you go
Felt Tree Skirt Step 1: . Add a nice ric rac bow to the top of each present.
Enjoy your beautifully dressed tree! Yes… we have a Charlie Brown tree. It's about 3 ft. tall, but it's real!
There you have it – two different Christmas Tree Skirt tutorials. Hopefully you were able to use our Christmas tree skirt pattern and tutorial ideas to come up with something for yourself. As always, if you have questions or would like to share what you make, come over and join our Peek-a-Boo Pattern Shop Facebook Group.
Other Christmas Tutorials
If you enjoyed this Christmas sewing project, be sure to check out some of these other tutorials: