Best Serger | Top 10 Sergers for Sewing Clothes
You're interested in buying a serger! You have your sewing machine and you're pretty comfortable with it. Still, you've been sewing for awhile now and perusing what could be if you had some more advanced machines. Well, the next machine on the list is a serger. For a review of all different types of sewing machines take a look at our Sewing Machine Blog Post.
A serger (or overlock machine as it's called overseas) is a very important machine if you're going to be serious about sewing clothing. Sewing with a serger is generally faster, smoother, and gives you better seams that a sewing machine. By better seams we mean that the seams are of higher quality construction and more durable. Your clothes will look more professionally done and last longer.
A serger uses a durable overlock stitch that finishes raw edges and keeps the seams together. It cuts the excess fabric and seam allowance as you serge. You won't have anymore frayed edges and your clothing seams will stay together through the everyday wear that you or you loved ones give your clothing. Sergers with a differential feed are also important and handy for gathering fabric. A serger is particularly important when sewing knit fabric. Of course, for all of your knit fabric needs be sure to visit KnitFabric.com where we have hundreds of higher quality knit fabrics, at better prices, with flat rate shipping.
You can buy most of these sergers from either a local sewing machine shop or online. If you're shopping online, take a look at SewingMachinesPlus.com. Their prices are generally the same as Amazon, they have amazing product pages with all the info you could want on each machine, and they have a massive selection of machines that you can compare and contrast. Peek-a-Boo Pages is an affiliate.
You can spend thousands of dollars on an advanced serger and we have a couple options for you below if that's what you looking for – for instance, the Baby Lock Accolade has a number of impressive advanced features outlined in number 3.
However, most of the sewists in our Sewing Group buy sergers that aren't thousands of dollars – rather, they're hundreds of dollars. These may not have advanced features like air threading but they do get the job done. All of the patterns at Peek-a-Boo Pattern Shop were made using a beginner serger.
The list of the top 10 best sergers comes both from my own experience, research, and a search through our Facebook Group to see what our sewists are frequently recommending to other members of our group.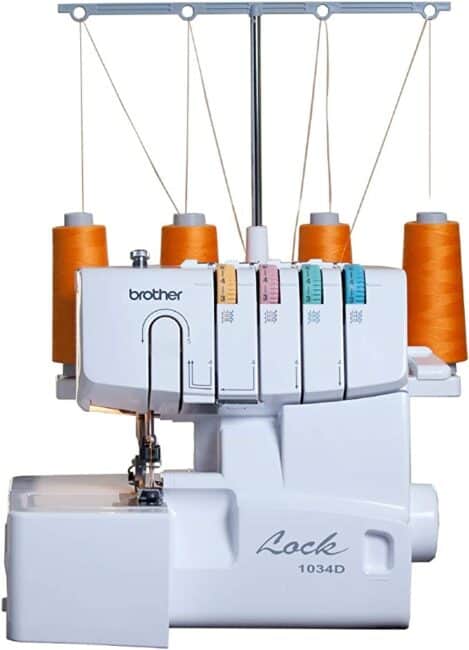 The Brother 1034D Serger is probably the most popular serger right now and if you look through the Facebook Group you'll see that it's also probably the most recommended serger for sewing clothing. On Amazon alone, they've sold over 10,000 units of this serger. The Brother 1034 sews at 1300 stitches per minute, has a metal frame, and an easy to thread system. It comes with a good instruction manual as well as DVDs that some of our group members have found handy as they got it set up and learned the correct method to thread the machine.
Some complaints are the long-term durability of the machine if you're using it on a daily basis and it is a little louder then some of the other machines listed below. Some have also found issues with thicker fabrics. Still, at a price point of around $280 at the time of this writing, it's hard to beat the Brother 1034D as a beginner. Get more info on this sewing machine or purchase it HERE.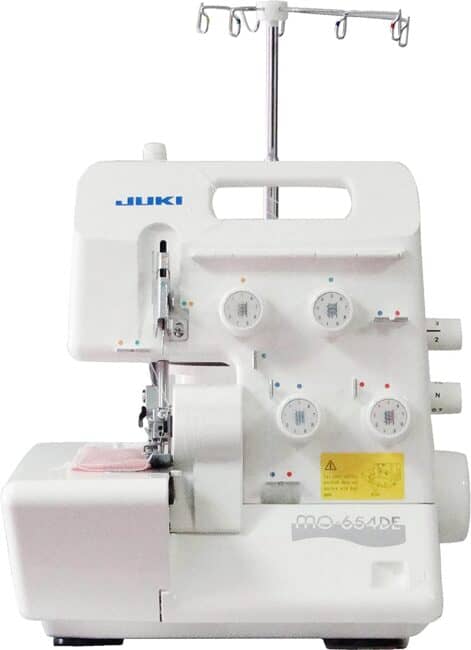 The Juki 654 is probably the second most recommended serger in our Facebook Group and the Serger I use. It's a nice step up from the Brother 1034D for not much more money. It's relatively easy to thread, adjust, and use and is quieter than the Brother. It's a bit faster too at 1500 stitches per minute. Some have even compared the Juki to an industrial machine at a low price point. It's well built and highly recommended by many group members. One member said "quieter, easier to use, and better quality!" Get more info on this singer sewing machine or purchase it HERE.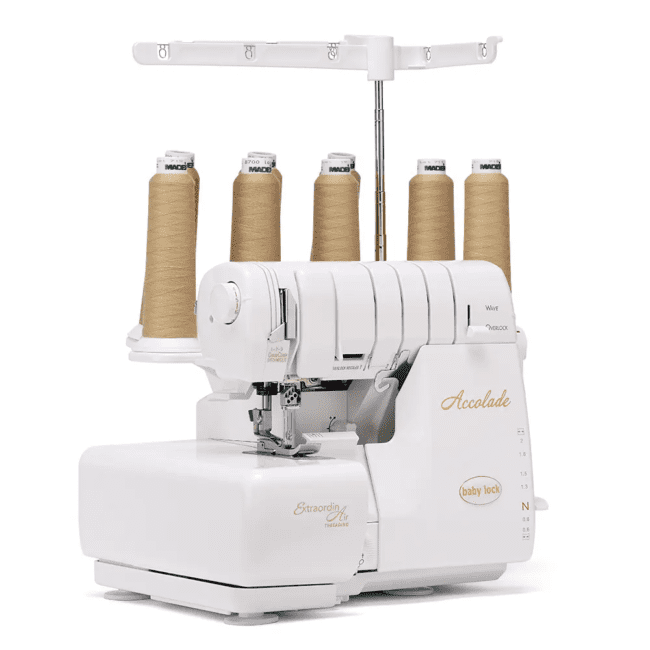 OK – now we'll stray from some of the popular inexpensive models and go to the top of the line – the Baby Lock Accolade. Baby Lock is known for their high quality sewing machines, sergers, and coverstitch machines. They have multiple machines that run thousands of dollars. The Accolade actually combines the serger and coverstitch into one machine.
Even at their price tag, there are many sewists, including members of our Group that swear by their Baby Lock machines and make the investment. One of the features they love is the "Air Threading." Basically, you put the threads into a small hole at the top of the machine, press a button, and the machine is threaded. One of the biggest complaints you'll find on most of these sergers is the difficulty in threading the machine so this feature is worth its weight in gold.
The Baby Lock Accolade comes with 87 stitches, and 8 thread stitching. This basically means that it can do both serging (seams) and coverstitching (finished hems) at once. The auto tension feature allows you to use the machine without constantly worrying about and adjusting the tension.
With all these features, you'll have to decide if the Baby Lock Accolade is worth the price for you. For more info or to purchase this machine click HERE.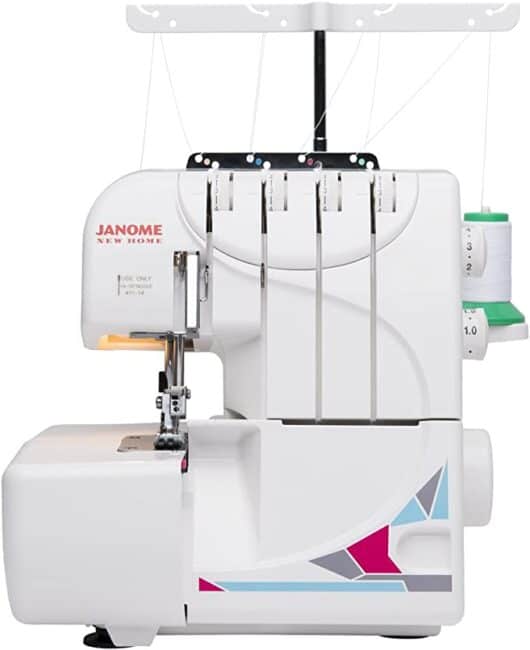 Janome is one of the most popular brands for sewing machines and sergers. There are a number of members of our Facebook Group that have been sewing with Janome sewing machines since they started decades ago and love them. The Janome 8933 is comparable to the Brother 1034D listed above and retails for around $300.
Like the Brother 1034D, it has a color coded thread guide, differential feed, and lots of 5 star reviews. The left side of this serger opens for easy viewing while threading and some have found this machine easier to thread that other comparable models. Get more info on this sewing machine or purchase it HERE.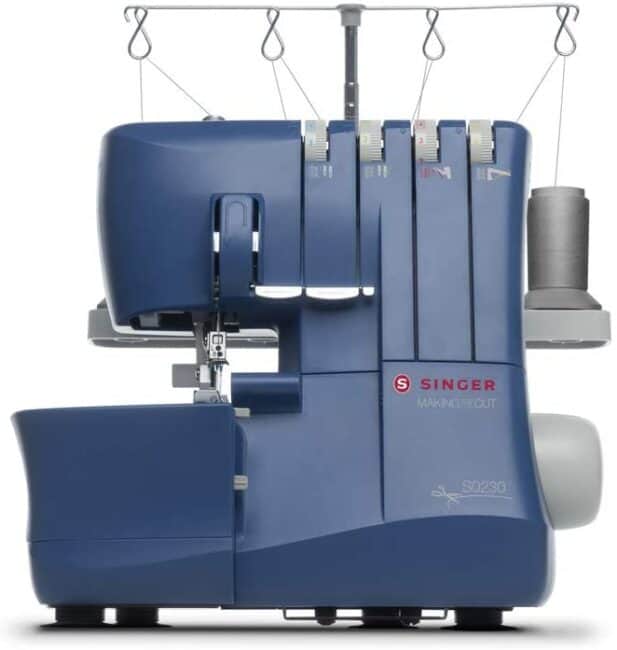 If you're really on a budget for your serger you might take a look at the Singer SO230. It's currently the cheapest Serger I could find on Amazon and still has a good amount of features and sports the reputable Singer Sewing Brand. It's comparable to the Brother 1034D serger in that it stitches 1300 stitcher per minute. It also uses 2,3, or 3 thread. Reviews claim that it's relatively quiet and smooth although it does have some trouble with heavy duty fabrics. Others have complained that it was difficult to find parts to repair it. Get more info on this sewing machine or buy it HERE.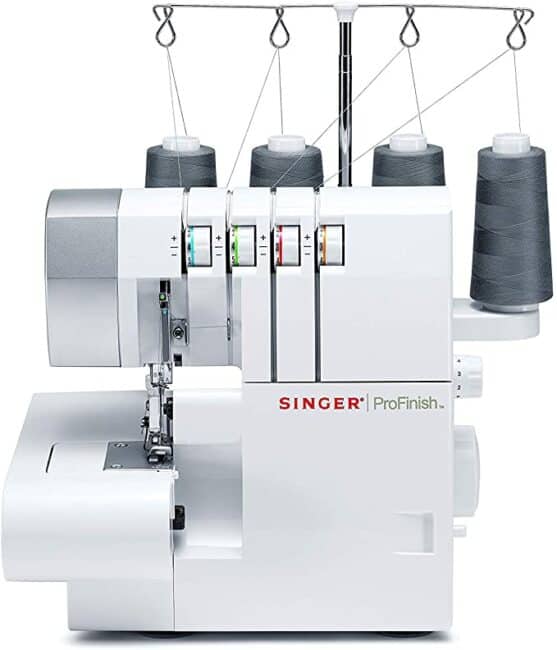 Another Singer machine!!! The Singer ProFinish is another machine comparable to the Brother 1034D and Janome 8933 above at a similar price point of around $318 at this article was published. It has 2,3,4 thread capability, adjustable stitch length, and free arm which allows you to easily sew cuffs or sleeves. It stitches at a comparable 1300 stitches per minute, has adjustable stitch length & width, and a color coded threading system to help get the machine threaded every time. It's a bit more advanced then the Singer SO230 above so if Singer is your brand for sewing machines then you might give the Singer ProFinish Serger a hard look. Get more info on this machine or purchase it HERE.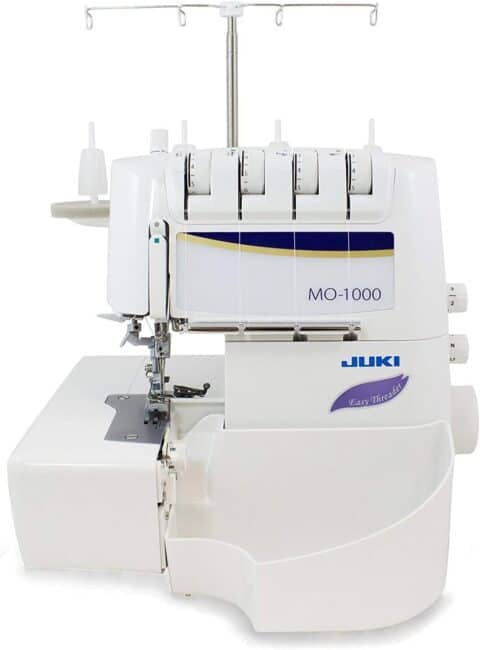 If you're impressed by the Juki 654 but want a few more features then you might take a look at the Juki MO-1000. The MO-1000 includes Juki's version of "air threading" like noted in the Baby Lock Accolade above. Customers say the "auto threader is worth all the money."
Apart from the auto-thread feature, the Juki MO-1000 has an increased workspace size and is noted for its durability, quietness, and low vibration while sewing. The MO-1000 also includes a DVD to explain the machine and its features. If you're looking for something above a beginner model but don't quite want a Baby Lock Accolade Serger and Combo Machine above, the Juki MO-1000 might be the right machine for you.
Get more info on this machine or purchase it HERE.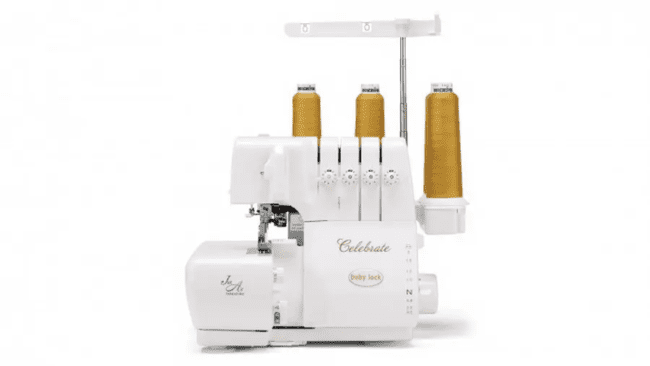 The Baby Lock Celebrate is a comparable serger in features (and price) to the Juki MO-1000 above. It still has the all important air threading feature for the loopers and an easy needle threading system. It stitches at
One difference between the Baby Lock Celebrate and the Baby Lock Accolade above is that the Celebrate does not have auto adjusting tension. However, it does have easily adjustable dials at the front of the machine to make adjustments. Get more info on this sewing machine or purchase it HERE.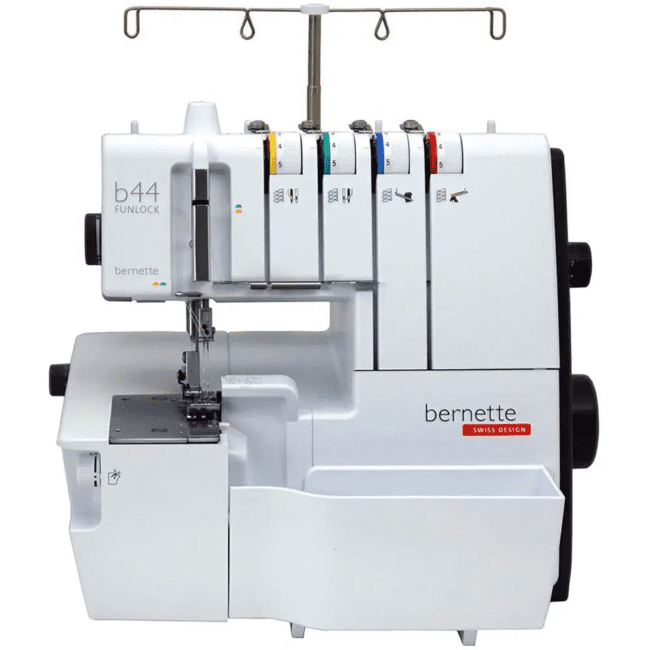 The Bernette Funlock 44 is designed by the Bernina Textile Group. They're known for their high quality Swiss designed sewing machines and sergers. One of our group members said she has had her Bernina sewing machine "for 49 years without an ounce of trouble.
The Funlock 44 is easy to operate with a simple knob to change stitches and color coded threading. It works well with thicker fabric, has built in storage space for accessories and (like many of the other sergers listed) has a differential feed that helps make smooth seems through knitted fabric and crimp-free seams with fine fabrics. It stitches up to 1300 stitches per minute and compes complete with a 10 year warranty!
Like the Baby Lock Accolade above, Bernette actually does have another model – the Funlock 48 – that is a serger and coverstitch machine in one. Looking through reviews, most people note that the B48 is designed for those with a fair amount of experience though.
Get more info about this sewing machine HERE.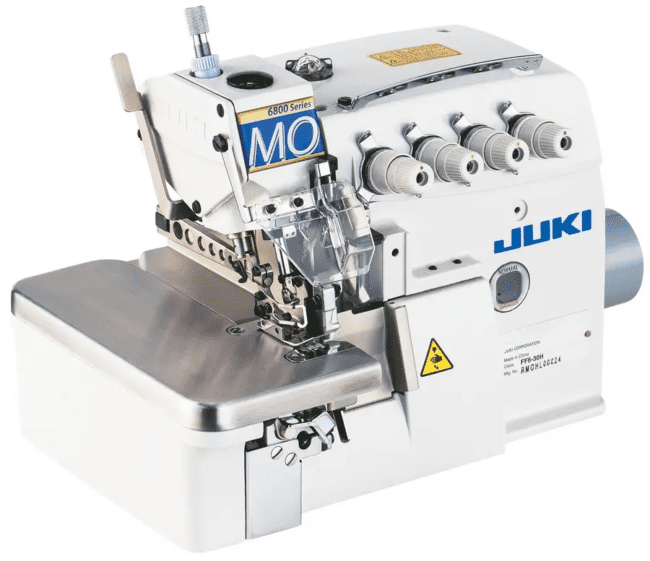 If you're doing something akin to assembly line clothes production and want something that will take that kind of hard use then you might consider a small industrial grade serger or overlock machine. If that's the case, then the Juki MO-6814S might just fit the bill. This machine does 2-needle overlock and stitches at speeds of up to 7000 stitches per minute! If you're looking to get your garments put together quickly, then you can beat the Juki MO-6814S serger.
This industrial grade serger also comes complete with an assembled sewing table with a built in presser foot and a 1/2 HP motor. The table has adjustable height, heavy duty wheels, and strong construction. You can also get more information on this sewing machine or purchase it HERE.
What Other Machines Do I Need for Sewing Clothing
I hope this article on the top 10 sergers has helped you gain a little knowledge to help you decide which one is right for you. Especially if you're sewing clothing, a serger is a really important piece of your arsenal that will help you to create professional looking, ready to wear, clothing.
Of course, you probably already have a regular sewing machine as well. If you need to upgrade that or are looking for reviews on what to purchase then you might take a look at our Top 10 Beginner Sewing Machines or our Top 10 Advanced Sewing Machines.
Also, as you continue to sew clothing and produce professional looking products you might also consider investing in a coverstitch machine. A coverstitch machine comes in handy when hemming knit fabrics. A serger is used in constructing and finishing durable seams for clothing – seams that won't come apart through the wear and tear that we give our clothes. A coverstitch machine creates a parallel row of stitches on the front and a chainstitch on the back of the raw edge of that fabric to make professional looking hems. For more info, take a look at our Coverstitch 101 Guide.
Thank you for joining us as we reviewed the top 10 sergers! If you want more information on using a serger we have articles on Finishing Serger Tails.