Are you interested in buying an embroidery machine? The best embroidery machine for one is likely different for another. There are a wide variety of different embroidery machines, at different price points, and with different features. Someone doing embroidery as a business is likely to need a far different machine then someone doing it infrequently from time to time for home crafts. If you're looking for other types of sewing machines, then take a look at our more comprehensive post on Sewing Machines.
If you're ready to invest in an embroidery machine or upgrade your current machine then this article is for you. We've searched through comments in our Facebook Group and done our own research to see what people are using, what they recommend, and what might be the right machine for you. Each machine has various features that we'll try to outline in this article.
If you're new to embroidery I should probably give a short definition of what embroidery is and the basic features of an embroidery machine. Sewing is the practice of constructing garments – its the construction of the piece. Embroidery is the frosting on top. Embroidery is ornamenting or embellishing fabric with designs made from decorative stitches or ornamental needlework. You can put your name or logo on clothing or about any fancy or popular design you can think of.
You don't need a machine to do embroidery. You're probably familiar with someone in your life (maybe yourself) that's done embroidery with a hoop, needle, and thread and put a design onto fabric. However, an embroidery machine sure makes clean, impressive designs – many of which can't be done by hand.
An embroidery machine comes with a specific defined space where the embroidery occurs – this is called the embroidery hoop. A survey of our Facebook Group members shows one major recommendation – when shopping for an embroidery machine get the biggest hoop you can afford. A small hoop will limit the designs you can make.
If you decide you're ready to invest in an embroidery machine, you should take a look at SewingMachinesPlus.com. Peek-a-Boo Pages decided to be an affiliate for them because they're an excellent website for purchasing sewing machines or embroidery machines online. Their prices are usually the same as Amazon, they have free shipping, and they have a ton of low and high end machines. Their product pages are also top notch so you can easily compare prices, features, etc.
Now that we've got through the basics, here are our Top 10 Embroidery Machines:
Best Embroidery Machine | Top 10 Embroidery Machines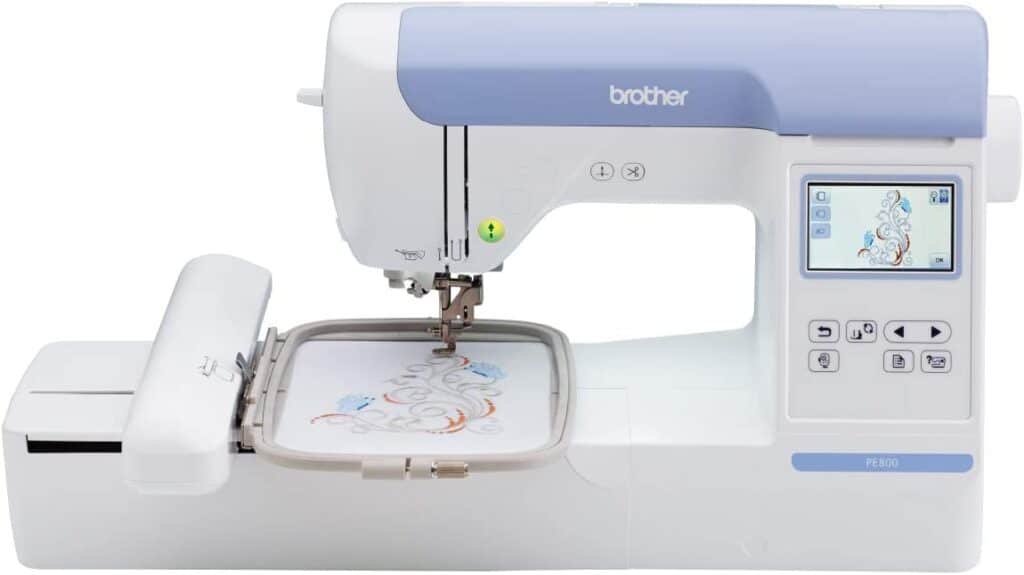 The Brother PE machines are probably the most recommended and popular embroidery machines for beginners. There's frequent recommendations for these machines in our Facebook Group. The best seller of the Brother PE machines is the Brother PE600 which you can get for less than $400 and will do basic embroidery designs …however, many leave unsatisfied with the small 4×4 hoop workspace. It's possible you'll also need a software upgrade for certain custom designs.
For that reason, if you're a beginner we'll recommend that you step it up one notch and go for the Brother PE800 which has a 5×7 workspace. This greatly increases the amount of designs you can do. The PE800 also comes with 138 built in designs and 11 built in fonts. You can edit your design somewhat through their software.
One issue that some of our group members have noted is that if you want to make custom designs then you'll have to purchase additional digitizing software that can be expensive.
This machine does have step by step tutorials on how to do things, a limited 25 year warrants, and free phone support if you're having trouble. It retails for around $900 at the time of this writing. For more information or to purchase this machine click HERE.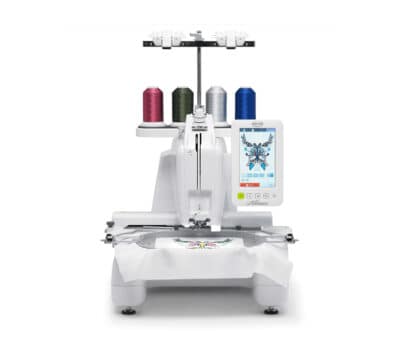 To me, Baby Lock is the top name in the sewing machine space and that definitely includes embroidery. I've started with a mid to high level machine – the Baby Lock Alliance. This would be appropriate for high end use at home or a business start-up but likely not something for mass production.
The Alliance is a single-needle, free-arm embroidery machine. It stitches up to 1,000 stitches per minute and has a large embroidery field that can expand up to an 8″ by 8″ hoop. It's automatic needle threader and unique bobbin system make set up easy. It comes with 25 built in fonts and the ability to import designs through your computer
It comes with a TRUVIEW LCD Color Touch screen that displays over 260,000 colors – meaning it provides a bold and vivid imiage to aid the embroiderer and getting the design perfect. It's free arm, single needle designed is built to embroider items that are difficult for typlical embroidery machines – it will embroider things like pockets, stuffed animals, hats, or even shoes.
For more information or to purchase this machine, click HERE.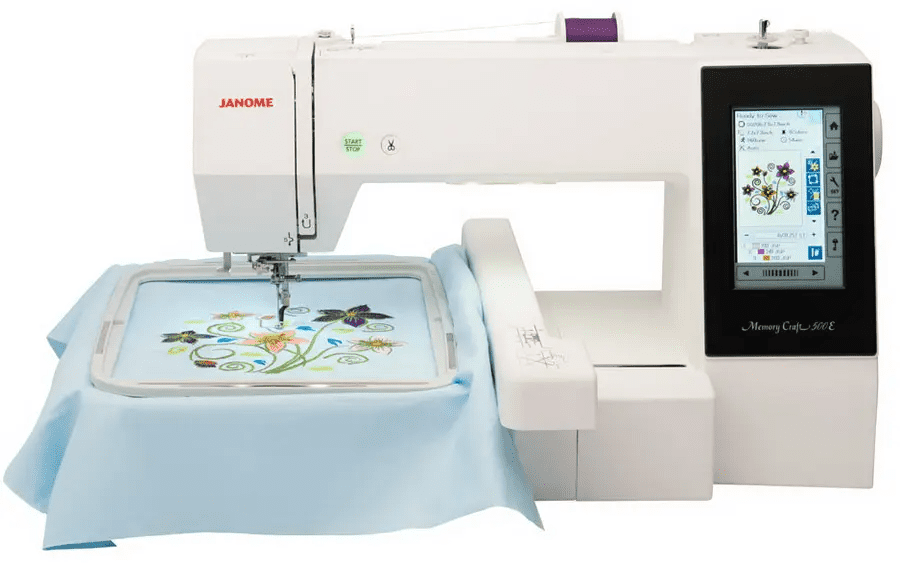 We go from around a $5000 machine to one that retails for around $2,400 at the time of this writing. Janome is known for their high quality home sewing and embroidery machines. In our option the Janome Memory Craft 500E Embroidery Machine is a good step up from the Brother PE800.
The 500E has an increased maximum embroidery size of 7.9″x11″ which will increase the projects you can tackle with the more standard 5″x7″ hoop. It also comes with a variety of other embroidery hoops. This larger design makes it big enough to do something on a increased number of garments – like a T-Shirt. The full color touchscreen is also an upgrade and it comes with 160 built in designs and a variety of on screen editing functions.
Of course, this still doesn't have all the features and capabilities of a high-end embroidery machine but if you're looking to do a limited number of home projects this may be a good option. For more information or to purchase this machine click HERE.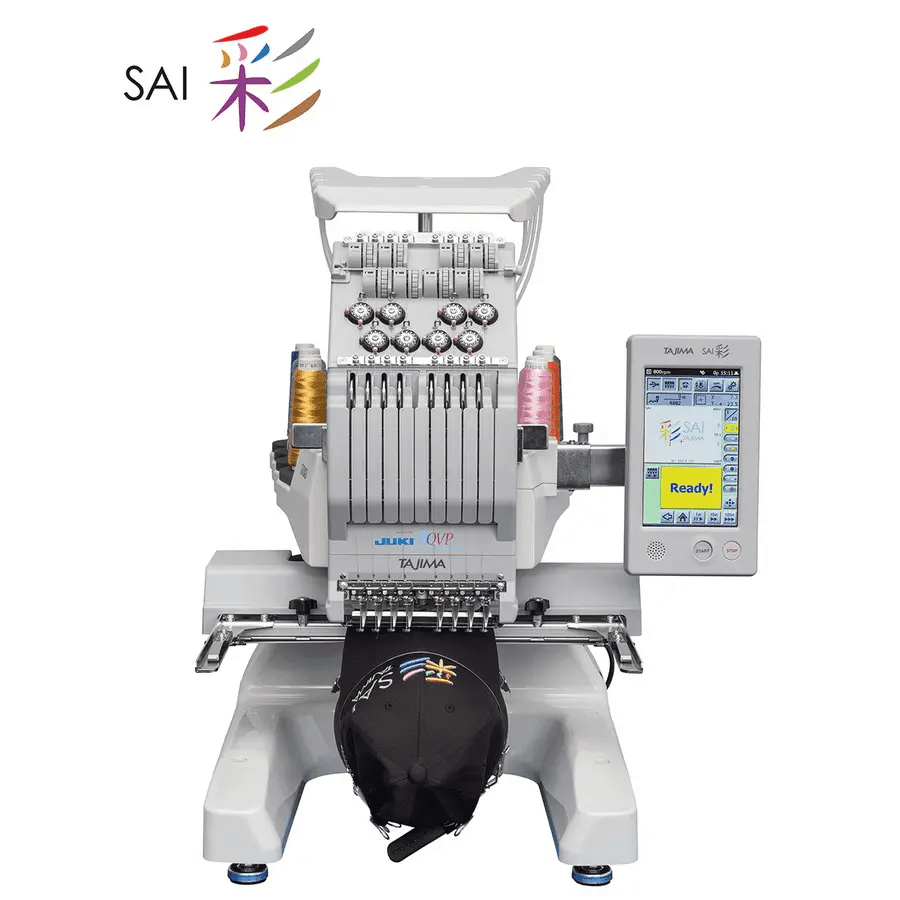 Juki is another name in intermediate to high end sewing machines. You'll find them recommended in our sewing machine, serger, and coverstitch articles. The Juki-Tajima Sai is an 8 needle embroidery machine that make professional looking product.
Being an 8 color machine means that you can embroider multi-color deigns with few thread changes. It stitches 800 stitches per minute, has auto thread trimming, auto thread breakage detetcion system, a compact design, and software included. It also includes more than 200 designs, 31 pre-installed fonts, and an access to an additional 1,000 embroidery designs. It comes with multiple hoops or frames up to 7.8″ x 11.8″.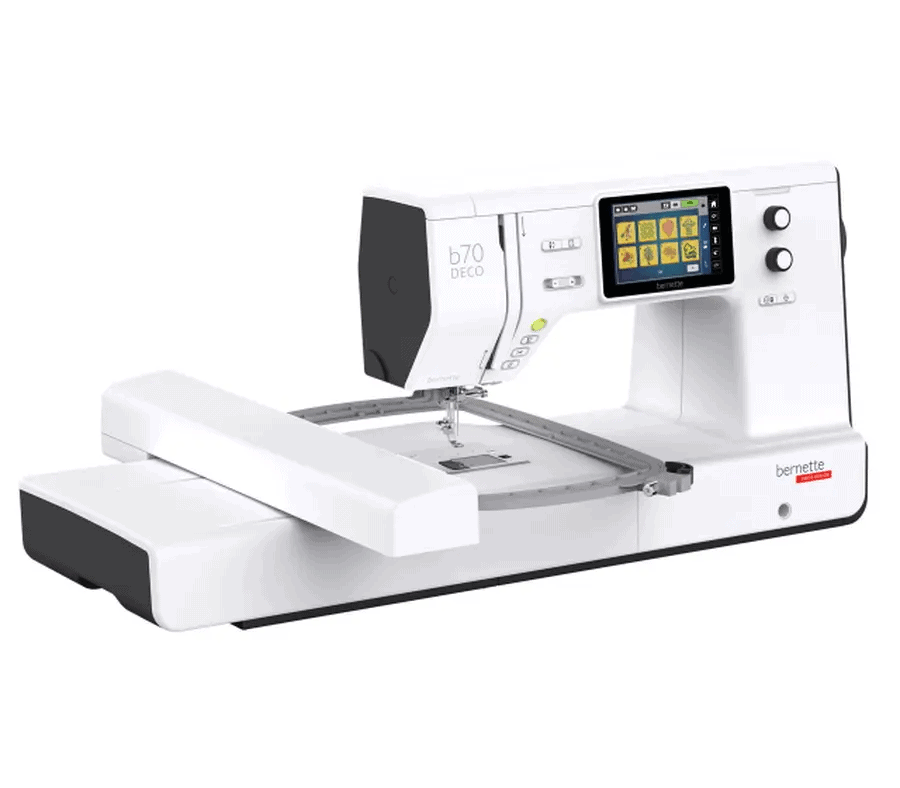 Bernette is another name in the intermediate to high end sewing game and I've seen some recommendations for their DECO line in our Facebook Group. They're known for their high quality Swiss designed machines. One member of our group noted that she'd had her Bernette sewing machine for 49 years without problems.
The Bernette 70 DECO Embroidery Machine is another beginner to intermediate embroidery machine that has a hoop of around 10″ x 6″ – making it a little larger than the Brother PE800 we spotlighted in number 1 above. The 70 DECO does come with multiple hoops, an intuitive touchscreen, and an impressive 300 built in embroidery designs and 100 built in fonts. For more information or to purchase this machine click HERE.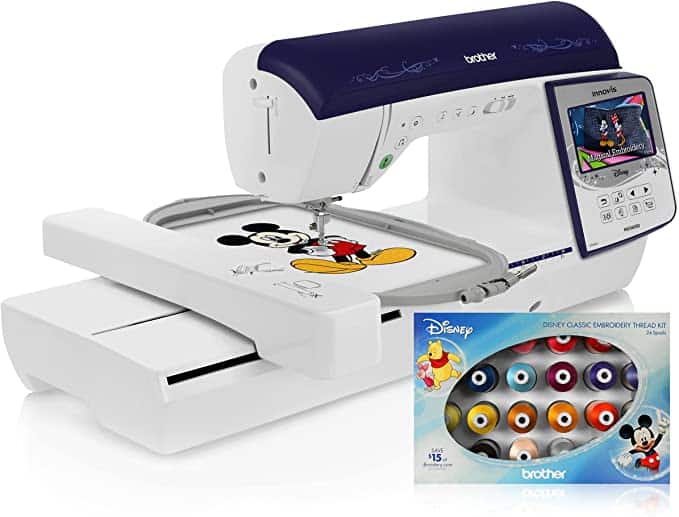 We spotlighted one Brother machine above but Brother has a variety of other embroidery machines. The Innov-is NQ3600D is a unique intermediate level machine with a Disney theme. It comes pre-programmed with 35 designs featuring Disney colors and an embroidery thread kit with 24 spools of colors perfect for your favorite Disney characters. There's another 5,000 designs available for purchase.
The machine also has a variety of high level features – an automatic thread trimming system, large workspace, an automatic high adjuster. It also works as a sewing machine and comes with 291 built in stitches, 10 buttonholes, automatic feed thread, and automatic height adjuster. For more information on this Disney themed sewing and embroidery machine or to make a purchase click HERE.
If you find this type of machine interesting, you might also take a look at the Brother LB5000S sewing and embroidery machine. This is a lower level embroidery machine with a 4″x4″ hoop but it does come with interchangable faceplates of star wars characters and various ways to get Star Wars embroidery designs. For more information on this Star Wars themed embroidery machine click HERE.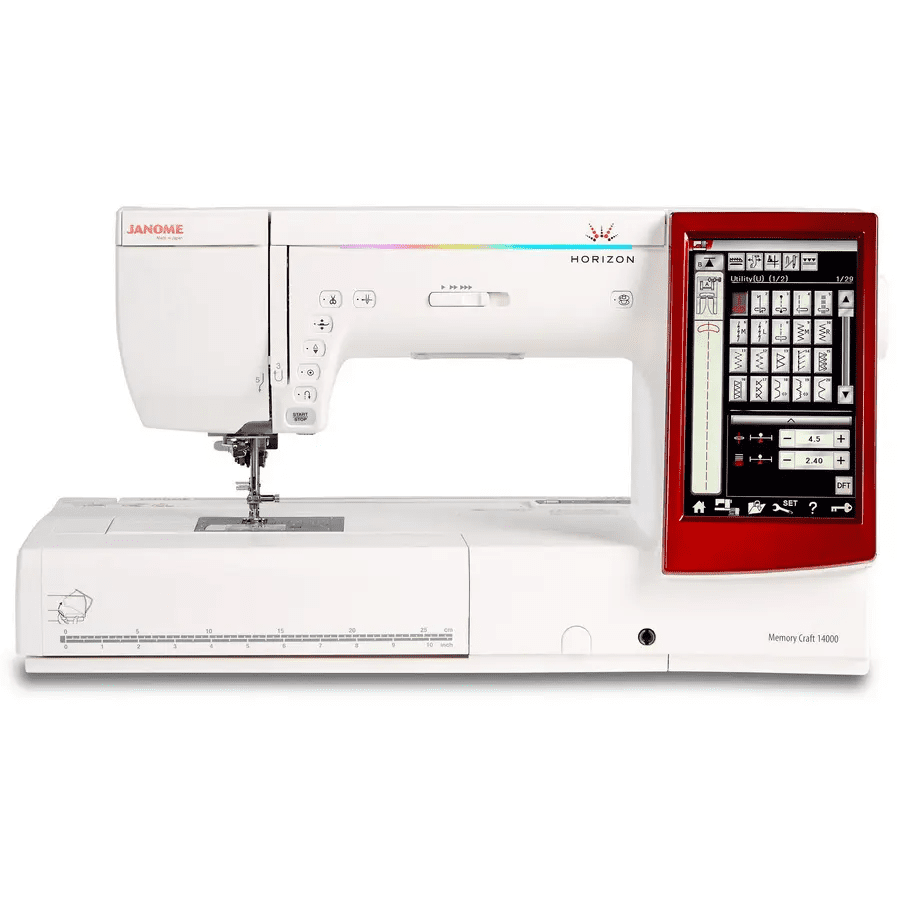 If you're looking for a little higher end Janome embroidery machine then you might take a look at the Janome Horizon Memory Craft 14,000. This is a significant step up and is about a $7,000 machine for sewing, quilting, and embroidery. Speaking of embroidery, it has 350 built-in designs, 11 fonts for monogramming, and a maximum hoop size of 9.1″ x 11.8″. It embroiders a nice 1,000 stitches per minute.
The nice thing about this machine though is that you can use it as your do it all, high-quality machine. Quilters or sewists will find 400 built-in stitches and 13 one-step buttonholes. It also has an impressive array or quilting features and a large 7.7″ x 4.7″ touchscreen.
We've touched on a few of these combo sewing and embroidery machines. Some group members liked the combo machines but I will note that many said if you're going to be doing much embroidery it makes a lot of sense to have multiple machines so you don't have to keep switching settings and accessories back and forth. That becomes really taxing. Still, if you're limited on space a combo machine might be your best option.
With that being said, if you're in the market for a high quality do it all machine then you might want to take a hard look at the Janome Horizon Memory Craft 14,000. For more information about the machine or to purchase it click HERE.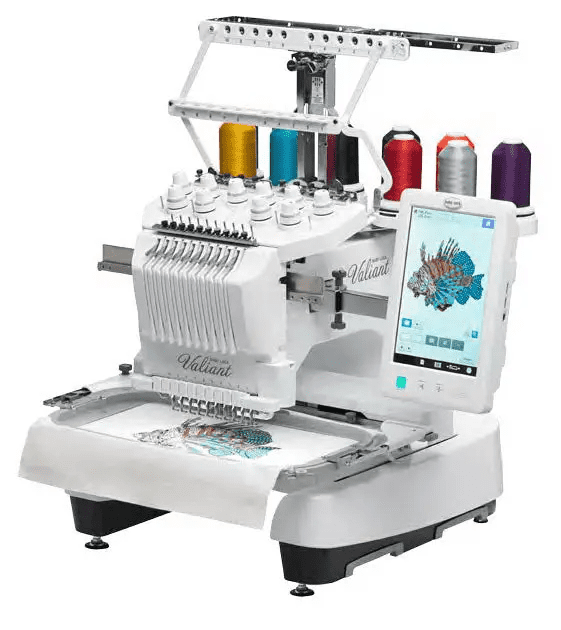 We already featured one of the lower level Baby Lock embroidery machines – the Baby Lock Alliance. Now we're going to show you something higher level – the Baby Lock Valiant. The Baby Lock Valiant is a 10 needle embroidery machine and a top option for home or professional use.
It goes 1,000 stitches per minute and has the industrial type power for an at home machine. The 10 needles allow you to make fancy, multi-colored designs in a time efficient manner. The Valiant can perfectly place a design with it's digital camera, NeedleCam, and zoomed in view. It also has an advanced LCD screen, multiple embroidery hoops up to 7 7/8″ x 14″.
Of course, a machine like this will cost you. They can run over $15,000 although you may be able to purchase a used one. For more information on the Valiant click HERE although you'll likely need to purchase it from a local sewing machine shop.
Before we leave Baby Lock I should also mention they have another 10 needle machine – the Baby Lock Venture – with even more features.

You might have a Husqvarna lawnmower at home but some are surprised to know that they also make a high-quality durable sewing machines. Like the Janome Memory Craft Horizon 14,000 above, the Viking Designer Epic 2 is a high-quality durable all in one machine good for sewing, quilting, and embroidery
For embroidery it has a unique feature that allows one to embroider three-dimensional ribbon designs as shown in the picture below.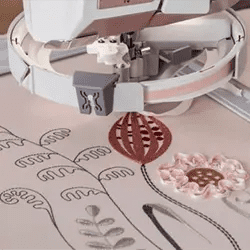 The Designer Epic 2 also has a growing library of embroidery designs, laser sewing guidance, and design placement through an app on your phone. One of its handiest features is called the JOYOS Advisor. This shows up on the large touch screen and automatically and instantly sets the best stitch, stitch width, stitch length, thread tension/portioning, and presser foot for the project you've chosen.
This is an impressive machine that you should take a look at just to be impressed. While a new Husqvarna Viking can cost around $14,000 you may be able to get a refurbished one for around $10,000 HERE.
We covered the Janome 900 CPX above but they have one more model – the Janome 1000 CPX that we'll throw in here too. As noted above, the Janome 900 CPX is a good entry level coverstitch machine that's built more like a sewing machine and has increased sewing space. The negative is that it's only a 2 needle coverstitch, which limits some of the strong hem stitches you can do.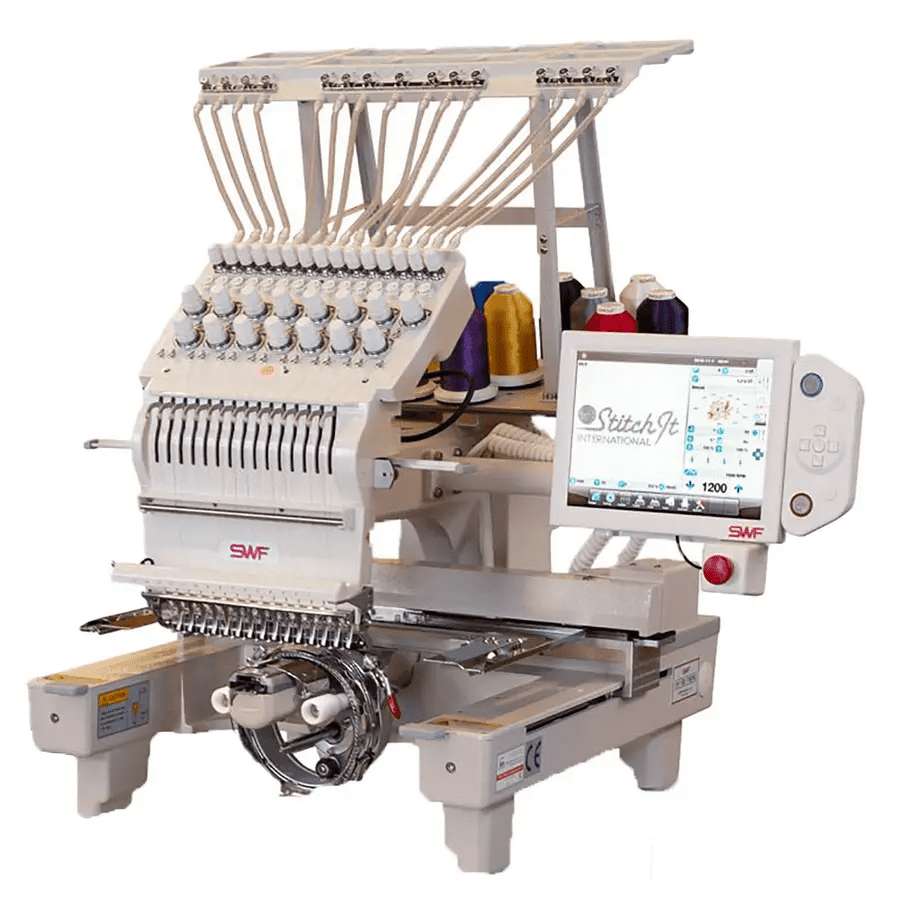 For our final machine I'm going to point out the SWF MAS-15, which may be an appropriate machine if you own an embroidery business and/or do production embroidery. This industrial machine is a 15-needle machine that comes with a table and stand. It stitches up to 1200 stitches per minute, has a 10.4″ touchscreen LCD panel and loads of advanced professional features. I realize this isn't for everyone but if you have a business where you produce large amounts of embroidered garments you should take a look. For more information click HERE.
I appreciate you joining us today for our review of Embroidery machines. Hopefully you've gained a little education on what machine might be right for you. If you're looking into other machines then make sure to review our articles on Advanced Sewing Machines, Beginner Sewing Machines, and Sergers.
As always, we'd love you to come see our patterns over at Peek-a-Boo Pattern Shop and our fabric at KnitFabric.com.
Happy Sewing!