Lets talk about beginner sewing machines. You can spend hundreds and even thousands of dollars on advanced sewing machines. However, many sewists may not need a full-featured sewing machine when starting out on their sewing journey. Especially for a starter machine, you might be looking for something cheaper that isn't necessarily an embroidery machine or a machine one would use for advanced quilting. Instead, you're looking for a machine you can afford when starting sewing. For you, the best option would likely be one of the machines featured here.
The machines featured in this article have the stitches and basic sewing features necessary to help you get through just about all of your sewing projects. For me – I received a $79 sewing machine as a gift when my daughter was born about 12 years ago. One of the best gifts I've received as it helped me get started sewing! It wasn't a full-featured sewing machine by any means but it worked great for me – even as I was designing sewing patterns and getting Peek-a-Boo Pattern Shop off the ground.
After 6 years of sewing, I decided I needed to move beyond my beginner sewing machine to a little fancier machine – but not much fancier. In truth, my much more advanced sewing machine is still a sewing machine for a beginner and cost under $200. A beginner doesn't need every sewing feature in the book for their initial machine or even initial machines. You'd be surprised how far some of these machines can get you as you're beginning sewing. I'm still running strong and I've designed and made every Peek-a-Boo Pattern Shop pattern (many multiple times) using a machine designed for beginning sewing (and sometimes my serger and coverstitch). If you want more info on all sewing machines, how to use them, and how to maintain them, and a complete purchasing guide, then check out our comprehensive Sewing Machine Post.
This list of the top 10 best sewing machines for beginners comes both from my own experience as well as a survey of our Peek-a-Boo Pattern Shop Facebook Group to see what our own customers love and recommend as one of the best machines to other sewists. Especially for those of you on a budget, I recommend looking into the following top 10 best sewing machines for beginners. Most of these machines are sold for under $300:
Top 10 Best Beginner Sewing Machines | Sewing Machines for Beginners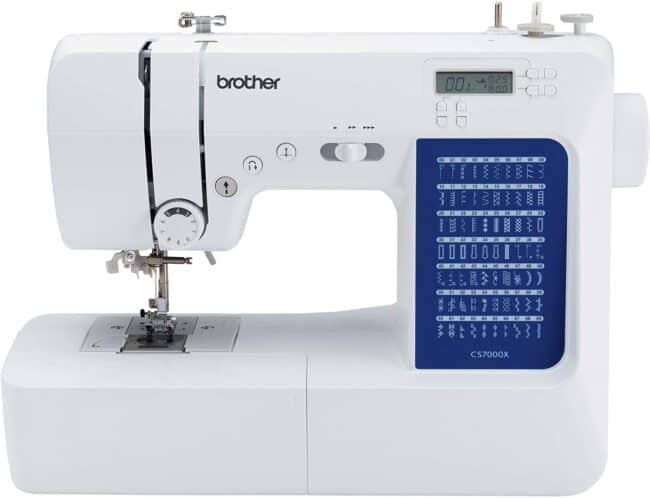 The Brother CS7000x is a top sewing machine for beginners. Just look at the number of sales on Amazon (as of this writing there's been over 21,000 sold). This machine has 70 built-in sewing stitches you can choose through a computerized system. It also has a number of high end features including: (1) automatic needle threading, (2) easy machine threading; (3) an over-sized table for larger sewing projects; and, (4) a built in free arm for sewing your cuffs and sleeves.
The machine is light weight, low noise, and comes with a stack of accessories to make sewing easy. For around $220, at the time I'm writing this post, this sewing machine is a steal. It's certainly one of the best beginner machines on the market to get you started sewing. Get more info on this sewing machine or purchase it HERE.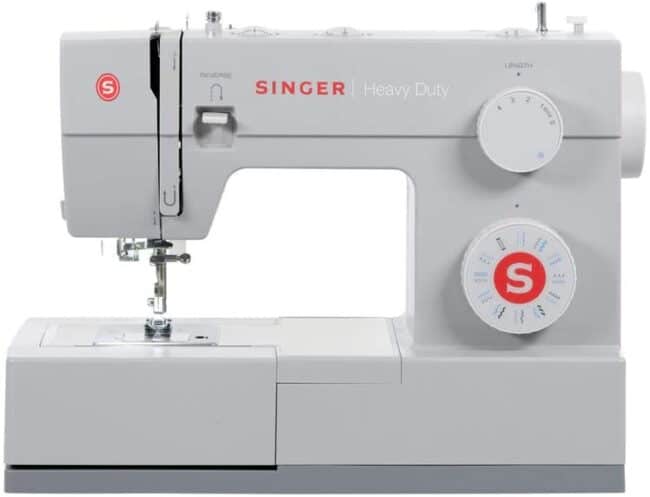 If you're a fan of the Singer brand, many feel that the Singer 4423 is one of the very best sewing machines for beginners. It's another top selling machine and probably the top selling non-computerized sewing machine. This machine has 23 built-in stitches and is fast – it stitches 100 stitches-per-minute. It's a little bit heavier than many other beginner machines. Singer calls it a "workhorse" sewing machine and we've seen members of our group use that exact same phrase – "workhorse" – when describing their Singer 4423 Sewing Machine. They appreciate that you can use this machine to sew through thicker fabrics.
It has a 60% stronger motor that keeps the sewing machine working through tougher projects. The 4423 also includes a 25 year limited warranty and access to Singer's Free Beginner's Machine Class. Get more info on this singer sewing machine or purchase it HERE.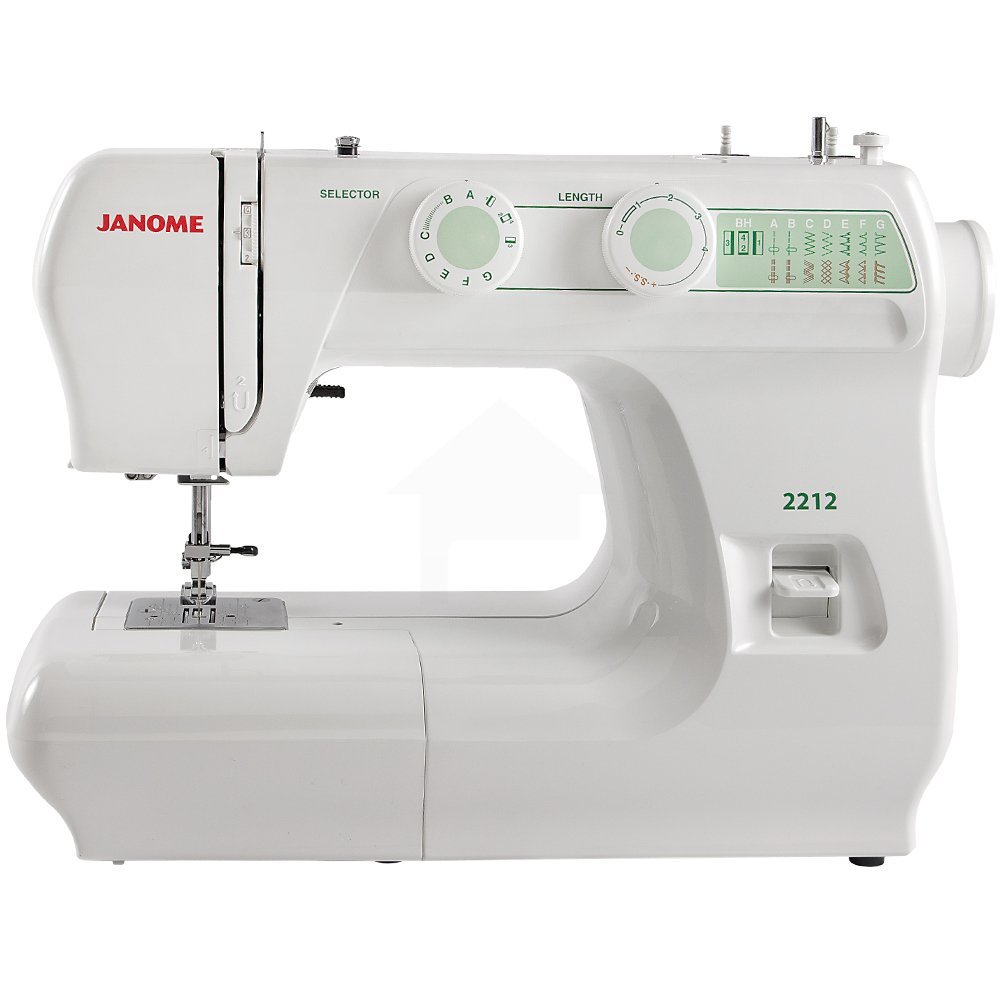 Another popular sewing machine brand is Janome – and one of their most popular beginner machine options is the Janome 2212. The Janome 2212 doesn't have a million features like some of the other sewing machines for beginners here – and that's why people love this simple machine. It's a simple sewing machine for beginners and has 12 basic stitches (instead of 100 or more stitches like some others). This allows you to focus on what matters and enjoy a simplified sewing experience with a high quality sewing machine. It may not have a hundred sewing stitches but it does have the stitches you generally need.
Many like that this machine isn't computerized, as the computer is just one more thing that can potentially break and cost you money to fix down the line. That being said, this machine has all the basic features that one needs to get the job done. If you're a beginner and looking for a workhorse machine without all the frills, then this may be the one for you. At under $200 as I write this post, this machine is hard to beat. Get more info on this sewing machine or purchase it HERE.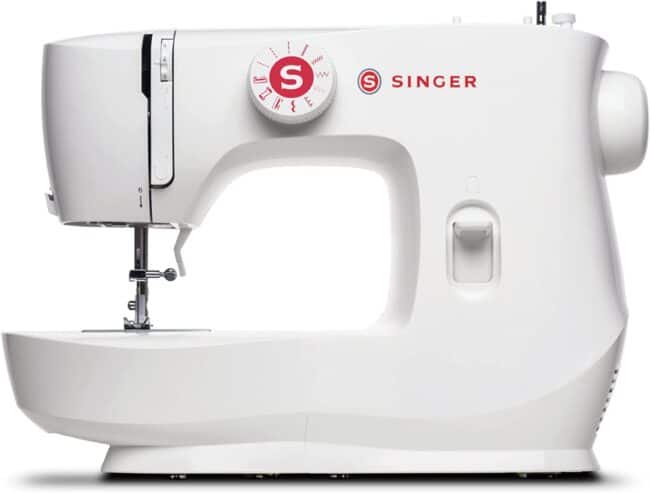 We have one more Singer model for you – the MX60. The MX60 is a small, inexpensive beginner sewing option that's lightweight and easy to store in small spaces. It's around $130 at the time of this writing. It has an easy stitch selection turn knob with 57 different stitches and has an easy buttonhole creator. Its another good sewing machine option for a beginner – something you can take out of the box and start using right away. Like the Singer 4423 it also includes a FREE Beginner's Machine Class from Singer. Get more info on this sewing machine or purchase it HERE.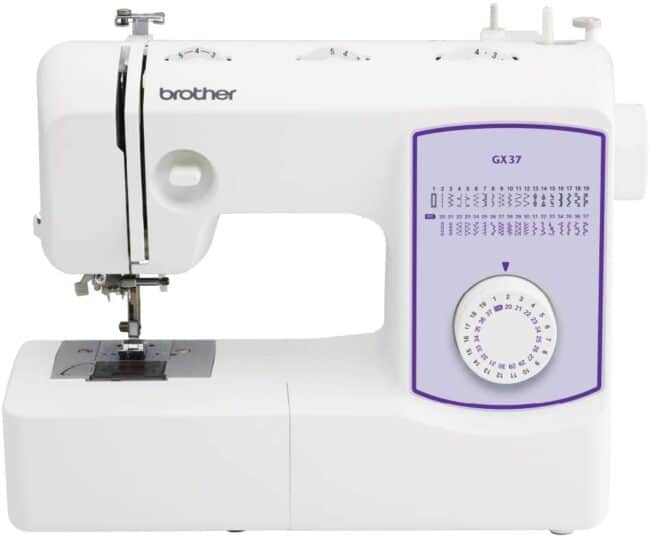 The Brother GX37 is another true sewing machine for beginners. It's a great portable sewing machine. It has 37 stitches accessible through an easy to use stitches turn dial. It's popularity speaks for itself as it has over 17,000 reviews on Amazon. While it's currently listed around $185 at the time of this writing, some of our group members have noted some good sales at Wal-Mart to get it even cheaper.
Sewists love that it is small, lightweight, and easily portable, yet it still has features like an automatic threading, easy to load bobbin and free arm sewing. At just over 15 lbs this may be the perfect machine if you have to store it apart from where you use it. Get more info on this sewing machine or buy it HERE.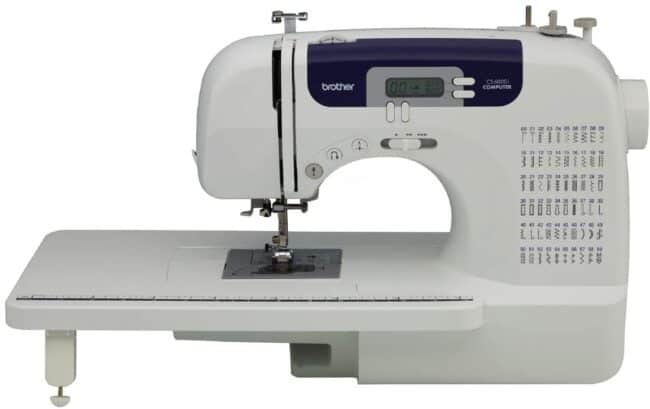 Another Brother machine!!! The Brother 6000i is a similar machine to our sewing machine listed in number 1 – the Brother 7000cx. Still, many of our group members have been using their 6000i machine for years and years and love it. One customer said they've "had their CS-6000i for 12+ years and haven't used all of its features or had any problems with it." This machine is light weight, easy to handle, comes with 60 stitches, and 9 presser feet. The 6000i machine has a wider table which sewists like for larger projects or for use if you do some beginner quilting. For around $200 this is a great machine for a beginner. Get more info on this machine or purchase it HERE.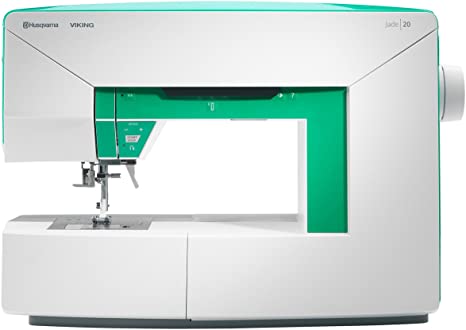 The Husqvarna Viking sewing machines are a little more expensive options so do your research if you decide to go this route. The Viking 118 gets some love in the Facebook Group as well as the Viking Jade 20 Sewing Machine (pictured above). The Husqvarna brand is known for its durability and modern design. This full-featured sewing machine is a good option for sewing thicker fabrics and has a large work area for a smaller sewing machine.
The Jade 20 Sewing Machine comes with 82 stitches that are 7mm wide as well as advanced features for sewing decorative stitches. Customers love the durability of this machine. Get more info on this machine or purchase it HERE.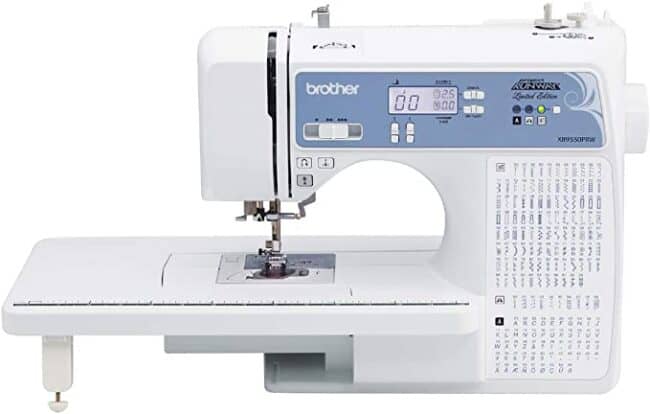 The Brother XR9550PRW Project Runway Brother machine is another computerized sewing machine that gets a lot of love in our Facebook Group. It's still under $300 but includes 165 stitches, an LCD Display, wide table and 8 included feet. The stitches in this machine include 110 built-in utility stitches, decorative stitches, and heirloom stitches as well as 55 alphanumeric sewing stitches. As compared to the Brother 6000i machine above, one of our group members said that this sewing machine was "faster, so much better control and uses the same accessories."
It has Brother's F.A.S.T needle threading system and includes a buttonhole feature that allows you to sew 8 different styles of buttonholes in a single step. It's a decent upgrade over the Brother 6000i for not much more money. Get more info on this sewing machine or purchase it HERE.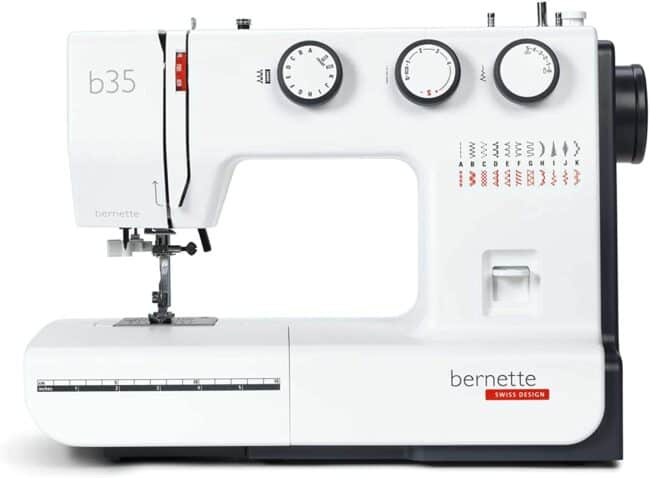 The Bernette 35 (B35) Swiss Design Sewing Machine is another good sewing machine for a beginner that has no computerized controls – which makes for easier servicing. This machine is designed and manufactured by the Bernina Textile Group which are known for their Swiss designed advanced sewing machines. The lower priced and beginner level Bernette 35 comes with 23 stitches and 7 presser feet. This machine features easily adjustable tension while sewing, automatic buttonhole, and other extras. Customers love how sturdy and durable this machine is along with the fact that you don't have to deal with a computer system. Get more info about this sewing machine HERE.
If you have a small child that you want to get started sewing then you might try the Janome New Home Sewing Machine. You can generally find it for under $70 as of the time of this writing. I bought this for my daughter when she was 4 years old. This machine is small and lightweight and I liked that it was less intimidating for a small child then a full size machine and also easy to store. It has 10 built-in stitches – obviously these are the basic stitches like straight, zigzag, crescent, etc.
My daughter loved this machine and it worked well for her as she started sewing. If you have an older child you want to get sewing, such as a pre-teen or teenager then you'll likely want to skip straight ahead to one of the other sewing machines listed above. For more info on this machine take a look at my article on Best Sewing Machine for Kids. You can also get more information on this sewing machine or purchase it HERE.
What Other Machines Do I Need for Sewing
Sewing Machines are just the beginning when you get started sewing. As you progress in your sewing journey and feel more comfortable you may want to get another machine or two. The first machine you might consider is a serger and the second is a coverstitch machine.
A serger (or an overlock machine outside the United States) is a particularly important machine for sewing clothing. The serger is generally faster, smoother, and gives you better seams that a sewing machine. This machine uses an overlock stitch and finishes the raw edges and keeps seems together. It also cuts the seam allowances as you serge. If your goal is to sew clothing that looks like it came from the store then it's definitely worth investing in a serger sewing machine.
At Peek-a-Boo Pages and Peek-a-Boo Pattern Shop our business is sewing clothing and teaching people how to sew professional looking clothing. With that in mind, after you get a serger you may also want to get a coverstitch machine. A coverstitch machine is important for finishing when sewing and is particularly useful for hemming knit fabrics. A serger is used in constructing and finishing seams but a coverstitch machine helps to achieve a professional looking hem with your stitches. For more info, take a look at our Coverstitch 101 Guide.
Advanced Sewing Machines and More Info on Using Sewing Machines
I hope you enjoyed this Sewing Machine Round-up for Beginners. If you're looking for something a little more advanced we also have a post on Top 5 Advanced Sewing Machines. There's also sewing machines that you may not be able to get online but can get from a local sewing machine dealer.
Also, if you want more information on how a sewing machine works we have articles on Using a Sewing Machine with Knit Fabric, Sewing Machine Maintenance, and Hemming with a Sewing Machine.