Back to School Closet Check List
Back to school time is the perfect time to clean out your child's closet and make sure their wardrobe doesn't have any gaps in it. Having a closet stocked with great mix and match pieces that you KNOW fit (and are hole and stain free 😉 ) can help make your mornings run a little smoother.
I am going to be focusing on a wardrobe for a second grade boy. I like to have enough clothes to get my son through an entire school week. So 5 tops and 5 bottoms. It's pretty warm still when we start school, so it's definitely still short sleeves and shorts for us!
Tops
I have recently found out that polos are a great compromise for my son and I. When made from a great knit, like the cotton lycra found in Peek-a-Boo Fabric Shop, a polo is just a cozy as a tee shirt, but the collar and button placket make it full of style. The Classic Polo is a great way to add some preppiness to the closet.
We love a good tee shirt, though! The Classic Ringer and Grand Slam are great wardrobe staples.
You can make your Grand Slam extra cool by adding a button placket from this tutorial to create a henley raglan.
The Grand Slam and Classic Ringer are great basics for all the great heat transfer vinyl designs in the shop!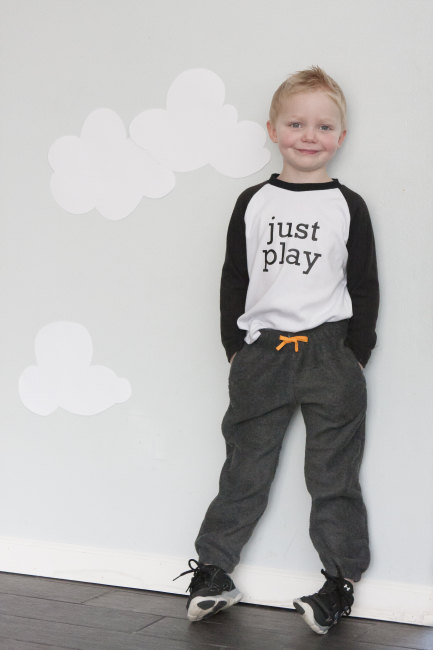 Grand Slam paired with Essential Sweats
I made up this design myself a while back, but Amy has a ton of cute stuff that coordinates perfectly with her custom fabrics!
The Classic Ringer is a quick sew and great for showing off your favorite fabrics.
Once the weather cools off a bit, I'm a sucker for a good layering shirt. The Classic Oxford is my go to for that! I love this camp shirt hack I did a few years back and make sure Thomas always has a couple in his closet. We like to layer them over a tank like the Maui Muscle Shirt. Keeps the a/c off his shoulders during the day, but then he can take off the button down when he's playing outside working up a sweat!
Bottoms
I like to keep bottoms in basic fabrics that will mix and match well with a variety of shirts. Thomas is rough on his clothes, so twills and sturdy bottom weights are best for his pants.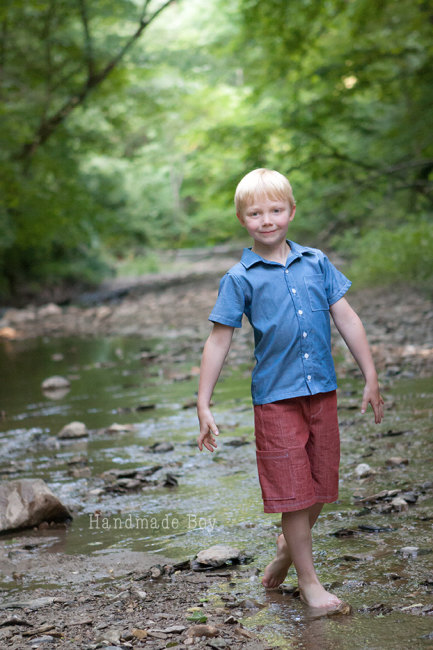 These Castaway Cargos in a sturdy Art Gallery Denim are certain to stand up to all the things Thomas can put them through! Paired with a Classic Oxford in Art Gallery's smooth denim, this outfit will get lots of use at school. And the creek.
The Classic Chinos are a pattern that I make again and again. Shorts length and pants, this pattern gets so much use! I normally go the entire way and sew up a zipper fly option (shown below), but when time is short, the elastic waist band looks just as great!
Classic Chinos in shorts length with a Classic Oxford and Little Gentleman Tie
When we start to get into fall, I'll definitely be adding a few new pairs of Rough n Tumble Pants to his collection. These comfy pants are great for the playground and recess.
Add in a few new pairs of Classic Boxers and the boy is all set for school to start!!
Want to join in the fun? We're keeping things casual this year so it will be super easy to participate!
Sew something using a Peek-a-Boo Pattern this week to get your kids (or you!) ready for a new school year. If you get more than one thing made you get bonus entries
Share your post on social media using the tags #backtoschoolpab and #peekaboopatternshop. Feel free to post multiple places for more entries! I'll be searching IG and FB for winners
On Monday August 7th Amy will draw TEN winners for a free pattern of your choice!