Welcome back for day two! If you are just joining in you can check out the post for day one to catch up. I've seen some wonderful fabric choices in the event group and can't wait to see the pullovers come together. Today we will be going over how to trim the pocket and attach it to the main body piece.
If you are going to trim the pocket you will first want to take your strips of fabric and iron them in half.
From there you will pin or clip the strip along the edge of the pocket stretching just slightly to get it to fit. You can use wonder tape at this point to help you keep everything in place. Repeat this step along the second side and you are ready to sew.
Next you will either sew or serge the strip to the pocket. You will want to use a stretch stitch if you are using a sewing machine to help with waving.
From there you will flip the trim and top stitch. You can use a lengthened straight stitch, a stretch stitch or even a decorative stitch.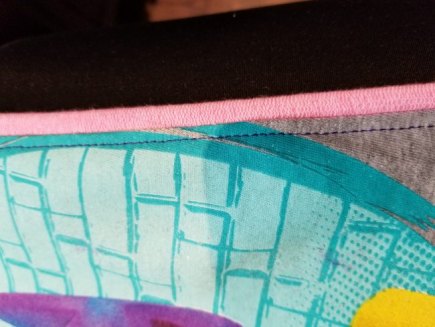 Now will want to pin or clip your pocket into place on your front piece and then stitch from the top of the pocket to the marking from the pattern piece.
And that's it! Don't forget to share your progress in the event for your chance to win the daily participation prize.