The Aspen, Alpental and Altitude are some of our most popular sewing patterns; today we'll show you how to sew a pullover by going over all the specifics of these sewing patterns. They each have a unique front look with a kangaroo pocket in front, accent trim, raglan sleeves, and options for a cozy cowl or standard neckband.
To start, click any or all pattern names for a direct link to grab your copies of the pattern – remember the Aspen is for Women, the Alpental for Men, and the Alitude for kids. We'll go over a few basic steps today to sew these up.
Aspen, Altitude, and Alpental Sew Along | How to Sew a Pullover
As always, remember that we're
If you are looking to switch out the cowl for a hood in either scuba, standard or cross over style don't forget to grab a copy of the add on pack! There is a youth add on pack as well as an adult add on pack. Both are great extras to have as they work with a number of other wonderful peek-a-boo patterns.
Feel free at any point to share progress pictures in the sew along event group or to ask any questions you may have. Plus if you happen to have a wonderful tip you've picked up from somewhere feel free to share. I'll be including a video of a great trick I recently learned for sewing cuffs and bands. I'll also post videos of steps as many people have mentioned they like them and I know myself it can be easier to watch something happening and copy it myself. If there is a demand for it I'd be happy to pick a time to do a live where you can ask questions or go over any steps you may be finding tricky. Basically anything that might be helpful I'd be more than happy to do! Here is the day one video.
The schedule will be as follows:
Monday– Fabric selection, Choosing your size based on measurements and desired fit and assembling the pattern and cutting your pieces.
Tuesday– Pocket and trim. The updated pattern has trim measurements so make sure you have your pattern re-downloaded if you haven't already!
Wednesday– Nursing option and how to reinforce the opening.
Thursday– Sleeves and bands. This is when I will show you the trick that will help those of you (like me) who can't stand when your seams don't line up.
Friday– Cowl/Hood. I will show you how I added trim to the cowl like I did here. You can then choose if you'd like to use the same method on your hood.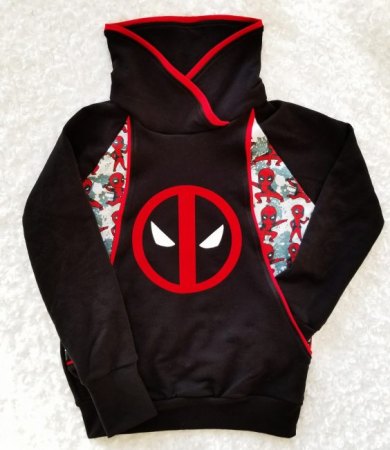 Saturday & Sunday– Catch-up days
Now that you have all the details on how this is going to work let's get sewing!
Picking Your Size
The pullover was designed to be worn over a light weight tee and is snug fitting. If you are wanting a looser fit you can size up or if you were going to make the Aspen you can switch to the Alpental. I personally used one size for the body but sized up in the hips to get my perfect fit.
Picking Your Materials
These patterns are designed to be used with knit medium weight fabric (jersey, interlock, french terry etc) with at least 30% stretch. If you are doing a trimmed pocket version you will want piping or a 1″ strip of knit. Lastly if you are making the nursing option you will want a scrap of fusible interfacing.
I can't wait to see your progress and preview your beautiful fabric selections!