Finding the perfect solution for thread storage has been at the top of my organization list. It seems like my sewing table is always covered in stray thread spools and tangled bobbins. If you have the same problem, here are 8 DIY thread storage solutions for you.
This thread storage rack from Fyne's Designs goes together with some molding and dowels. Make as many as you need for your thread storage needs.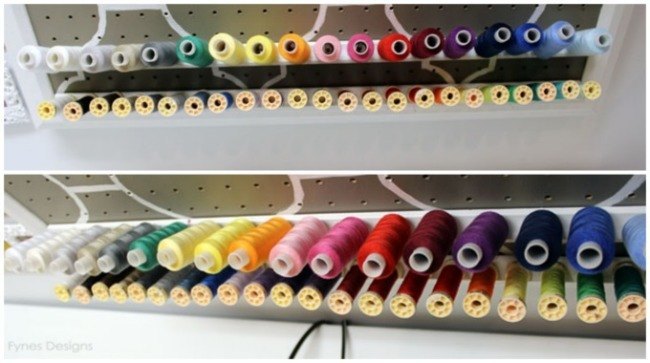 This rotating thread tower on Amazon is an excellent table top option for your thread storage needs. It fits up to 84 spools to help keep you organized.
A robust thread collection may require pull out drawers with dividers. It will allow you to store a large amount of thread for all your projects.
This chevron themed thread holder is perfect if you're looking for something with a little more style for your sewing space.
There are several good tutorials throughout the internet for making thread holders out of peg board. Here's a good one from Sugar Bee Crafts.
This Thread Storage unit is a good horizontal alternative to the peg board option above. Store a large amount of thread with these pull out drawers.
Another way to add some style is with a framed thread holder. We had one of these for awhile and here's a great tutorial on how to put one together.
We'll finish up with this fun round-up for a repurposed ironing board made into a thread holder.
Thank you for joining us to go over different thread storage solutions. If you enjoyed this, you might also enjoy some of our other tutorials and blog posts: