Hi! It's Stephanie from Stephie B's Designs here again with a post on 30 Must Have Sewing Tools that you need.
I believe every sewist should have these tools on their sewing table or in their sewing box. While understanding your machine and learning how to sew basic stitches is very important, you also need to be familiar with some of the basic tools that help you with your projects from start to finish.
This article will include basic sewing tools to use when using a machine, when hand sewing, or even when quilting although our specialty here at Peek-a-Boo is apparel sewing.
With that being said, let's dive right on in to some of our top sewing tools as well as a few other sewing supplies!
Sewing Tools: Pins, Hand Sewing Needles, & Machine Sewing Needles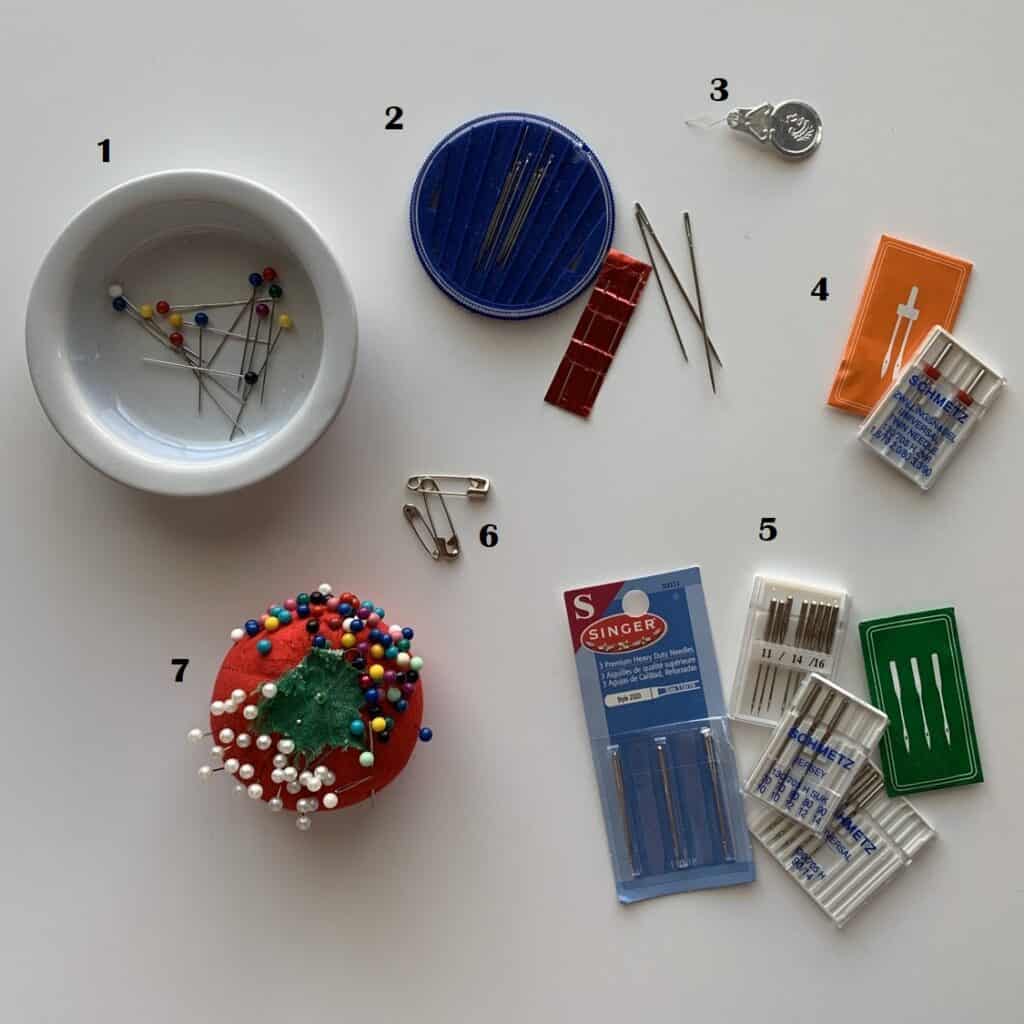 A magnetic pin cushion – Such handy sewing tools to have! Wave it over your desk or work area to pick up all those pesky pins and needles that like to hide in plain sight (and then attack your feet!). Want to know how to make your own pin cushion for all of those extra needles? Check out my tutorial on How to Make a Magnetic Pin Cushion.
Hand-sewing needles – There are many projects that may require the fine-tuning that can only happen with hand-sewing needles. These needles come in a variety of sizes ranging from needles made for soft, delicate fabric, to needles perfect for course, thick material. It's good to have several sizes of needles on hand just in case. I have two hand-sewing needles in my tomato (stuffed pin cushion) at any given time… you can barely make them out in the image above, but the various needles are always there. One is a fine needle for hand stitching seams when needed and the other is an embroidery needle for finishing serged tails.
Safety Pins – Whether you are into apparel sewing, hand sewing, or quilting, safety pins are useful for just about anything. Use these for pulling elastic through a casing, turning a tube of fabric right-side out, holding layers of fabric together, and many other projects. You never know when you're going to need one, but when you do, you'll be happy you have it.
A stuffed pin cushion – Pin cushions are must have sewing tools for any sewing table. You need this to hold each pin and needle so you have them when you need them. Along with my scissors, my sewing tomato accompanies me throughout every sewing project, holding the pins for me until I need them for the fabric. I LOVE my tomato, as you can tell by my logo. Not sure why, but the classic red tomato stuffed pin cushion is still my favorite, but you can find stuffed pin cushions in any design or style. When you're sewing, they are truly of your tools that you need for about anything.
Steel straight pins (a lot!) – You need these for just about every sewing project, pins are the perfect sewing tools for holding two (or more) pieces of fabric in place until you sew. I recommend choosing the ones with glass heads rather than those with plastic; glass won't melt under a hot iron, and trust me, you may not think your pins will ever be that close to an iron, but they will. And you'll thank me for the advice. 🙂 I personally have pins specifically for knit fabric and others for all other fabric. I'll teach you more about that when I cover fabric in another lesson.
Sewing Tools: Sewing Needle Threader
Take it from someone that has shaky hands… a sewing needle threader is one of those tools that you need when threading fine hand-sewing needle. I rely on it a lot when I need to get the thread through the teeny tiny small eye of the needle. Most sewing machines come with one, so you may already have some of these little tools laying around your sewing space.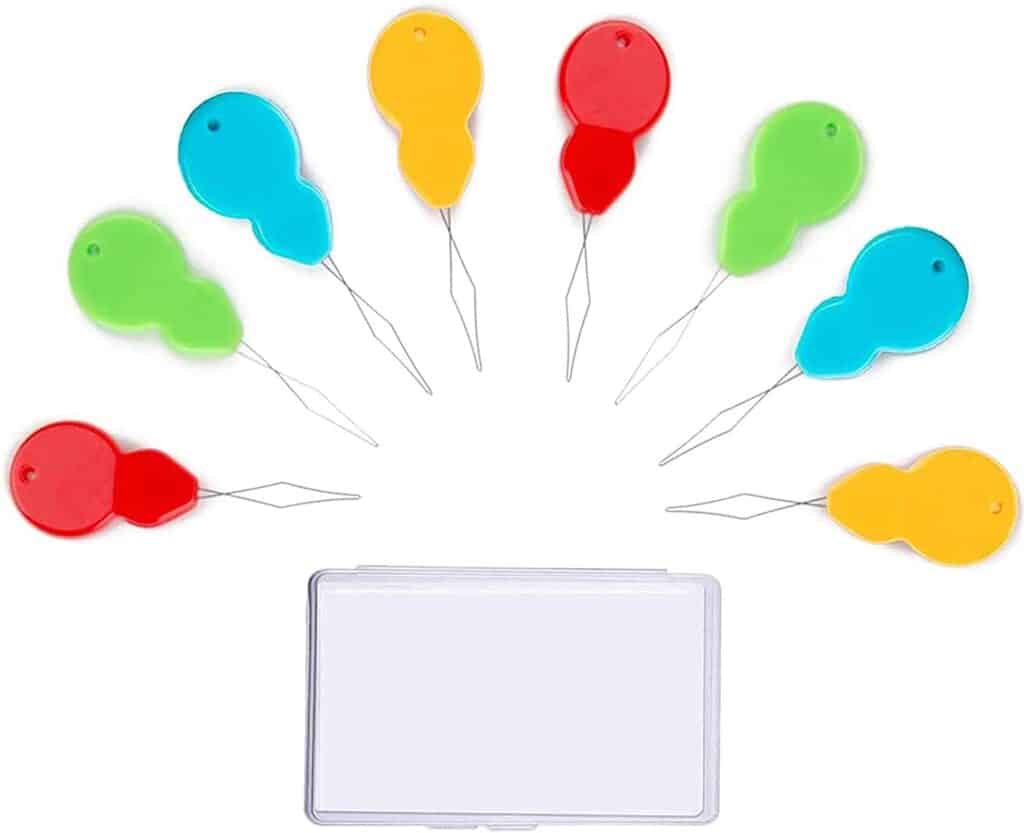 Sewing Tools: Measuring and Fabric Marking Tools for Sewing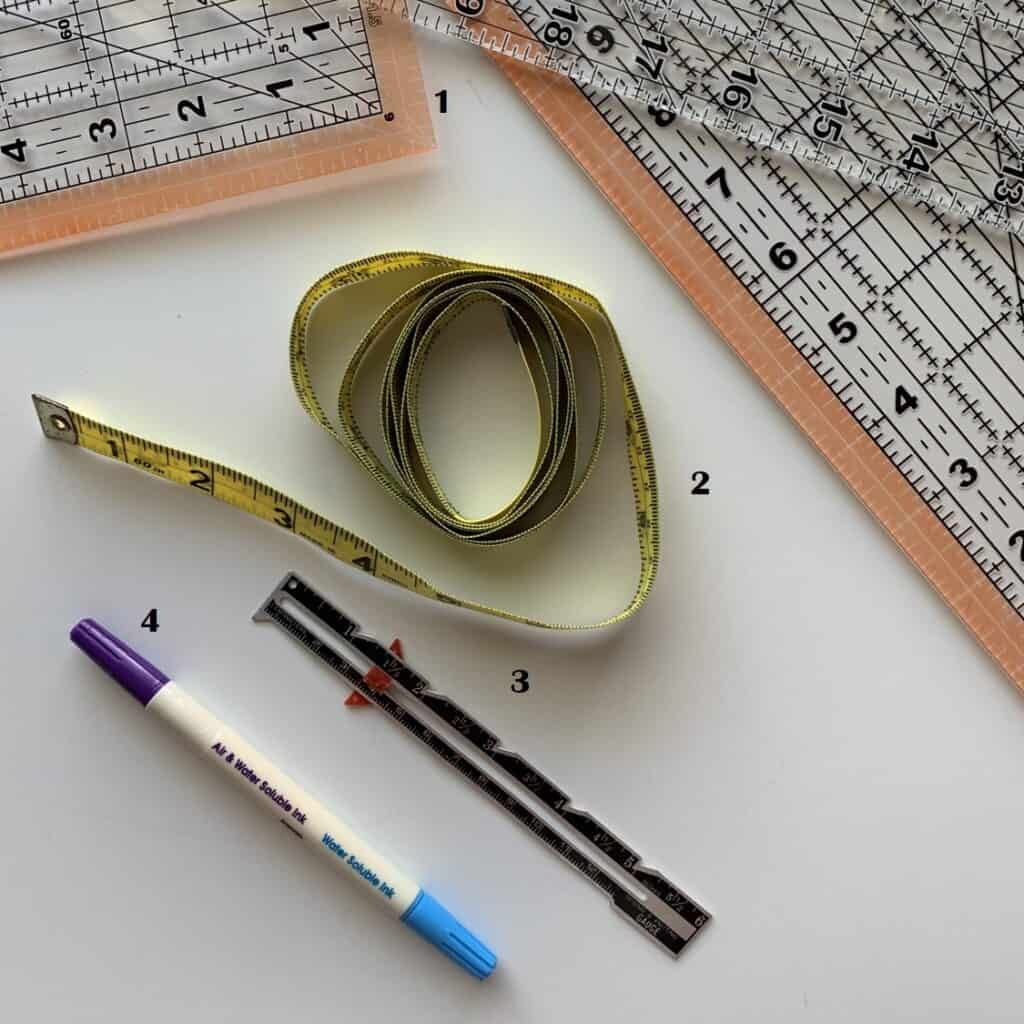 Acrylic quilters rulers – Used by more than just quilters, these are handy for measuring your fabric when sewing. You also need them for creating a straight line for cutting fabric with a rotary cutter. You can find them in a multitude of sizes, and oftentimes come in multi-packs.
A cloth measuring tape (aka flexible tape measure) – Every sewist will need their measuring tape. These tools are used for taking measurements of the body when sewing garments or doing alterations. Because of their flexibility, they are perfect for finding exact measurements on non-flat surfaces. I use mine all the time on flat surfaces, too… it's usually around my neck while I'm sewing!
A seam gauge – These invaluable tools are comprised of a small ruler with a sliding marker, and is used to measure hems, pleats, tucks, and other small measurements while sewing.
A fabric pen – When patterns require details that must be transferred onto the fabric (for example where snaps need to be attached to a romper), you'll need these. You can chose from pens with disappearing ink, water soluble ink, or as I prefer, a Dritz's Dual Purpose Marking Pen that can do both. They're used in the same manner as fabric pencils and tailor's chalk.
Sewing Tools: Cutting Tools for Fabric
Pinking shears – This sewing tool cuts a zigzag edge (versus a straight edge with basic scissors) to finish raw edges. They help to minimize bulk on the inside of seams and prevent woven fabric from fraying while cutting. These are great to have on hand, but if you don't, there are other ways to accomplish what they do. Take a look at these two tutorials from Peek-a-Boo Pages, Reducing Bulk; How to Trim, Grade, Notch, and Clip Seam Allowances and Clipping and Notching Seam Allowances for more tips.
Embroidery snips (or spring-handle shears) – Their very small and very sharp point are perfect for trimming threads close to the fabric. Larger fabric scissors typically have dull tips, so cannot get as close to the fabric as you sometimes need. I personally use a pair I bought years back from the Pampered Chef!
Seam rippers – Let me tell you my friends… you need about FIVE of these when sewing. Ok, truthfully, though, these are by far one of the most important sewing tools you need to have in your sewing box, so having two or three laying around is a good idea. They're used to remove stitches, be it from boo-boos, mess-ups, uh-ohs, or occasionally something intentional like basting stitches. It doesn't matter if you've been sewing for one day or 50 years – you will inevitably need to rip out a seam or two, and this is the tool you need.
A rotary cutting mat – Also known as a self-healing mat, these mats are used with the next item on our list (rotary cutters) to provide the perfect base to cut smooth edges along your acrylic quilters rulers. They 'heal' themselves. to you don't have to worry about slicing into them. I also use my mat when I'm pinning fabric together as I need to protect whatever table surface I'm using.
Rotary cutters – These handy sewing tools cut cleanly through multiple layers of fabric depending on the size cutter/blade you choose. They can be used to make bias tape and cut out patterns, as well. The blade is VERY sharp, so you need to be careful when using them, and for that reason I do not recommend using these without a rotary cutting mat or you will damage your table surface.
Basic scissors – It is very important that you do not use your fabric scissors on anything but fabric, so you must have basic scissors on hand to cut paper, patterns, tape, and all other non-fabric materials you'll need. They don't need to be fancy – they just have to be different than your fabric scissors!
Fabric scissors – Along with straight pins and your sewing machine, this is a sewing tool you cannot go without. You need to invest in a high-quality pair of scissors that you can sharpen when you need and will last forever. I have been using my heavy-duty mixed-media Fiskars for about six years now – on fabric only of course – since they can cut through several layers of fabric at once.
Other Useful Tools I Recommend for Sewing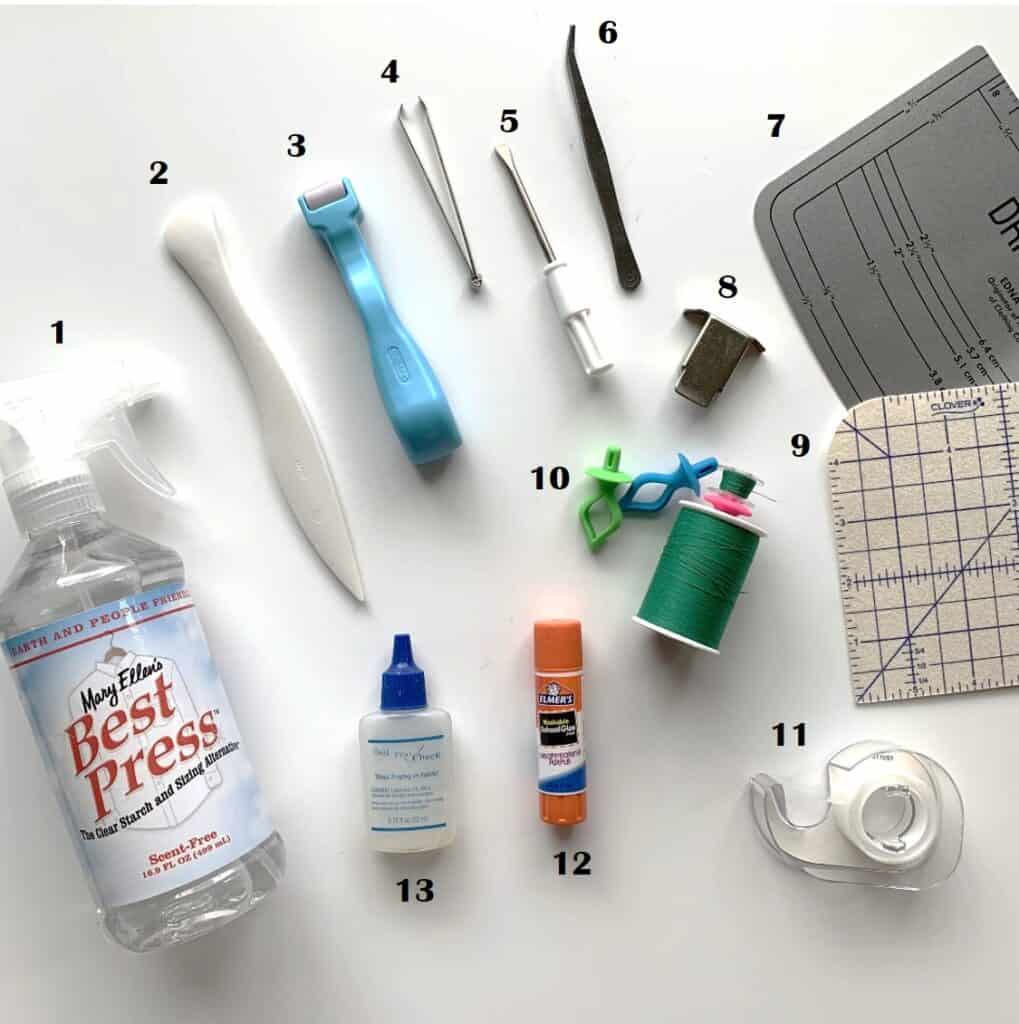 Mary Ellen's Best Press – This product was recommended to me by a quilting friend of mine who swears by it. I find that I need it when sewing with woven fabric, as woven fabric tends to wrinkle with the slightest fold. Best Press is not a starch (it's actually marketed as a starch alternative), doesn't leave a residue, and has no smell. See it in action in my How to Make a Fabric Rosette tutorial.
Clover's Point 2 Point Turner – This clever little tool is super useful when turning out seams, for example, after you sew this awesome Drool Bib from Peek-a-Boo Pattern Shop and turn it right side out, you'll use the Point 2 Point Turner to push out the corners to ensure no fabric is left within your seam before topstitching.
Clover's Roll & Press – Although your iron will likely be out and used on most sewing projects, this pocket-size roller helps flatten seams quickly (and without heat!) to reduce bulk along seams or folds.
A bodkin – Although you can use safety pins in its place, I highly recommend keeping a bodkin or two in your sewing box. This tool grabs/pinches elastic, drawstrings, or whatever material you need to feed through a small hole and assists in pulling it through. It also aids in turning a fabric tube (e.g. spaghetti straps) right-side out. They bend pretty easily out of shape, so I recommend keeping a few on hand.
A screwdriver – Most machines (including sergers and coverstitch machines) come with a specific screwdriver used for attaching presser feet, adjusting tension, and changing needles. Lose this and you will have a hard time finishing your project, so always keep it safe and know where to get another one.
Tweezers – I use these for random tasks all the time, but mostly putting the thread through a recently threaded needle.
Dritz Ezy-Hem – This is a handy little tool for pressing garment hems. You can easily measure hems 1/4 to 4-Inch along the straight edge and 1/4 to 2-1/2-Inch along it's curved edge. You can also iron right over it to ensure crisp neat hems.
A magnetic seam guide – I use this all the time! You place it on the metal part of your throat plate along the marked line for your desired seam allowance, then just make sure the edge of your fabric runs along the flat side – and voila! A straight (and consistent!) seam allowance!
Clover's Hot Hemmer – Just like Dritz's Ezy-Hem above, this is suuuper useful when pressing hems. This one has a non-stick surface so fabric doesn't slip as you press, which is pretty handy when you need to iron the prefect hem.
Smartneedle's Bobbinis – I love these. Like adore them. I have about 50 of them! They keep your thread spool matched up to the corresponding bobbin so you don't need to dig through your stash to find the right one. Love!
Tape – Useful in so many situations! If you've gotten on the PDF pattern bandwagon (as I have!) you'll need tons of tape. Its always good to keep close at hand.
Washable glue stick – I have to admit I use this A LOT. I run through sticks of these like crazy. The two places I use them the most is to tack down various seams before sewing (such as the very start of a neckband on a bodysuit) so they don't slip and to keep zippers in place before sewing. This is the greatest hack ever.
Dritz's Fray Check Liquid Seam Sealant – Love this stuff as well. In a nutshell, it prevents fabric from fraying and secures thread ends.
Sewing Tools: Machines
I won't say that various sewing machines are essential tools for every one of your sewing projects, but they sure make life a lot easier. Sewing machines can be a big investment….but they don't always have to be. There are generally cheaper options. Here's a few machines that will make your sewing life a whole lot easier.
We have a few different articles linked to below that go into more detail with these machines. Also, be sure to search through our Facebook Group to see what machines people are using and which ones they recommend.
Sewing Machine: A good sewing machine makes your life sooo much easier. They make stitches stronger and more durable. They allow you to be more productive and are truly essential for sewing clothing. To help you find a good option, we have a couple different posts, including Top 5 Beginner Sewing Machines and Top 5 Advanced Sewing Machines.
Serger. Using a serger will make your sewing projects go much faster and make a more durable and professional looking finished product. A serger is especially helpful – and some might even say essential – when using knit fabric.
Coverstitch. Finally, you might also consider investing in a coverstitch machine. A coverstitch machine is most often used for hemming knit fabrics and gives a professional look to your seams. For more info on coverstitching you can take a look at our Coverstitch 101: How to Use a Coverstitch Machine article.
Bonus Tools for Sewing
Of course, we can't get to the end of this article without adding a couple truly essential tools that you'll need for all of your apparel sewing projects – a sewing pattern and fabric.
Sewing Patterns
Sewing with a pattern will make your life sooo much easier. At Peek-a-Boo Pattern Shop we specialize in PDF Sewing Patterns. These are downloadable files for patterns. You can purchase them from your home computer and print them off whenever you like. PDF Sewing Patterns are the future. They come with detailed, easy to follow instructions to help walk you through your sewing project.
Peek-a-Boo Pattern Shop is well known for making patterns with clear instructions. Our patterns are easy to sew and will allow you to produce professional looking clothing. We also have excellent customer support through e-mail and an active Facebook Group with over 80,000 members where you can get 24/7 help with all of your sewing questions and also share what you make.
For more info regarding our PDF Sewing Patterns take a look at our PDF Sewing Patterns Guide and take a look at a few of our popular patterns below.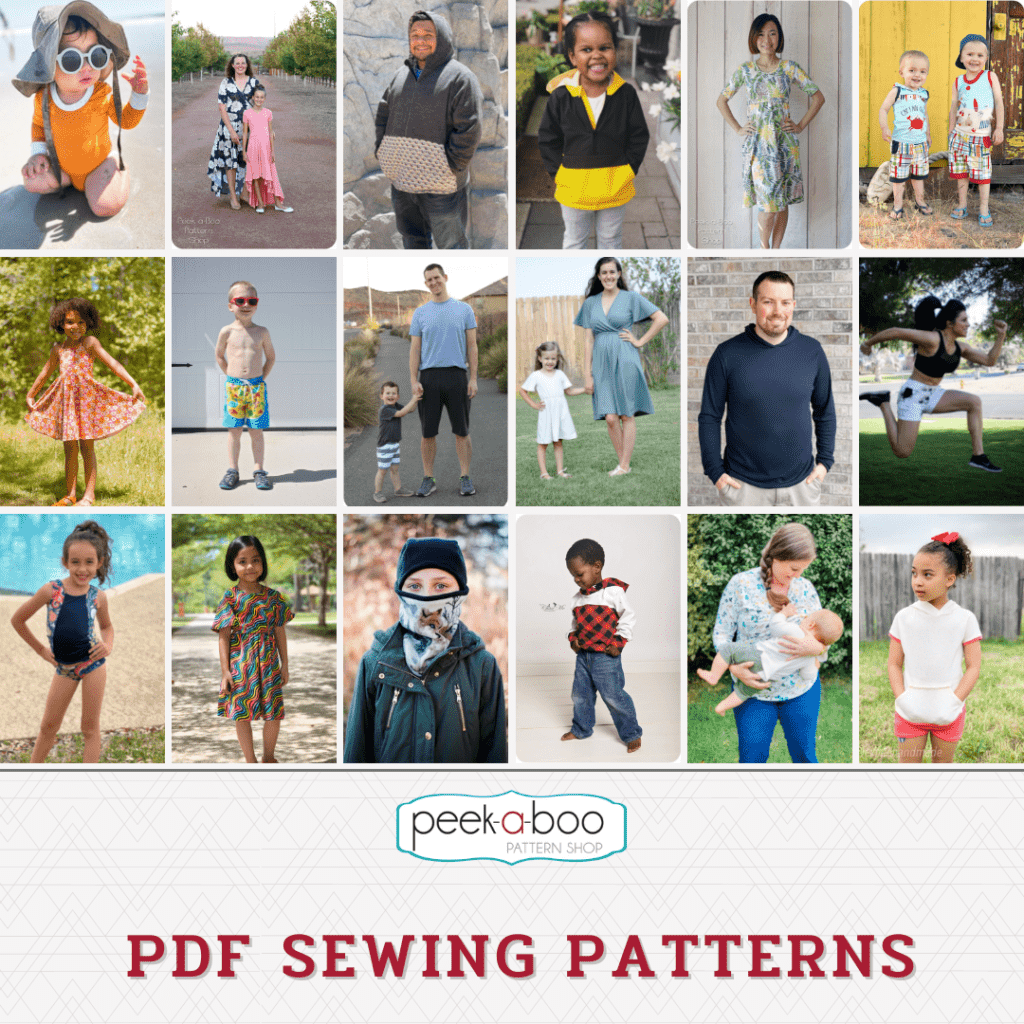 Apparel Fabric
You also won't get too far sewing clothing without fabric. Finding the perfect apparel fabric can be a challenge. You generally won't find what your looking for at the local fabric shop. That's why we started KnitFabric.com. You'll notice at Peek-a-Boo Pattern Shop, that many items of clothing are made with knit fabrics – from cotton lycra, to french terry, to sweatshirt fleece, double brushed poly, swim fabric, and more.
At KnitFabric.com we offer higher quality fabric, at better prices, with flat rate shipping. Subscribe to our KnitFabric.com newsletter to get 10% off your first order.
Thank you for joining us today to see our list of Must Have Sewing Tools! You might need to do some shopping now and buy a few new tools and items to get your sewing stash outfitted properly. These tools will make your life easier and you'll wonder how you lived without them for all these years.
Do I have more sewing tools than what's listed above in my own personal sewing box – oh yes (washable tape and a mini iron for starters, but I said 30!) , however I think these are great sewing tools to have when you're just starting out.
I'll cover additional items later as I work on the Sewing Dictionary you all are waiting for, but for now, keep reading through all the amazing tips, tricks, projects, and tutorials from Peek-a-Boo Pages.
Am I forgetting any sewing tools? If you already have your sewing box set up, what do you use that I didn't include in my list? I'd love to know!
Also, make sure to join our sewing community at the Peek-a-Boo Pattern Shop Facebook Group and check out some of our other tutorials too: