Halloween is just around the corner, and I have a fun DIY project for you: fully lined, flat bottom, DIY Halloween Candy Bags! This easy trick or treat bag tutorial is simple to follow. In no time, you will be able to whip up a trick or treat bag for your favorite princess, super hero, ghost, or witch! Let's get started.
DIY Halloween Candy Bags Supplies
1/3 yard of main fabric
1/8 yard of accent fabric
1/2 yard of lining fabric
1.5 inch ribbon
Basic sewing notions (pins, thread, rotary cutter or scissors, etc.)
Come to KnitFabric.com for your fabric needs!
DIY Halloween Candy Bags Step 1: Cutting the Pieces
Let's start by cutting all our pieces. Cut two pieces of your main fabric 10 x 12 inches. Cut two pieces of your accent fabric 4 x 12 inches. Cut two pieces of your lining fabric 13.5 x 12 inches. Cut two pieces of your ribbon 16 inches long.
DIY Halloween Candy Bags Step 2: Constructing the Candy Bag
Now we'll begin with the construction. Take one piece of accent fabric and lay it on one piece of main fabric lining up the top edge right sides together. Pin in place and sew or serge with 1/4 inch seam allowance.
Press the seam allowance down towards the main fabric with a hot iron. Then topstitch your seam allowance down. You can use a straight stitch or do a fun decorative stitch like I did. Repeat these same steps for your other main piece and accent fabric strip.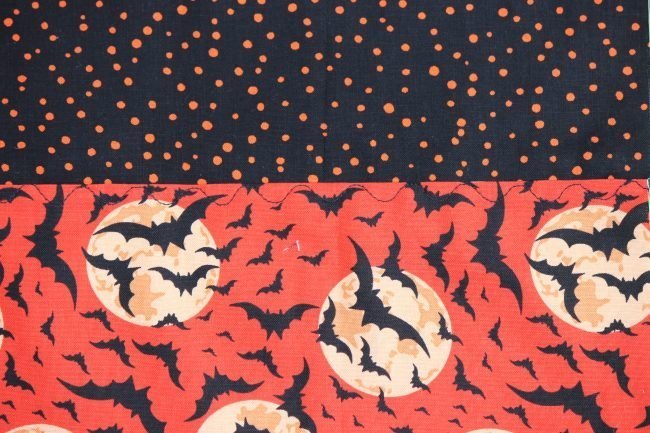 Now, take your front and back pieces of the bag and place them right sides together. Pin around the outside and sew the side seams and the bottom seam. Do NOT sew along the top.
Next, we will create the boxed corners which will give the bag it's flat bottom. It's a little difficult to describe, but it's not tricky at all to sew. You need to use both hands to pinch and pull apart your corner. This will create a peak in the corner and you will line the bottom seam and side seam up. Measure in 1.5 inches from the corner and mark a straight line. Sew down this line. Then you can cut off the excess fabric. I like to use pinking shears for this step but they are not necessary.
Next we'll work on the lining. Place you two pieces of lining fabric right sides together. Pin around the outside. Sew the side seams and the bottom seam but be sure to LEAVE A 3 INCH OPENING along the bottom. This opening will be crucial at a later step. Also, do NOT sew the top seam.
Next, create the boxed corners on your lining piece just as you did with your main fabric.
Now you are ready to put your lining and main fabric together. Leave your main fabric inside out and turn your lining right side out. Place your lining inside your main fabric so right sides are together. Match up the side seams and pin.
Then you are going to slide your ribbon pieces between the two layers to create your handles. Line up your ribbon approximately 2.5 inches from the side seams and place the printed side towards your main fabric piece. Pin in place. Do this for both ends of both pieces of ribbon. Once your ribbon is secured you will sew all the way around your top seam joining your lining piece to the main fabric.
Reach in your bag and pull out the lining. Then reach in the opening you left in the bottom seam of the lining and pull the main fabric through the opening, turning your bag right side out. Next, you can get fancy and hand sew that opening closed, but I chose to machine stitch it closed since it is on the inside of the bag and no one will even see it! 
Finally, give the bag a good press with the iron, especially along the top seam. This will help the lining stay in place. Be careful when ironing near the ribbon. You don't want to melt the ribbon! Now your DIY Halloween Candy Bag is complete and your little one will be ready for Halloween!
I hope you enjoyed this tutorial. You might also enjoy one of our FREE Costume Pattern Tutorials.