Making your own picnic blanket is an easy beginner project if you plan ahead. A picnic blanket makes a great gift, or it can be a family treasure brought along on many adventures. Let's get started!
Materials
1  piece of quilting weight fabric for top, 72″wide x 82″long. For your fabric needs go to www.peekaboofabricshop.com
1  piece of medium to heavy weight fabric for bottom, 68″wide x 78″long
fabric for optional tie, 3″wide x 60″ long
Sewing the picnic blanket
To begin, cut a (or piece together as desired) fabric piece for the bottom. If you use a queen sized sheet for top, simply lay the bottom piece on top of the sheet and use a rotary cutter and mat to cut the sheet 2 inches larger than the bottom.
With the bottom piece right side up and the top piece right side down, fold the top piece toward the bottom piece as follows: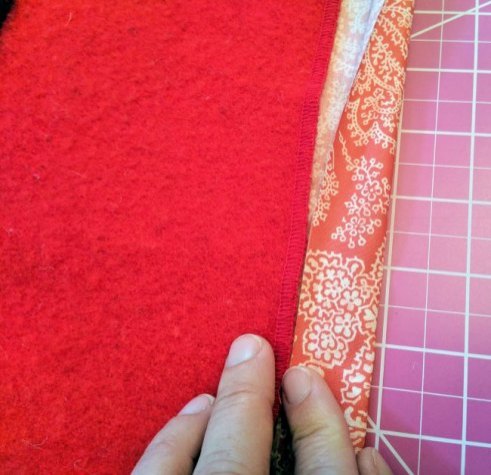 Next, fold the top piece over once more toward the bottom piece to create a binding. Pin in place and repeat for all four edges.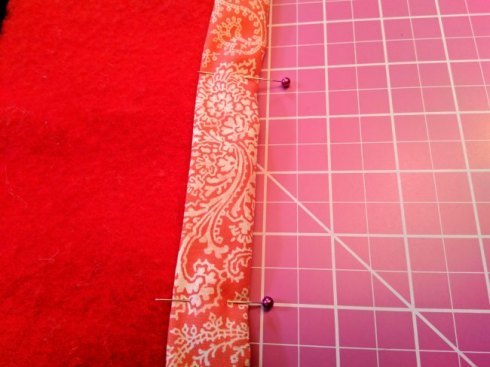 At the corners, simply tuck in the fabric like this: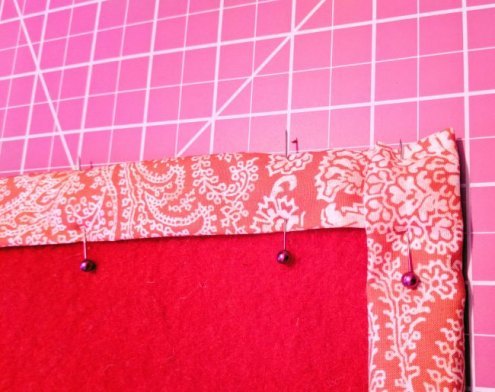 The fabric at the corners will be caught in the topstitching at the end.
After all sides have been pinned, press all edges flat. This can be done right on the floor if you are working on a thick rug. Sew along the fold right near the edge where the folded over top piece meets the bottom piece:
When you get to the corners, sew all the way to the edge of the picnic blanket. Then start again at the edge and sew all along each side of the blanket. This reinforces the tucked corners.
Next, make the tie using the 3″wide by 60″long piece of fabric. Fold and press the tie in half the long way, then open and press the edges to the middle.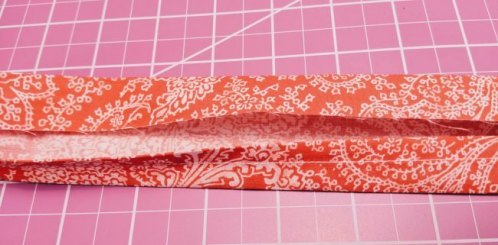 Then, to tuck in the top for stitching, trim each corner and fold top over twice about 1/4″. Fold in half again the long way and pin for stitching: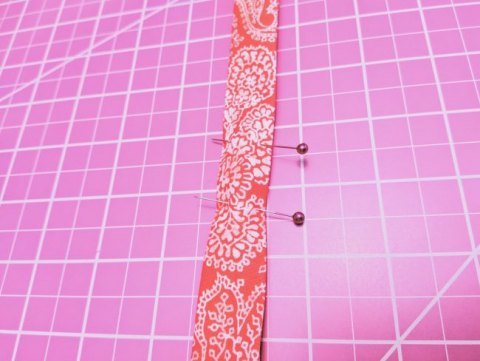 Stitch along the length of the tie. With the blanket top facing right side up, measure 25.5″ inches from the right corner of the short edge. Center the tie over this spot and pin in place. The picnic blanket can be folded into fourths so it will roll up and be tied in place.
Sew tie in place, reinforce by stitching around several times: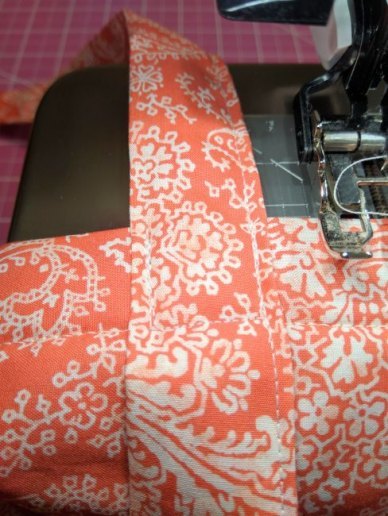 To roll up your picnic blanket, place blanket bottom side facing up. Fold in half using the longer side, keeping the shorter side unfolded. Fold in half again this way, folding it into fourths. Roll the blanket, starting at edge furthest from the tie so that it will be centered on your rolled up picnic blanket.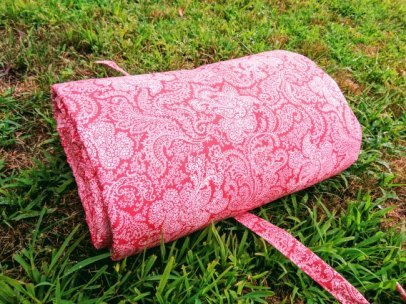 Then tie a bow and your picnic blanket is finished!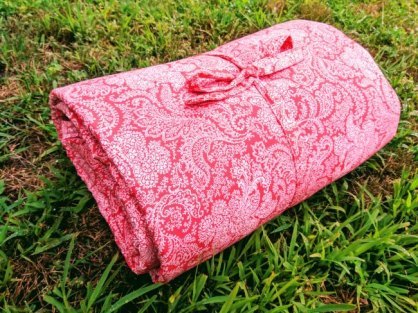 Ready for gift giving or a picnic!