I love to sew headbands for my little girl to match her outfits. Today, I'm going to show you how I made a woven headband to match her new Hazel dress.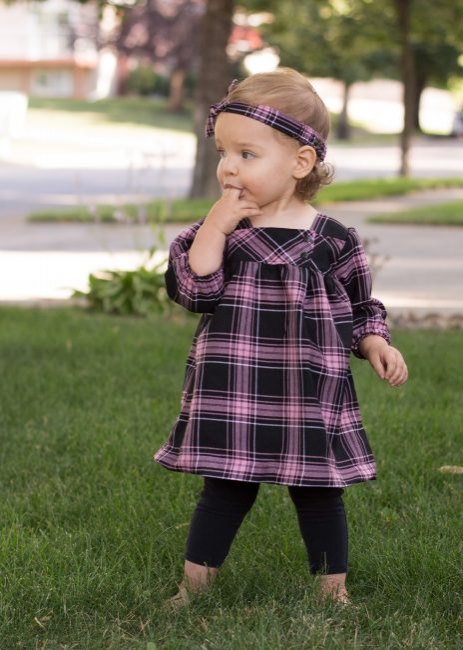 To start, I measured my daughter's head. She is 16 months old, and her head is roughly 18″ around. I added 12 inches to the measurement to have room to tie the knot. For an older child or adult, you may need to add more to the measurement or cut your fabric wider as well.
I cut a piece of woven material 30″ by 3″. In this picture, it's folded in half.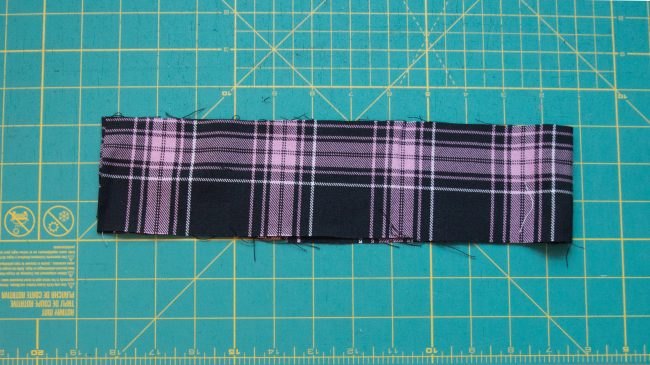 I then rounded off the ends using my masking tape roll and rotary cutter. My piece is still folded in half so I could cut both layers at the same time.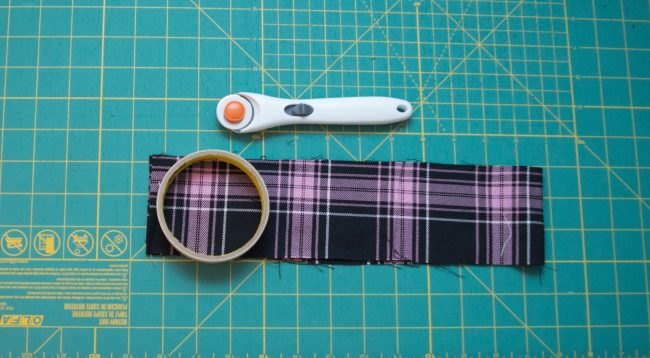 Unfold the fabric and refold it right sides together with the long sides touching. Sew around the edges with a 1/2″ seam allowance leaving a 4-6″ gap in the middle unsewn. Trim the seam allowances except by the opening.

Turn the fabric tube right side out and press well. I used a 6″ piece of elastic for my toddler daughter which worked well. I measured to find the middle of my headband. I then measured 5 inches on either side of that. This would be where I'd attach the elastic. I slid the elastic inside the headband and attached it at one 5 inch mark. Then I slid the other end over to the other 5″ mark and attached it. It took a bit of wiggling to encase the elastic, but it was not difficult with the untrimmed seam allowance.

After stitching the elastic at both ends, top stitch with a long stitch length all the way around the headband, stretching out the elastic while sewing. This will close the edge you had left unsewn to insert the elastic into.

Finally, tie the headband into a knot based on the size of the wearer.
Now you have a cute woven headband to pair with your winter dresses and tops! Come share your headbands in the Peek a Boo Pattern Shop Facebook Group. I'd love to see what you made.