Hyak and Huckleberry Sew Along Day 4
Welcome to day 4 of the Hyak and Huckleberry Sew Along! If you are just joining us, scroll to the bottom for how to join in and to see our schedule. Yesterday we sewed our welt pockets. Today, we are going to attach the hood, cuffs and bands.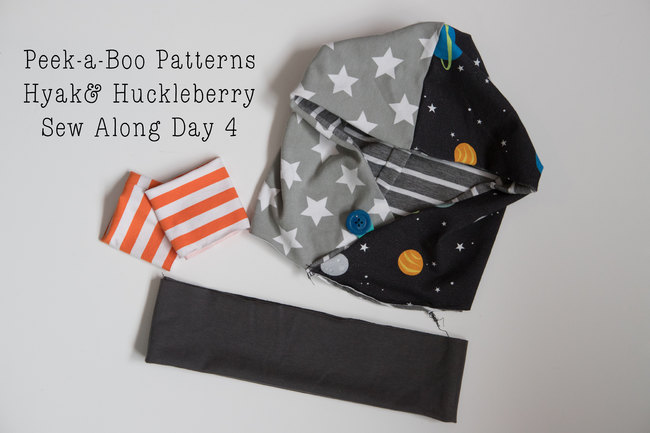 Before we get to the the hood, band and cuffs, I want to take a step back towards yesterday's post. There were some comments about wishing there was a video for the zipper. I don't know why I didn't think to do one! Soooo, better late then never, here is a video explaining how to install the invisible zipper.
Now, back to today's work! Can we love on the button for a moment? The button detail on the hood is a great opportunity to have some fun! I picked a large chunky button that mimics the planets on my fabric.
When you attach your button, make sure to do it before you attach the hood to the body of your shirt. You want to go in between the hood lining and main fabric and hide those stitches!
For the loop, I used a strip of the same cotton lycra I used for the faux piping. I just cut a narrow strip, about 3/4″ wide and pulled so it curled in on itself and attached.
For my cuffs, I went with a fun stripe fabric. Because, why not. LOL
After you have your cuffs, band and hood attached, you have a completed hoodie!
Joining In:


I'm so excited to have you sewing along with us! Here's how to join in the fun
1. Pick up a copy of the Hyak Hoodie or Huckleberry Hoodie (or grab both!)
2. Check here on the blog everyday this week (see schedule below)
3. Join the Peek-a-Boo Pattern Shop Facebook Group: Participants are encouraged to post in-progress photos, ask for help and advice, etc. throughout the week
4.Post your photos on facebook and IG and tag them with #hyakhoodie and/or #huckleberryhoodie for your chance to win a gift card! 3 winners will be drawn at random for $25 store credit.
Sew Along Schedule: 
Monday: Choosing Your Fabric and Size, Choosing Your Options, Printing Your Pattern, Cutting
Tuesday: Sewing the welt pockets and Adding a zipper to the welt pockets
Wednesday: Assembling the body: Faux piping and How to make a 2-way invisible zipper
Thursday: Assembling the hood and adding cuffs
Friday: Inspiration and modifications
Saturday and Sunday: Catch Up Days
Monday: Winners announced