How are your Christmas preparations coming? Are you working on handmade gifts for the people on your list? I got an early start on my gifts this year, and now I have a whole stack of finished gifts in need of some special packaging. Hand-crafted cards and tags always make a gift extra special, and I love paper crafting, but I don't often have time for it. I was excited to receive a copy of the newest book from Fox Chapel Publishing, Christmas Papercrafting: Holiday Cards, Gift Tags, and More!.
This book makes it simple to add handmade elements to your gifts. It contains pre-printed cards in two sizes, tags, and bookmarks, as well as lots of beautiful double-sided paper for making envelopes and adding to your creations. It has a section with instructions for embellishing the items that come with the book to make them your own. You can fancy them up a lot or leave them as they are. Either way, they are lovely.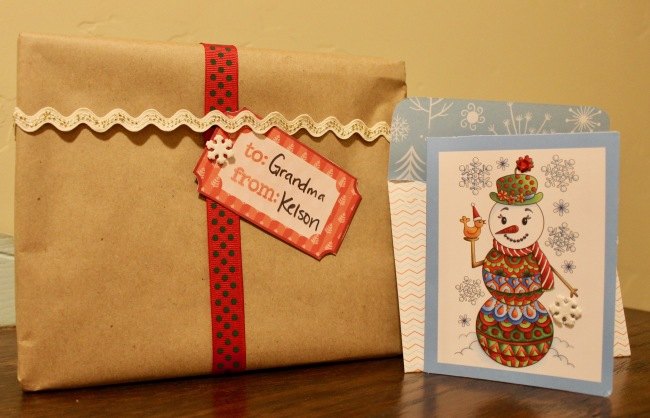 I think plain kraft paper makes such fun gift wrap. It makes the perfect backdrop for creative embellishments. I chose the card, envelope, and gift tag from the book and added some snowflake brads and a sequin or two from my stash. Perfect!
I love that the cards all have a cute little graphic and a quote inside.
Also included in the book are two 8×10 prints ready for framing to add to your Christmas decor. A few snowflakes and sparkles, and this one was ready for my mantle. I love an easy project!
If you are like me and have kids at home, you know that finding ways to keep those little angels busy is essential if you want to actually get your Christmas projects done. With my paper crafting book, I also received copies of these two fun coloring books. You can find them on Amazon.com here and here.
Sarah settled right in to start coloring. She loved the cute, Christmasy animals.
I even took a break from other projects to join in on the coloring fun. The pages are one-sided and printed on high quality paper, so they work great for watercolors. I find painting to be a great way to relax and de-stress; just the thing for a breather during the holidays.
I hope this gives you some ideas and inspiration for getting your gifts finished and packaged. Merry Christmas!