Hello Peek-a-Boo readers! It's Kelly from Handmade Boy and I'm back with a tutorial perfect for your spring table!
This burlap lined basket is so easy to create! You can use this to add a cute touch to any basket and any size! Dress up a basket for a beautiful display of flowers. Or brighten up your child's Easter basket. You can even embroider their name on the folded down edge! How sweet would that be?! A lined basket filled with flowers would also be a thoughtful Mother's Day gift. So many uses for this simple project!
For this tutorial, you will need:
Wire basket (mine is from Hobby Lobby)
Burlap (scrap piece depending on the size basket you are lining)
Marker
Clips or pins
Tape measure
Twine (or ribbon)
basic sewing supplies
Trace around the bottom of your basket. Be careful, burlap likes to shift. Try to keep it in place as best as possible.
Cut out the piece adding a bit to the outside of the circle for your seam allowance. We are not being super picky about this. It doesn't have to fit perfectly. 😉
We will be making the sides of the lining with two pieces. To do this, first, we need to determine how wide to make the pieces.
Measure around the basket. Note this measurement.  (mine is 19.25″)
Now divide this in half. (19.25/2 = 9.6)
Add in your seam allowances to both ends. (9.6 + 0.5 + 0.5 = 10.6)
This is the width of your 2 pieces. (I am rounding mine to 10.5 because, that is close enough for this. 😉 )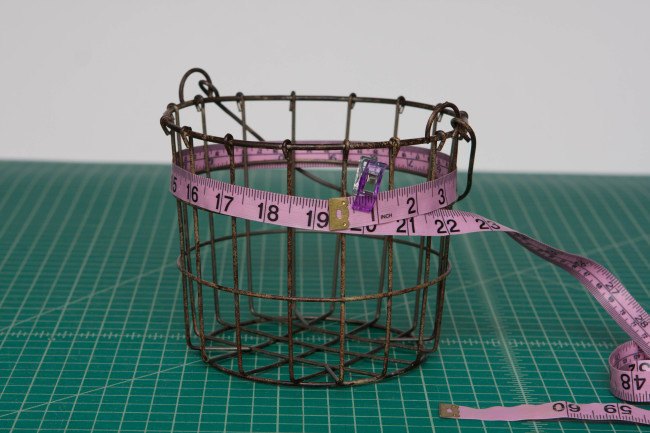 Now, measure the depth of your basket. This is the length of your rectangle.
My basket is 5″ deep. Now remember, we want to have a cuff folded over at the top. Let's figure out that amount.
I wanted my cuff about 1.5″ wide. Because the cuff is folded under by the amount it is tall, I doubled that amount. (1.5 x 2 = 3)
Now we need to add the cuff (3) and the seam allowance (0.5) at the bottom to the original depth (5) (5 + 3 + 0.5 = 8.5) This is how tall we need to cut our pieces.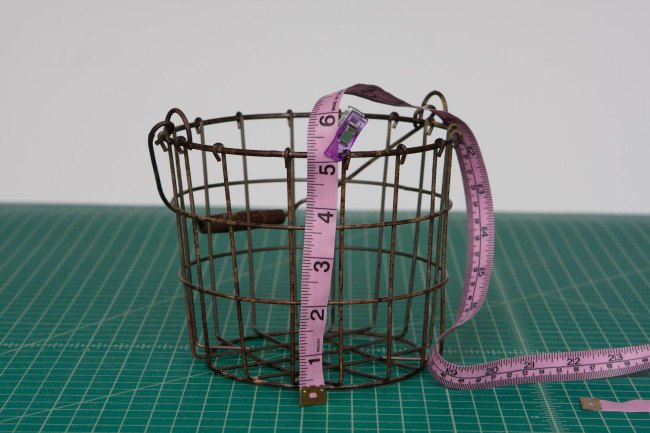 Now cut out TWO rectangles according to the dimentions you figured above. (mine are 8.5″ x 10.5″)
Set the bottom piece aside. Place your two rectangles together and sew down the short sides. I used a serger. If you don't have a serger, you can use a straight stitch on your sewing machine and then finish the edges with a tight zig zag stitch or overlock stitch.
Time to cut out the notches so we can fit this over the handles. Measure the width of the handle where it attaches to the basket. Mine measured about an inch.
Cut a notch HALF this amount from the top of each side seam. We are cutting half because the notch is cut on the fold. Cut it as tall as the cuff measurement. (3″ here)
Finish the  edge of the notch with either a serger, tight zig zag stitch, or overlock stitch. If using a serger, just go slowly and work the fabric around the turns.
Mark the half points of your bottom piece.
With the side pieces inside out, line these marks up with the side seams of your side pieces. Line up the remaining edges.
If you have any access fabric because, we measured crudely, or because the basket tapers in slightly at the bottom, simply make a pleat in the center of each side piece.
Sew the bottom in place.
Turn your liner right side out. Fold the top edge over. Mine is turned over 1.5″. Sew in place along the bottom only. Do NOT close up the ends yet.
Cut four pieces of twine or ribbon to your desired length. I started with about 9″ each. Insert one end of your twine into the end of the cuff.
Sew into place and repeat on the remaining three ends.
Place your liner into your basket, fold your cuff over and tie the ends into place. Trim your twine if desired.
There you have it! A cute lined basket! You can use any fabric for this in place of the burlap. I think a linen liner would be a very nice look also.
I think my next project will be getting a large wire basket and creating a lining for it so I have a cute hamper at the end of my hall. Maybe then I will find less clothes on the kids' floors after they leave for school? I can hope, right!
What are you going to create? I'm thinking I need one for stationary supplies on the counter. I can never find scratch paper and a pen when I need it and a tiny basket would be perfect for keeping them contained in one spot.
Whatever you choose to use your basket for, it will be the perfect spring accent for your home this season.
Save