You completed the 'hard' part (elastic and bra cups); now let's make that tankini pretty!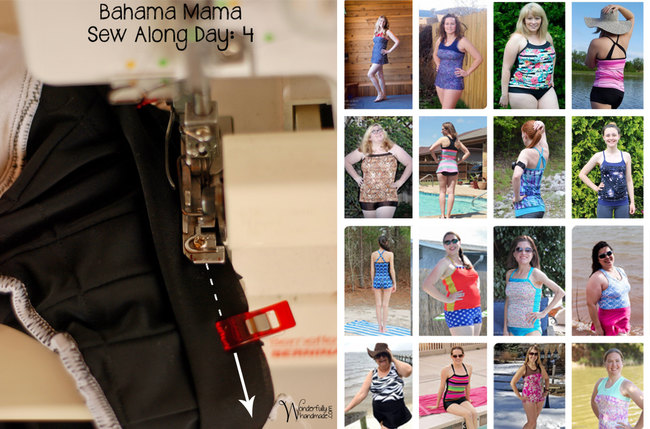 Bahama Mama Sew Along Day 4:
Swim Suit Top Part 2 – Tankini Bodice
Assembling the main pieces for the bodice is fairly straight forward, and the tutorial has excellent images to illustrate those steps. The binding, however, can be a bit tricky so that's the focus of the sew along today. Please know, with practice attaching binding gets much easier, but the following steps may help those who are new to sewing knit and/or swim fabric.
(Also, the steps outlined below are for the Peplum Tankini; if you are making a different version (either the Blouson Top or the Colorblock Tankini), the instructions will be a bit different. Please follow the tutorial for that pattern and ask any questions that you may have – but hopefully this information is helpful to you, too).
Step 1: Create a loop with your binding fabric strip by sewing the ends together.
Step 2: Fold your loop in half lengthwise so RS are together (hiding/enclosing your stitches from Step 1) and quarter evenly. (The seam is a great place for your center-back mark).
Step 3: Quarter your bodice opening(s) (i.e.: neckline). Start by marking the center-back and center-front then gently expand the neckline opening and add left and right marks.
Step 4: Turn your bodice inside-out. Match up the neckline binding center-back mark with the center-back point of the bodice; pin or clip. Loop the binding around, making sure to keep your raw edges aligned, then match up the center-front mark of the binding with the center-front mark of the bodice. Repeat with the side marks. Add a few pins/clips in between to make sure the binding is evenly spaced/stretched – and stays that way while sewing.  NOTE: Be sure to attach the binding to the WRONG SIDE of the bodice; the binding will wrap around to the front encasing the seam with the topstitch (most knit patterns attach RS together, so it's an easy mistake to make … which I made, twice?!?).
Step 5: Making sure to catch ALL the layers, gently stretch the binding to fit the neckline and sew/serge the binding to the WS of the neckline.
Repeat these steps for arm openings.
You did it! Now follow the tutorial instructions for topstitching and attaching your skirt, band, or hem and your top is complete! Yay!
Please sure to visit the blog tomorrow for our final day of sewing to create our swimsuit bottoms! And CELEBRATE!