A shelf bra? With cups … and elastic?!?! It's easier than you think, and you CAN do it!
It wasn't so long ago that I was terrified to sew elastic. Yes, elastic. I would avoid a pattern if it required elastic. I finally decided to give it a try, and I was surprised at how easy it truly is to work with. Bra cups. Same thing. Thankfully, I am a learner. I love to learn new things, especially when it comes to sewing. I love learning new techniques and expanding my skills. And if I make a mistake, I just pull out one of my most useful sewing tools – the seam ripper – and 'just keep sewing' (said in my best Dory voice)!
Let's get started – whether you are a seasoned pro or this is your first time sewing elastic or a swim suit!
 Bahama Mama Sew Along Day 3:
Swim Suit Top Part 1 – Sew Shelf Bra
 If you have been sewing along, you should have your fabric cut and ready to assemble.
Step 1: Gather all your fabric pieces (main fabric, lining, and optional power mesh) as well as the elastic and optional cups for the shelf bra. I used a main fabric and power mesh – no lining.
My supply resources (no affiliate links, simply my input/recommendation):

Bra Cups: I purchased these bra cups and am happy with them – not too thick/thin, nice, natural shape, easy to work with, and somewhat economical at $8 for two pairs.
Power mesh is available at the PAB Fabric Shop.
Step 2: Begin at Step 1 of the tutorial to attach cups. (Confession: I placed the cups on my chest and laid the fabric over the cups to find best placement. I pinned each point of the triangular(ish) cup and sewed the cup onto the wrong side of the bra fabric (using a zig-zag stitch). The end result was smooth with perfect placement, and it eliminated Step 2 of the tutorial 🙂 ).
I added a layer of power mesh to the front and back of the shelf bra ON TOP of the fabric (so the power mesh is between the bra fabric and the tankini bodice). I basted the power mesh to the fabric, so I could treat the pair as one piece later in assembly (if using lining, I would baste that layer, too). If you do not have power mesh or lining, you can use an additional layer of swim fabric for a bit more support.
While I found the added layer of power mesh provided plenty of support, you can also add an actual bra into the shelf bra lining. Here's a great tutorial on how to insert a real bra.
Step 3: Prepare elastic.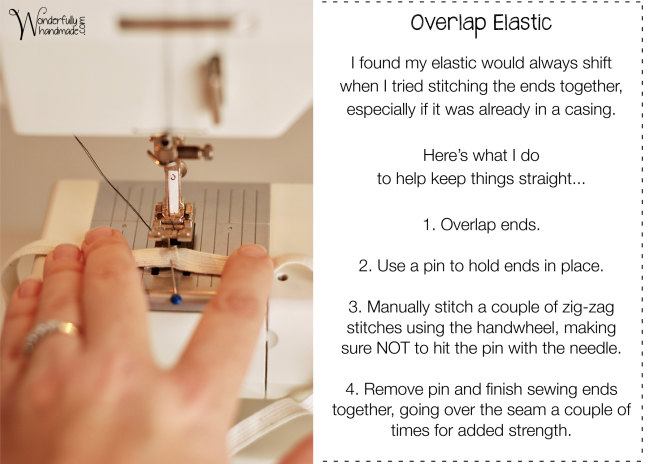 Step 4: Quarter elastic and attach to fabric.
Step 4: Fit check.
Test the fit at this point to see if you need to flip the elastic before topstitching (I did). Also check your armscye (arm hole). I made a slight adjustment to my shoulder seam for a better fit for my body. If you make a change here, remember to make the same adjustment to your tankini bodice tomorrow.
And that's a wrap for today, ladies! Yay!
Please sew along tomorrow as we sew up the tankini bodice and attach this fabulous shelf bra!