Are you ready to cut into your fabric?!?!?!
FABRIC! Who doesn't love shopping for fabric!?! And there is something especially fun about choosing swim fabric for a truly one-of-a-kind me-made suit!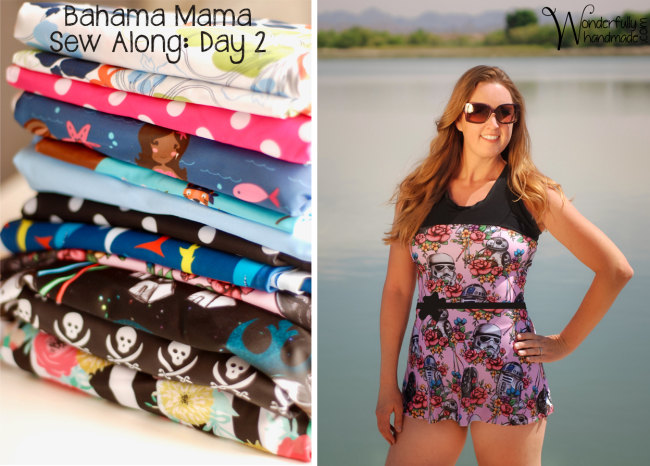 Most sewists have learned the hard way that not all fabric is created equal. That is one reason I prefer shopping for fabric through Peek A Boo Fabric Shop; I have never been disappointed in a purchase. The custom designs are unique and on trend made with quality fabric, and the solids (and other prints) are always amazing as well – which makes sewing that much easier (especially when it comes to swim fabric). Did you know that power mesh is now available at PAB?!?!
Sewing swim fabric is not much different than sewing knit; however, if you are new to purchasing/sewing swim fabric, this is a very informative PAB blog post focusing on swim fabric, lining, power mesh, elastic, and more.
A few more tips:
Swim fabric can be used to line your suit – it's a bit thicker than swim lining so it provides a smoothing (and slight trimming) effect. Inexpensive solids are great for this purpose.
Power mesh is a great option for extra support and shaping. Things to know about power mesh:

may irritate skin so consider using it

between

your main fabric and your lining.
provides amazing support as an added layer to a shelf bra.
added as a layer to the front and back of bottoms creates a tummy-slimming effect (without creating a 'muffin top' on the high rise option).
too much power mesh can be a bad thing. 😉 Be sure to fit-check BEFORE final assembly. My shelf bra with power mesh fit great, and my tankini bodice with power mesh fit great; but when I tried to put them on together, I couldn't get it on. My final version fits perfectly. I added a layer of power mesh to the front and back of the shelf bra and sewed the tankini bodice as per pattern instructions (no power mesh).
Alright, let's get started!
Bahama Mama Sew Along Day 2:
Cut Fabric for Swim Top and Swim Bottoms
On Day 1 of the Sew Along you picked your patterns as well as printed, assembled, adjusted, and cut out your pattern pieces.
Now it's time to choose your fabrics and cut out your pieces; this is always the hardest part for me…but it's always worth it!
Step 1: Choose fabrics (main fabric, lining, and optional power mesh).
Step 2: Sort pattern pieces. I found that there were quite a few pattern pieces for this project, so I sorted my pieces by fabric (i.e.: upper front bodice, upper back bodice, front/back bottoms, and binding were in one pile because they would all be cut from the same fabric) to streamline the cutting process a bit.
Step 3: Layout your pieces and cut. Fabric weights work well, especially with swim fabric because it tends to wiggle and slither, a lot. If you don't have any weights and are feeling crafty, PAB blog has a great tutorial to make your own fabric weights; they are adorable! In the meantime, anything with a bit of even weight will work.
I'll admit it – that was quite a bit of cutting (yet still under 30 minutes)!
Thankfully the hard part is done, and the fun begins tomorrow!
P.S. Did you do your 'homework' yesterday?
If not, here is the link again to a great post about sewing swim fabric and lining to get ready for tomorrow, Day 3, when we actually start sewing!