Today I'm going to cover a simple modification to turn the boxer briefs, briefs and panties into training undies for your toddlers.  I'm sure there are a million ways to accomplish this, but I'll share what worked for me!
Both of my kids are out of trainers, so these pictures will show what I had on hand.  Ideally you want a waterproof outer layer (such as PUL) and a thin absorbent inner layer (such as hemp, bamboo, or an old cloth diaper or diaper liner).  I searched around and ended up getting hemp by the yard for my son.  It was very thin and super absorbent but not very stretchy.  When the time came to make them for my daughter, I found Zorb, which is also super thin and super absorbent fabric that has a bit more stretch.  I found my supplies from www.wazoodle.com, but feel free to shop around and find which will work best for your child and your budget.
The concept is the same for both girls and boys and whether doing the boxer briefs, briefs or panties – you want an extra layer to absorb wetness.  Please note: these are not meant to be diapers and will not contain a full bladder's worth of wetness!  This modification will only add an extra layer or two to help get them to the potty in time!
So whether you are making the boxer briefs, briefs or panties, you'll take the main pieces and cut those out in the outer fabric and in the lining fabric.  For boys you can line just the front piece/panel or the entire front and back.  Note that the fly on these would be a faux fly.
If you use the boxer briefs and want to line the entire front and back pieces, the technique will be slightly modified.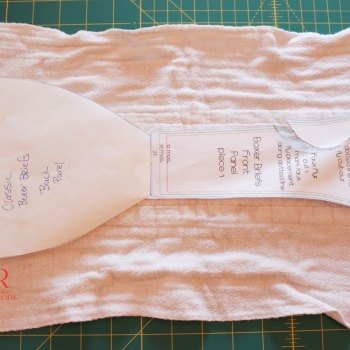 Take the back panel piece and trace it onto freezer paper so that you have the full back piece (and not just the half that is cut on the fold).  Tape that piece onto the front panel subtracting the seam allowance.  You will end up with one solid lining piece that will fit into the boxer briefs and will not have a seam.  Use this new pattern piece to cut out your lining from the absorbent fabric.  Your waterproof outer layer of fabric will use the original pattern pieces.
For girls you can either just add extra protection under the panty liner or you can line the entire panty.  You will cut an outer waterproof layer and a lining layer.
Once you cut the outer and lining, lay them wrong sides together and baste along the edges. Depending on how many layers of lining fabric you use, the undies may be a tad thicker.  If this is the case, suggest using the enclosed seam method for the leg bands.  When I made the training undies for my daughter, they were too thick (I probably added too many lining layers).  My serger didn't like all of the layers when I added the bands.  Hindsight being 20/20, I think enclosed seams would have worked better!
Also, since these will be thicker when finished, you may want to size up or adjust your seam allowances.  You'll have to play around with both of these and see which provides the best fit based on how many layers of lining and the stretch of the outer fabric.  PUL will not be as stretchy as cotton lycra!
Our last day of the sew along is tomorrow!  Get ready for some super cute Critter Socks!