Hey all! We are busy learning to sew and wanted to share our latest project:


This is a fun lesson which will reinforce skills learned in Lesson 1 and introduce curves as well as a zig-zag stitch. We hope you will join the fun and create your own fabric letters! Here's what you need…
Materials List
Pattern
Create your own – handwrite or print off your favorite chunky/outline font
Get creative: use letters, shapes, and/or numbers, even animal shapes – whatever interests your child!
Fabric
Woven fabric for front and back pieces cut into squares (woven is a bit easier to sew, but you can use knit if your child has his/her heart set on a specific print). The template provided uses 5 x 5 squares, but you can make your letters any size you want.
A 'filler' to stabilize each shape: fusible fleece, quilt batting, or even flannel or felt cut into same size squares as your fabric.
Suggestions:

5 x 5 charm packs make this project super easy.
This project is a great way to use your 'scraps'.
Use same color/print for each back piece so your child can easily distinguish between front and back; this is especially helpful when just learning letters and numbers.
Thread
Regular and/or pinking shears
Pen (disappearing fabric pen is recommended – or tailors chalk)
Pins (or clips, wash-away tape, or fabric glue stick)
LET'S SEW!
Lesson Two: Fabric Letters
Step 1:
Print and cut your pattern (letters) and fabric.
You can do the entire alphabet, your child's name, a favorite word (READ, SEW, LOVE, etc.), shapes, or even animals!
This is a perfect time to teach your child there are two types of scissors:
those you use to cut paper (scissors) and
those you use to cut fabric (shears).
NEVER use your fabric shears on paper (ha! okay, you don't have to scare them, but let them know it is not recommended to use your fabric shears on paper because it dulls the blade and makes cutting fabric more difficult and less accurate).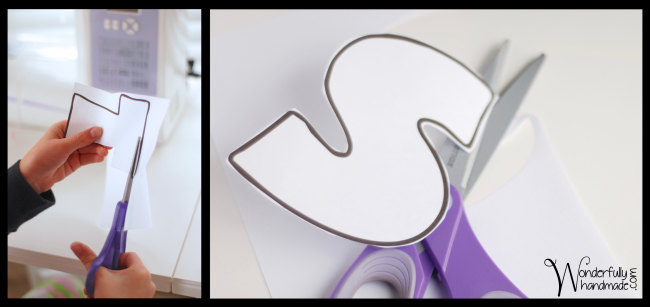 If you haven't already, cut your fabric and filler/stabilizer into squares to fit your pattern pieces (again, 5″ x 5″ squares work well if you use the alphabet template provided).
Step 2:
If using a fusible filler/stabilizer, fuse your front fabric to your filler as directed on product packaging.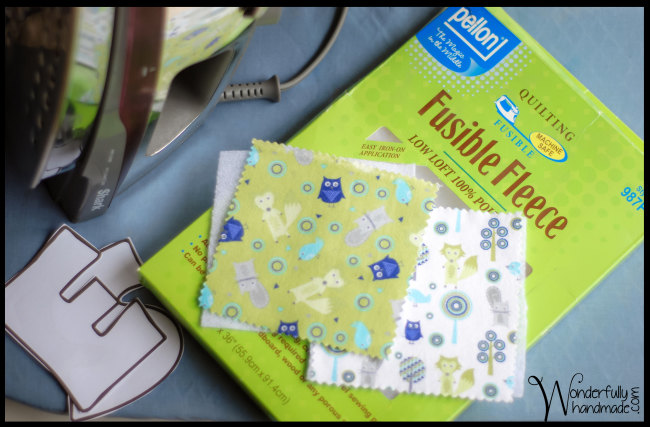 Step 3: Trace each letter onto the FRONT fabric piece; a disappearing fabric ink is recommended.
Step 4: Layer your fabric and pin (or clip or tape or glue – whatever you feel is best for your child).
Explain to your child that we are making a fabric 'sandwich':
Front piece
Filler/stabilizer
Back piece (make sure the back piece is facing RS out).
Pin as necessary to hold the pieces together during machine stitching (this is the 'peanut butter' that holds the 'bread' together).
Step 5: Thread the machine. Revisit the threading process using the vocabulary your child learned in the first lesson. And remember to include your child in the creative decisions – it's okay if they want a contrasting color thread – it's meant to be FUN!
Step 6: Stitch along trace lines from Step 3.
NOTE: After doing several samples, I think using a zig-zag stitch with a shorter stitch length and width works best. This will also reduce fraying if you don't have pinking shears to cut out the letter shape. Plus zig-zags are just a fun, new stitch to learn (which will  be helpful for the next project)!
Reinforce the lesson that the throat plate is the 'hands free zone' while the needle is in motion.
Remind your child to backstitch at the beginning and end of a run/seam.
Remind your child how to turn a corner: needle down, presser foot up, pivot fabric, presser foot down, continue.
Teach your child how to stitch an inner curve and an outer curve (think of the letter 's').

Follow the curve as close as possible using the traced line as a guide
Gently guide the fabric around a curve using a slow and steady pressure on the foot pedal
The real-life application of this skill is maintaining a uniform distance from the edge (seam allowance).
Step 7: Cut out letters and PLAY!
Cut out letter or shape maintaining a uniform distance from the stitching as possible.
Pinking shears will give a nice finished (and fun) zig-zag edge.
If you used a zig-zag stitch and don't have pinking shears, you can use regular shears.
Use a straight stitch and regular shears, then wash (and iron) your letters for a frayed-edge look.
Add magnets between the layers, so your child can use them on the refrigerator or a magnetic dry erase board.
Create a tic-tac-toe 'board' and X and O pieces for a fun, quiet, portable game.
Use the letters to create a banner – your child's name for his/her room or a 'Happy Birthday!' banner to use for celebrations.
Use letters to create words ('Scrabble') or simply for letter recognition or sight word memorization.
We would love to see your child's creation on the FB fan page! It's always fun to show-and-tell, especially for your child!
And I hope you and your child join us next month for another FUN, child-friendly sewing project – with knit!
Happy Sewing!
Melissa