Add some extra fun to any outfit with these free animal appliqué templates!
Adding animal faces to clothing is such a cute way to make them stand out. It also saves money by enabling the use of more solid prints and adding your own embellishments rather than buying designer and custom prints. Toddlers are especially appreciative of clothing with animals on it as I've learned. When my toddler looks in her drawer before getting dressed she points to her kitty shirt for example and says "meow" I then proceed to put it on her while she is bursting with excitement.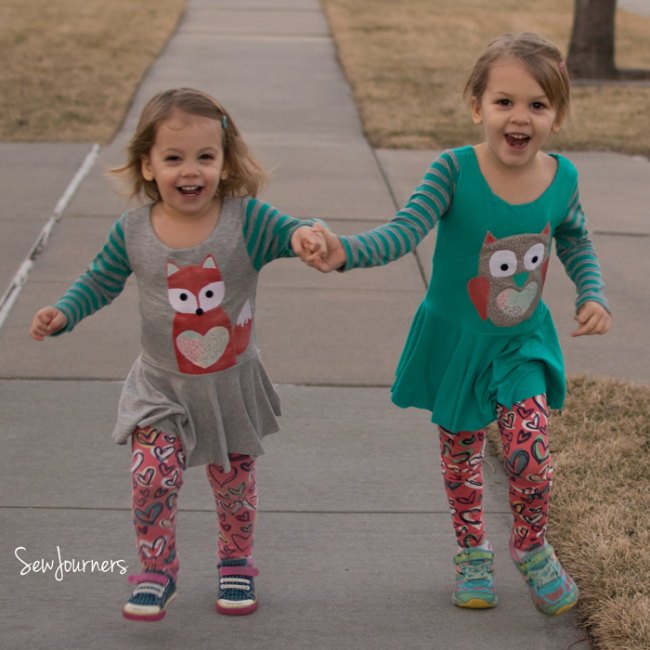 In today's tutorial I am going to provide some tips for drafting your own animal appliqués. I also have three free designs to give you to get you started (The Hedgehog, Raccoon and Owl), and I will show you how to apply the appliqué correctly.
What you will need:
Design Template: Either make your own or use the ones provided here
Interfacing to back the design pieces – I used Heat N Bond Lite
Stabilizer to back the top. Use a permanent cut-away stabilizer when working with knit projects like this.
Scrap fabric pieces for your design. You can use knit or woven, just keep in mind how weighty it will be. I used knit for the raccoon and hedgehog because I incorporated fabric that matched with the sleeves, but I prefer a lighter weight quilting cotton.

Choose fabric that can be incorporated into your animal. I thought the triangles helped give the appearance of spines on  the hedgehog. Striped fabric worked great for a raccoon tail and the lotus full moon made a great giraffe body. Chevrons, polka dots and stripes can give a lot of dimension to your animals.

Snaps or other embellishments if necessary
I found it pretty easy to freehand your own appliqué and I have zero artistic abilities. Just remember to keep it simple, and choose fabrics that really work with your design and your outfit. I scour Pinterest to gather ideas first. I have an Appliqué Inspiration Pinterest Board just for these sorts of projects. Feel free to start there for inspiration.
Once you've picked an animal you can start by free-handing a rough sketch on some paper. Draw your animal as a mirror image of the direction you want it to face. I always forget this and so all my animals are facing left when I intended them to face right! Use simple basic shapes to start. For symmetrical shapes you can draw just one side and cut on the fold.
For this hedgehog I started with an oval and then added the spines and feet. Finally I added the head. I used my sleeve fabric for the inspiration. Keep in mind imperfection on a project like this has character. My circles are not perfect and I actually like how that looks.
After it is sketched you will need to separate each element of the design. For this step I trace right unto the paper side of my Heat N Bond interfacing since it is transparent. If you are using the designs provided everything is already separate so trace directly unto your interfacing. You can reference my pictures above for placement.
Cut out your interfacing shapes and following the package instructions press it to the wrong side of your fabric.
Since I didn't want to cut around the spines twice I didn't cut along the lines until after I pressed it to the fabric, but then I had to be careful not to use my fabric scissors when cutting the design out of the fabric since it had the paper backing on it!
With the nose I cut the interfacing along the traced line, pressed it to the fabric and then cut it out again.
Lay your pieces unto your project as you cut them out to see how they will look. Remember the seam allowances account for space along the edge of your fabric. Use a ruler to center your design. Make some marks on the fabric with a fabric pen so you know where they go.
Now we will work one piece at a time starting with the one at the very bottom. In this example I only have two pieces but with the raccoon I did the tail first, then the body, then the head. Next I did the mask, nose and ears all at once since they don't overlap and finally the eyes.
Take the paper backing off of your first piece and iron it to your fabric.
Cut out a piece of cut-away stabilizer larger than the entire design and place it on the wrong side of the fabric directly behind where your appliqué will go.
To sew the appliqué on you can use a zig-zag stitch or an appliqué stitch if your machine has one, but for these types of projects I prefer the zig-zag over the appliqué. You may also choose a straight stitch which will give you the most fraying but may be the look you are going for. Choose a thread color for each step that matches your fabric or works with your design.
When possible begin and end your stitches where they will be covered by the next overlapping piece.
When using the straight stitch, stitch about 1/8″ from the edge of your design. When using the other stitches your needle will go just off the edge of your design when in the far right position.
Work slowly around curves and when needed stop and with your needle down lift the presser foot to turn your project. For this hedgehop I had to do that at the top and bottom of each spine.
Repeat for the next piece, in this case the head. When all the pieces are assembled, very carefully cut away the excess stabilizer.
For my hedgehog I chose to use snaps for the eye and nose. I also did this with the fox and owl because they were small circles and I didn't want to hand embroider them. Besides the snaps are my daughter's favorite part on her fox shirt! So if you want to do snaps install them now. I also installed the eye backwards because I thought it looked more like an eye that way.
Assemble your project and admire your work!