Day One of the Classic Oxford Sew Along
If you have been wanting to sew a Classic Oxford for a while now, but are intimidated by sewing a button or the cuff placket, this sew along is for you! I'm going to be sharing some videos on some of the more advanced parts of the pattern. Welcome to Day One of the Classic Oxford Sew Along!

Joining In:
I'm so excited to have you sewing along with us! Here's how to join in the fun
1. Pick up a copy of the Classic Oxford
2. Check here on the blog everyday this week (see schedule below)
3. Join the Peek-a-Boo Pattern Shop Facebook Group: Participants are encouraged to post in-progress photos, ask for help and advice, etc. throughout the week
4. Upload your Finished Photo to the Facebook group and/or Instagram and tag it with #classicoxford
Prizes:
$20 Peek-a-Boo Gift Cards will be awarded for the following prizes:
#1: Fan Favorite (based on # of likes on fb)
#2: Designer Favorite
#3 Random Draw on facebook and instagram
Sewalong schedule
Monday: Picking fabric and proper size
Tuesday: Interfacing and sewing button holes
Wednesday: Assembling the yoke and the burrito roll
Thursday: The cuff plackets and cuffs
Friday: Assembling and attaching the collar
Saturday & Sunday: Catch up days!
Monday: Winners announced!!!
Today we are going to talk choosing the proper size and picking your fabric.
Choosing the proper size
Be sure to measure you child to choose what size to sew. Measure your child's chest, how long their arm is from shoulder to wrist and their torso from shoulder to wear you like the hem of the shirt to hit. When measuring the chest, you want your child relaxed with their arms at their side. Don't pull the tape really snug. You want it comfortable around the chest.
After you have the chest size determined, look at the finished length of the shirt body and sleeve and compare those to your child's torso and arm measurements. Blend sizes to get the proper fit for you child.
Picking your fabric
The Classic Oxford is a great pattern for that woven collection you may have sitting on your shelf. Woven cotton fabric, chambray, shirting, flannel and what is commonly known as "quilter's cotton" are all great fabrics.  A solid fabric gives a gorgeous traditional look perfect for dressier occasions. A Classic Oxford from solid fabric is my go to for my son's concert attire. Robert Kaufman chambray makes a gorgeous classic shirt.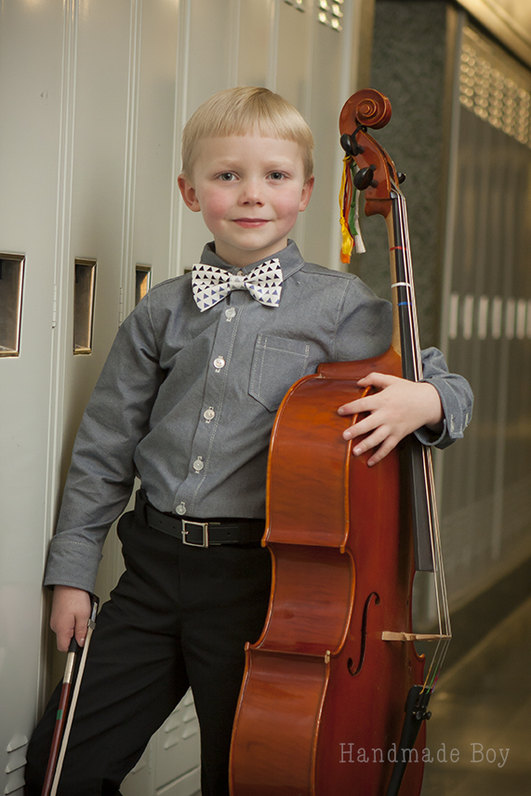 Of course, you can always do a fun print for a more casual style.
Who doesn't love a classic flannel shirt? Flannel is great for the classic oxford. It's wonderful for layering in the chillier months.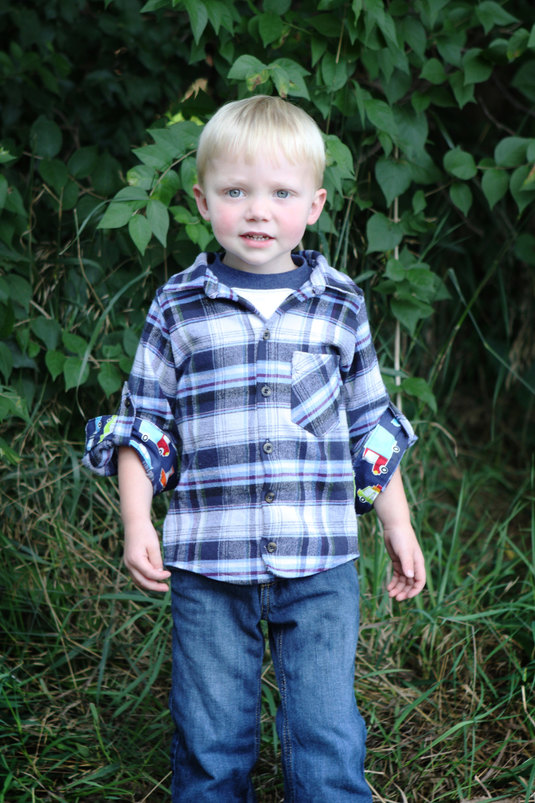 Interfacing
Interfacing is a necessity when creating a professional looking oxford. There are many types of interfacing available. Go with something lighter weight. You want a comfortable shirt! I prefer to use SF101. It gives a nice amount of stability, but doesn't make the fabric stiff.
Once you have your size determined and have your fabric picked out, cut out your pattern pieces. Tomorrow, we will be applying the interfacing and sewing our button holes and buttons.
Save