Hey there! I am Melissa from WonderfullyHandmade.com, and I am teaching my six-year-old daughter to sew! This series documents the beginning of her sewing journey, and I hope it helps you…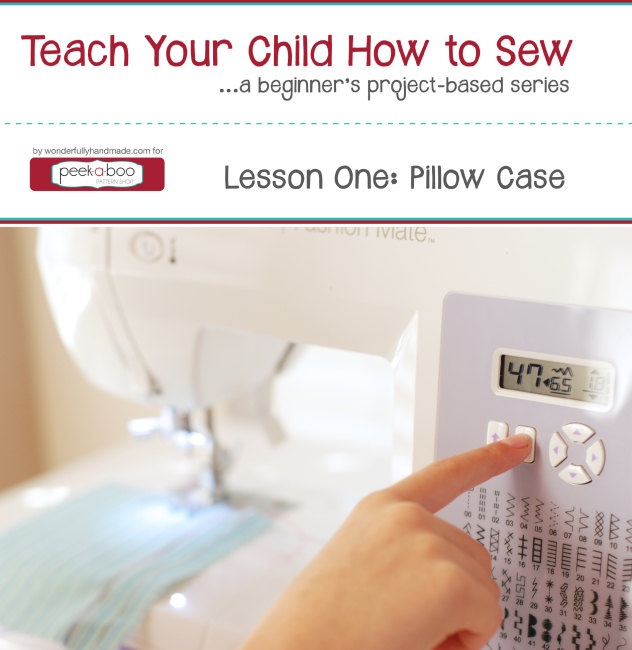 While there are many different learning styles, I feel sewing is best learned hands-on with progressively more difficult projects – which is how this series will unfold. We will use a scaffolding method of instruction: modeling skills, introducing new vocabulary, and then sewing something new – each lesson building on the skills previously learned.
Let's begin!
TOOLS OF THE TRADE
Every craft has trade-specific tools and vocabulary. Give your child a tour of your supplies and your sewing space, using technical names and explaining basic uses whenever possible. Be sure not to overwhelm your child with too much information – just cover the basics (remember 'scaffolding' = baby steps).  I quickly realized my daughter needed her own tools as her curiosity grew…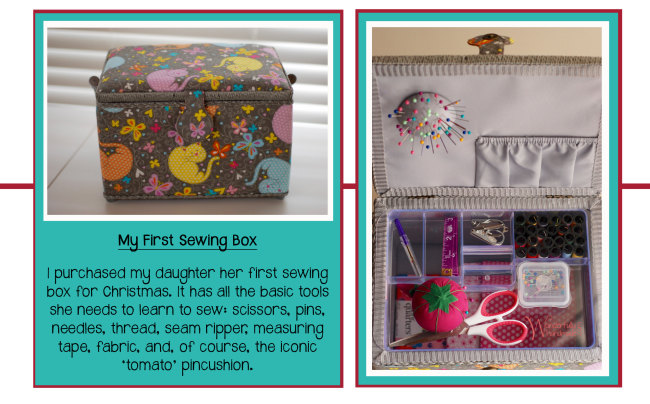 My daughter was surprised and excited to receive her very own sewing tools. After I named each tool and advised of safety hazards, she opened the packaging, organized her supplies, and quickly put them to use! She has a small stash of supplies, so she can practice her hand sewing skills whenever she wants.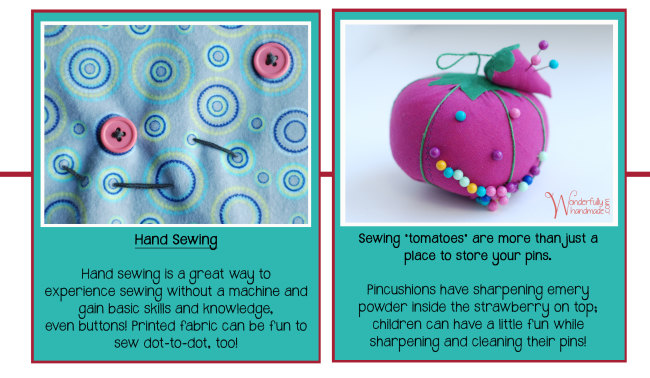 When you feel your child is ready to transition to a sewing machine, introduce your child to the machine; identify and explain each part, button, and function. The image below lists the basic parts of most machines, but please feel free to use your owners manual for your specific brand/model: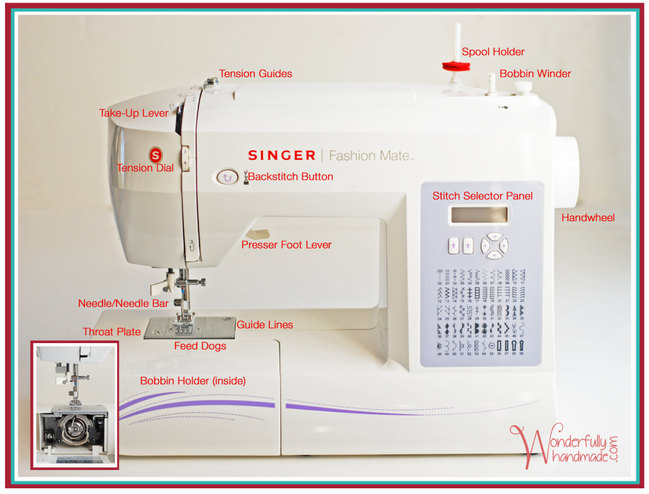 (On a side note: I originally planned to purchase my daughter a basic youth machine but ultimately decided to let her learn/explore on my original machine in hopes that she would enjoy the experience with less frustration; she was thrilled … and so was I, because it keeps her precious hands off my beloved 80's Bernina that I 'upgraded' to 18 months ago).
LET'S SEW!
Step 1: Model how to thread the upper thread, fill a bobbin, insert bobbin in case, and manually bring bobbin thread up  – repeating all those new vocabulary words you taught earlier.
Step 2: Introduce the foot pedal and the importance of slow and steady pressure.
Step3. Using a small piece of fabric, let your child practice machine stitching; begin with a straight stitch and move onto a zig-zag, etc.. This is also a good time to:
explore different combinations by changing the stitch length and width, sharing when/how these stitches would be useful
teach how to use the guidelines on the throat plate and the edge of the presser foot to maintain an even seam allowance
describe the throat plate as the 'hands-free zone' when the needle is in motion, stressing the importance of keeping fingers away from presser foot and needle at all times
demonstrate how to remove the fabric from the machine and safely cut thread (note: we will teach about backtacking/backstitching when sewing our project).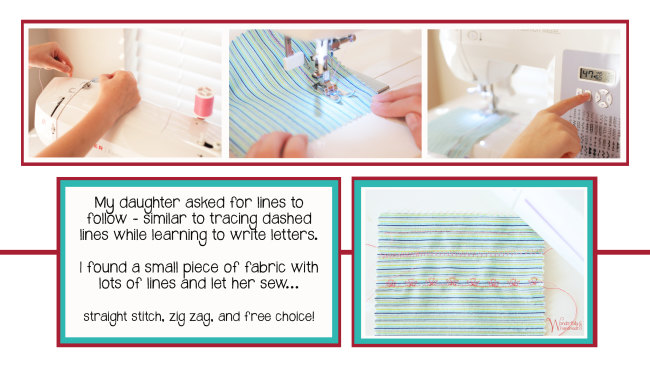 Step 4: Practice. Practice. Practice. Unthread, re-thread, etc., and when your child is ready …
PROJECT ONE: PILLOW CASE
 A pillow case is a great first project – it's simple and useful (and hopefully it will make bed time a little more fun)!
Preparation:
One of the best parts of a project is the creative process! Be sure to include your child in the decision-making:
Choose fabric. Invite your child to choose the fabric (purchase or 'shop' from your stash), explaining that this project calls for a woven fabric (non-stretch, quilting cotton, flannel, etc.).  You can discuss complementary colors, contrasting colors, mixing fabric patterns with solids, etc. You can make your pillow case with one fabric, a different fabric on front/back, or even add a cuff or color block!
Discuss notions. Choose a matching or contrasting thread and any fun embellishments to further personalize the pillow case.
Educate your child on the importance of preparing fabric BEFORE sewing.
Always wash your fabric because it:

pre-shrinks your fabric so your finished project doesn't shrink
creates a clean canvas, free of any processing chemicals, residue, etc.

Be mindful that woven fabrics will fray, so seams/edges need finishing – cut with pinking shears, use a zig-zag stitch, or serge edges (with adult help).
Cut Pattern Pieces:
There are three basic sizes of pillows: standard, queen, and king.
The following chart shows the dimensions to cut the pattern pieces; cut two, one front and one back. Yes, you can simply fold your yardage in half, but I think it will be easier for children to work with smaller pieces of fabric, plus it gives them an extra seam to gain a bit more sewing experience.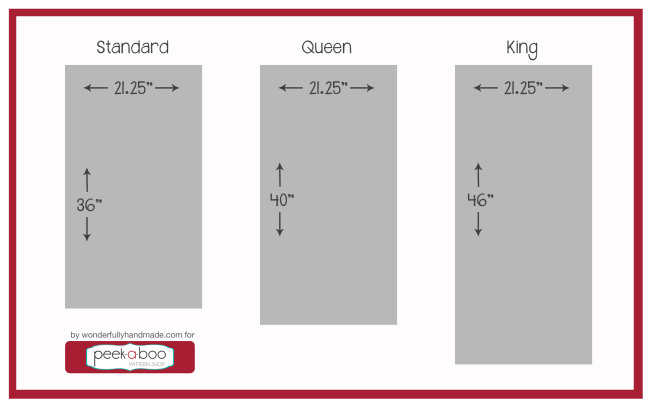 If you want to include a contrast cuff or color blocking, simply cut and piece your fabrics together so the finished piece is the correct dimension as listed above. Note: my one yard of fabric cut in half was only 20.75″ (due to shrinkage), and it worked just fine on the queen size. The 21.25″ width just gives a little extra room to make it easier to get the pillow inside the case.
Assembly:
There are only four quick steps to assemble the pillow case; as always, please use your best judgment and assist your child when needed, especially when pressing with warm iron.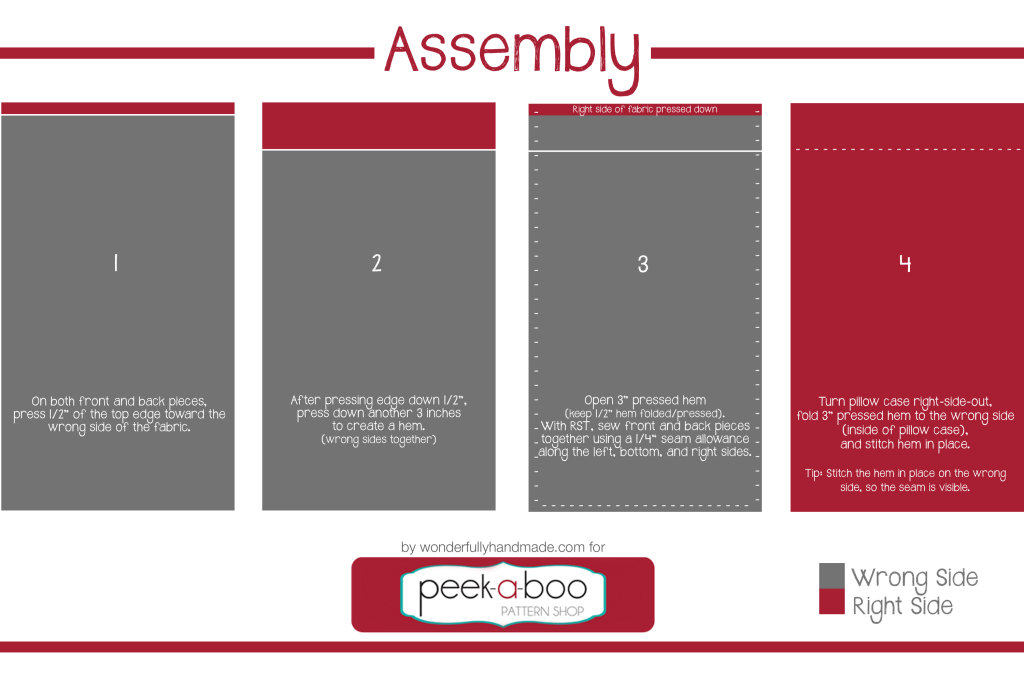 My daughter chose a very colorful solar system flannel fabric and a coordinating solid pink flannel. Here is how my daughter assembled her pillow case: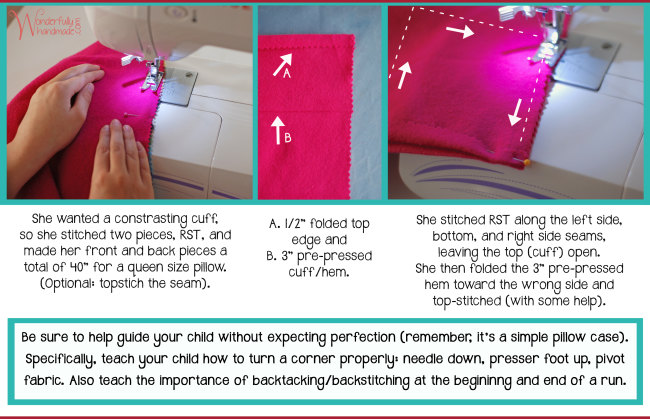 My teenage son participated and made a pillow case, too!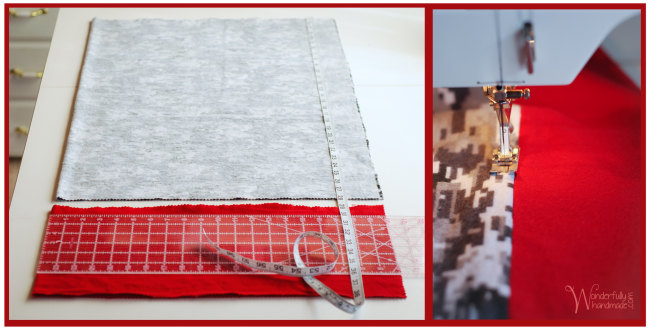 The kids love their new pillow cases, especially my space-loving, aspiring astronaut!  
I hope this first lesson is a great introduction to teach your child how to sew. Throughout the month practice straight stitches and corners, and join us next month for some more fun with another child-friendly sewing project!