Hi everyone! Sara here from Made by Sara with my contributor's post. This last week my kids asked me to make them baskets for Easter egg hunting. We are still a couple of weeks away but you can already tell how excited they are!
I made them these easy fabric baskets and I thought I would share a tutorial with you. There are several ways of making fabric baskets, but I have opted for this one that I have been using for years that does not require any hand sewing. A winner right?
Instead of making a single or double handle I decided to sew two ribbons and make tie them to a bow. Doesn't it look precious?
The final measure of this basket is 6" (width) 11" (length) x 6" (height).
You will need:
2x exterior fabric: 10" (length) x 18" (width)
2x interior fabric: 10" (length) x 18" (width)
2x fusible interfacing: 9" x 17"
2x ribbon: 20". Note: I have used a ribbon with about  1.5" width but you can use any ribbon 1-2" wide.
1x rick rack (or other embellishment, like pom pom trim): 35"
Optional: bating or any sturdier interfacing, if you want your basket to be really sturdy.
How to make an Easter fabric basket:
1. Cut all pieces according to the measurements above.
2. Fuse the interfacing pieces to the wrong side of the exterior fabric pieces.
3. Place both exterior pieces together,  right sides together. Pin both sides and bottom side. Stitch at 1/2". Make sure to leave the upper side open.
4. Cut both corners close to the pivoting stitches. Pull one corner out, matching the seams at the center. Mark a line (either with a tailor's chalk or with pins) 6" long. Stitch along the line. Trim at 1/4". Repeat on other corner. Turn right side out. Push out to form boxed corners.
5. Repeat with the interior pieces but in the end keep it with the wrong side out.
6. Press the edges of both the interior basket and exterior basket 1/2" to the wrong side.
7. Get the rick rack. Baste it along the folded edge of the interior basket.
8. Place the ribbon strips at the center of each side of the basket. Pin in place.
9. Place the interior piece inside the exterior so the wrong sides are together. Carefully match the folded edges of both pieces all around. Pin. Edgestitch.
10. Remove the basting stitch (from the rick rack). Tie the bow. You're done!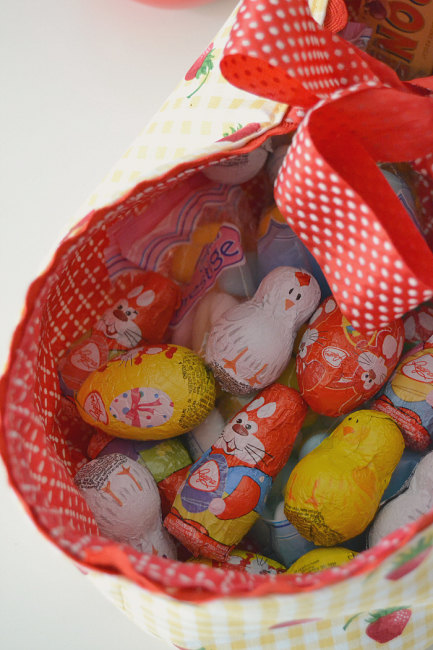 You can make this basket as an Easter egg hunt basket or as a gift basket! I am having a baby shower later this month and I am already pulling some sweet blue fabrics to make one to offer along with a gift inside.
Please share your fabric baskets on Peek-a-Boo's Facebook group!
Happy Easter!