Hi there! Sarah from The Crazy Tailor here with a fun Valentine's-themed pillow cover tutorial for you! Although you could take this idea any direction at all…little trees for Christmas, plain polka dots, arrows…you name it! As long as you're OK with cutting about 25-30 of them 😉
For this tutorial, you'll need some fabric cut to the dimensions of your pillow (plus seam allowance – my pillow was 20″ plus 1/2″ seam allowance, so I cut my squares to 21″), matching thread, felt, and a zipper the length of one side of your pillow (or slightly shorter will work). I started by making a little pattern for my heart shape. No rocket science here, just eyeball it. Mine was about an inch high, but you could go bigger if you didn't want to cut out as many. I did a half heart pattern and folded my felt in half to cut, but you could also make a whole heart pattern and trace it onto your felt. Whatever works best for you!
Keep going until you have a nice little pile of hearts!
Arrange them on the front piece of your pillow square. Once you've got a good idea of where you want them, you want to make some vertical lines to keep them in nice rows for stitching. I used a wash-away fabric pen and ruler to mark my lines and then pinned my hearts in place on the lines.
Sew down each line sewing right through the center of each heart.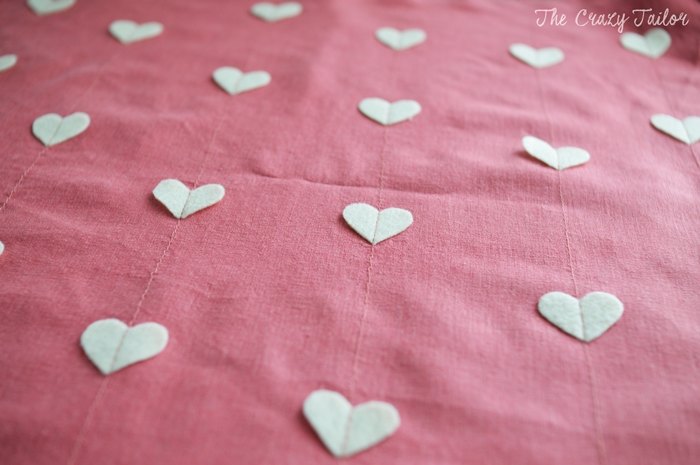 It's looking so cute already! Now, I usually like to use invisible zippers in my pillow cases, but I didn't have one handy in the correct size, so I just put in a regular zipper. I won't go through the entire process, but here are a few photos to help you out:
On the bottom edge of your pillow squares (put right sides together), mark where your zipper starts and ends (I used double pins). Sew using a regular stitch to the mark, then backstitch and switch to a basting (longest length) stitch until the other mark, then back to regular stitch. Press the seam open.
Pin your zipper (right side down) centered directly over the seam:
Stitch around the zipper using a zipper foot. Then from the right side, snip your basting stitches out.
Unzip the pillow at least half way, then fold it back right sides together. Pin around the pillow and sew (ignore my crazy seam allowances on that one side…apparently at night I can't cut two squares the same size!).
All done! Stuff it with a squishy pillow and toss it on the couch!
This new little guy is our Valentine's treat this year! Thanks for reading and Happy Sewing!