Are you all ready for the holidays? I've got a couple easy ways to use up some fabric scraps and wrap up your gifts at the same time!
I grabbed a bunch of coordinating fabric, trims, ribbons and string and threw it in a pile:
I'm on a serious buffalo plaid kick…I have been for years! It's so classic and festive all at the same time! Also, I like to stock up on neutral wrapping paper. The brown is just your everyday packing paper (or reuse a paper bag!) and the white is stolen from the roll on the kids easel. Get creative!
For this first little gift, I cut a strip of fabric a couple inches wide and long enough to tie around the gift. The tag was a scrap of leather with a paper tag layered on top, tied up with some binder twine (or jute, depending on where you're from).
This one is the white craft paper. I wrapped binder twine around and around, then with a scrap of the red and black check, twisted a little bow and slid it under the twine.
The tag is from the dollar spot at Target (last year) and the initial is a wooden letter from a bag I bought for another project. You could print out some fancy initials or hand-letter them. Simple is always better when it comes to packaging!
Here is the brown paper in action. This stuff lends itself well to rustic or formal wrapping, depending on the color scheme. Keep all the ribbons and extras monochromatic for a very sleek look, or get all crazy and even do some potato stamping! For this one I used a green grosgrain ribbon and tied in a scrap of white and black check fabric.
See that little gold circle with the M initial? We had fun making those out of a simple 3 ingredient clay recipe! This is another easy way to add something special to your gift! They paint nicely and you can be so creative with a beautiful white clay!
Baking Soda/Cornstarch Clay
3/4 c. water
1 c. baking soda
1/2 cornstarch
Mix all in a pot until well combined and set over medium heat. Stirring constantly, you will see these stages:
When it has the consistency of mashed potatoes, it's done! Scoop it onto a piece of parchment paper and let it cool. Once cooled, knead until soft and if desired, add a couple drops of some essential oil (we added thieves). Store in a plastic bag until ready to use.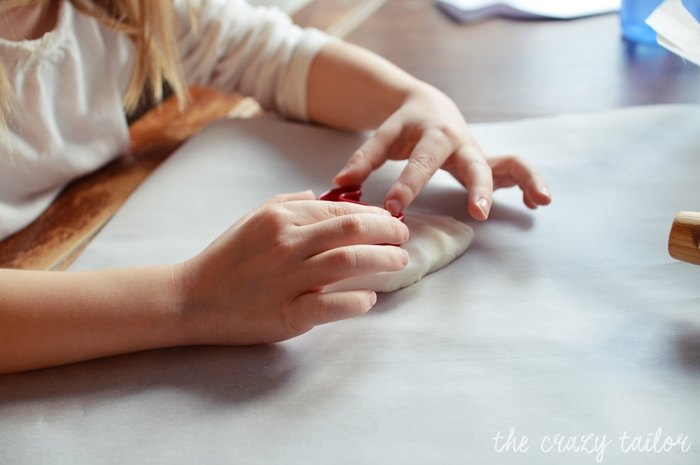 Roll it out about 1/4″ thick and use your biscuit cutters or whatever you've got handy (I really need to add to my cookie cutter collection!). Don't forget to poke a hole for threading some ribbon! You can air dry these overnight or dry in the oven at 250F for a couple hours. Keep your eyes on them so they don't get yellow from over-baking.
I wish you stress-free gift wrapping and many happy memories this holiday season!