Sarah from The Crazy Tailor here with a fun little tutorial for you today! I love these faux- layered bodysuits – the look of a real shirt, but the coverage of a bodysuit!
In this tutorial I've combined the Lullaby Layette Bodysuit with the Grand Slam.
Start by printing out your Grand Slam and Bodysuit patterns. Cut out the Grand Slam in your desired size, but just leave your bodysuit taped together and uncut for now.
I'm doing the 3 month size here. Lay your cut out Grand Slam (front or back – to corresponding front or back of bodysuit) on top of the body suit and trace the neckline and down the sleeve as shown: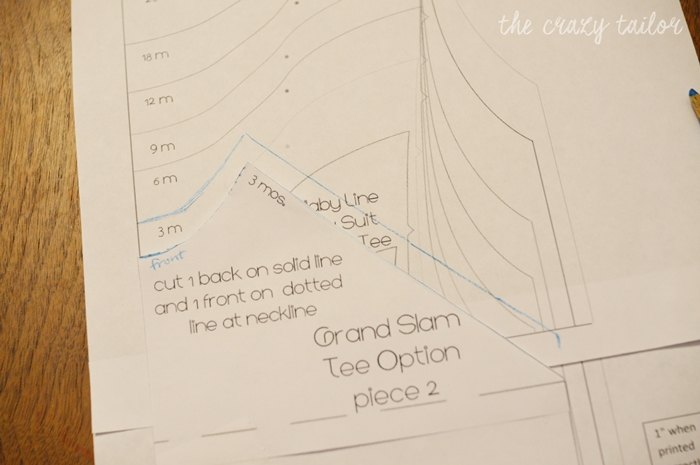 Now you'll notice that the Grand Slam is just a bit wider than the bodysuit. That's ok! Take a ruler and connect the edge of the Grand Slam sleeve marking down to the edge of the 3 month leg hole opening on the bodysuit:
Do the same with the back (or front, whichever you need to do next) pattern pieces. Now you can cut out those bodysuit pattern pieces.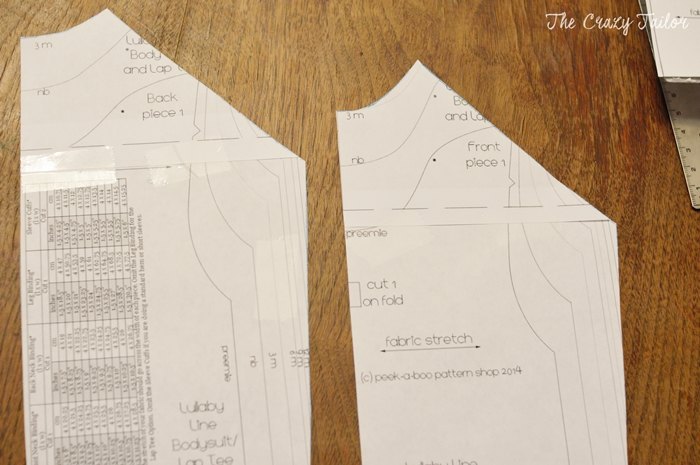 Then you'll need to cut out your Grand Slam sleeves and neck binding and the bodysuit leg binding and interfacing.
Here's where the construction varies a bit from the normal sewing instructions that came with your patterns.
Sew the SIDE seams of your Grand Slam and Bodysuit:
Turn them both right sides out and slip the bodysuit into the Grand Slam. You may want to baste these together at the side arm seam to prevent shifting.
Sew the long seams of both sleeves (I'm using the original hem here, but the hemming is usually completed after this step):
Now flip your sleeves right side out, and flip your combined Grand Slam/Bodysuit wrong side out (so the bodysuit should be on the outside now):
Slide your sleeve into the shirt and match up the underarm seams. Sew around the arm. If you wish to do a snap placket, you'll have to do that before this step. You can follow my tutorial over here.
Turn the whole thing right side out, hem the shirt and sleeves and finish up with your neck and leg bindings! Add those snaps and you have a cute little faux layering piece!
Happy Sewing!