Today I have a super furry and adorable DIY chewbacca costume to share with you! You could also change up the accesories a bit and make an ewok 🙂
You'll have to come back tomorrow to learn how to make Han Solo. My boys had so much fun with these costumes!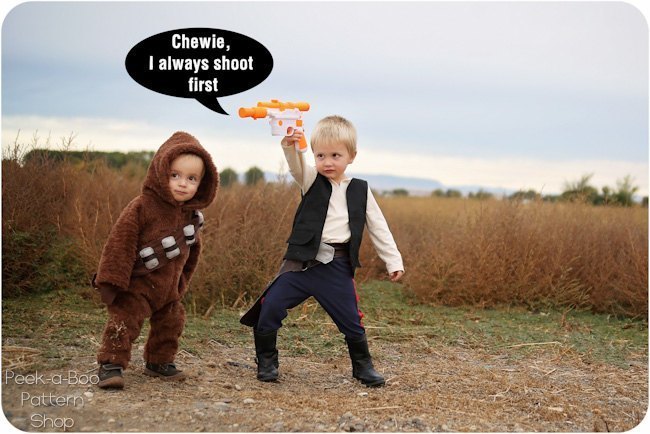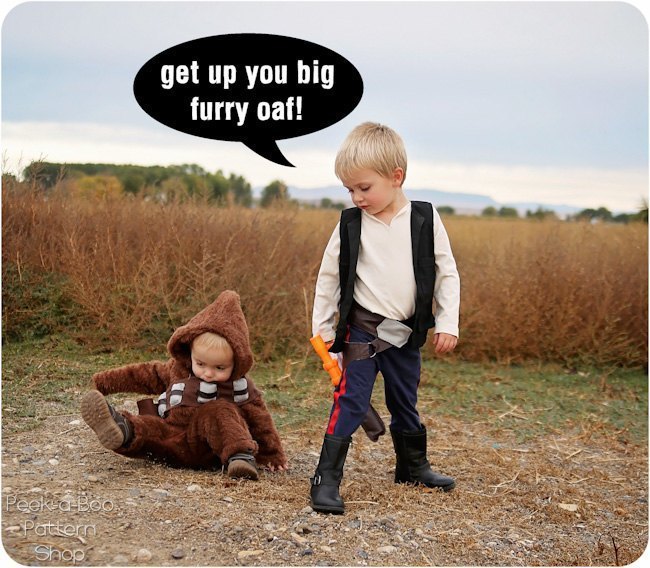 Today is all about our little wookie though so let's get started!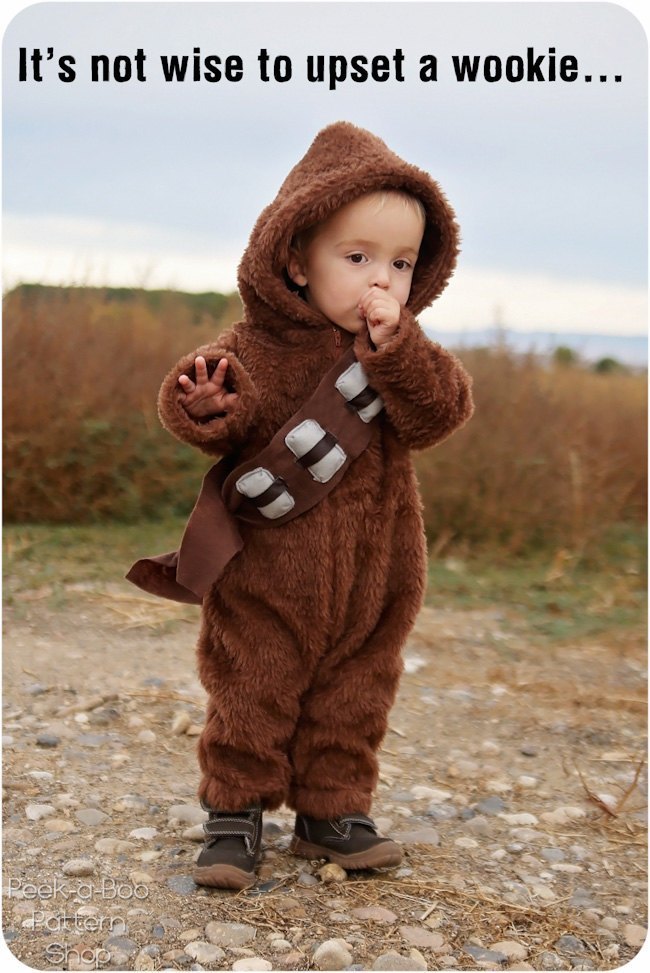 DIY Chewbacca Costume Supply List:
Faux fur (I found mine at joanns)
Scraps of leather or faux leather
DIY Chewbacca Costume Instructions
1. Sew your body. I added 1″ to the sleeve inseam and pajama side seams to allow enough room to layer over other clothing and account for the bulky fur. This is a size 18 months. In larger sizes you may want a bit more extra ease added. I skipped the feet and sleeve cuffs and did a simple hem.
I made the hood one size larger than usual since the fur is pretty bulky and my baby has a big noggin. I widened the pajama neckline to match the size of the hood and then just sewed it on with right sides together. This was actually a very easy and quick costume to make and took me about 2 hours including cutting for the body.
You could use this as the base for tons of costumes! Faux fur is scratchy on the inside but we just layer over a thin pair of pjs and he didn't mind one bit.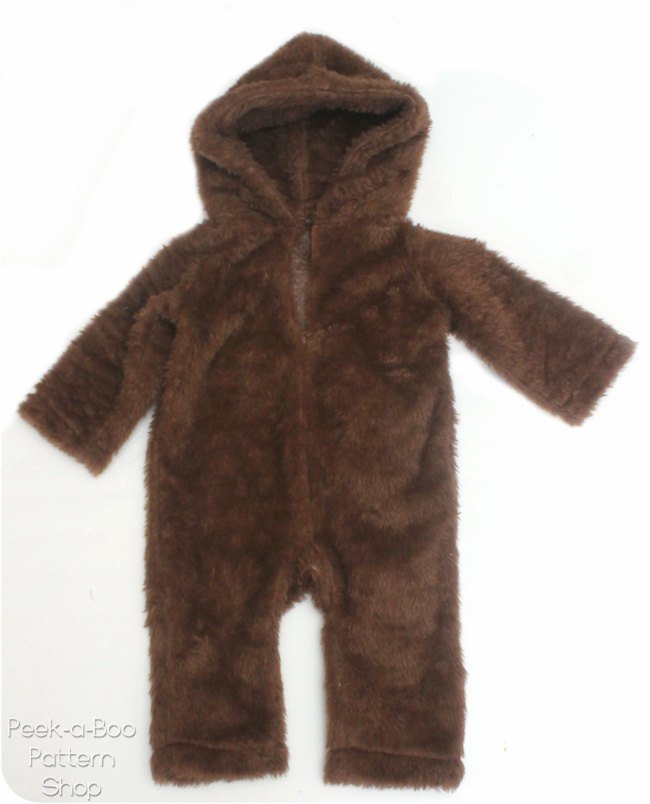 2. Now we'll make his ammo sash (no clue what this is called?). Cut a piece of brown felt long enough to wrap around one shoulder and your desired width (mine is 46×4″).
The ammo is made from gray rectangles of felt (mine are 2 x 3″ and I made 4). To make the ammo 3D I boxed out each corner. Pinch the rectangle at each corner and then sew across the tip about 1/4-1/2″ in from the point.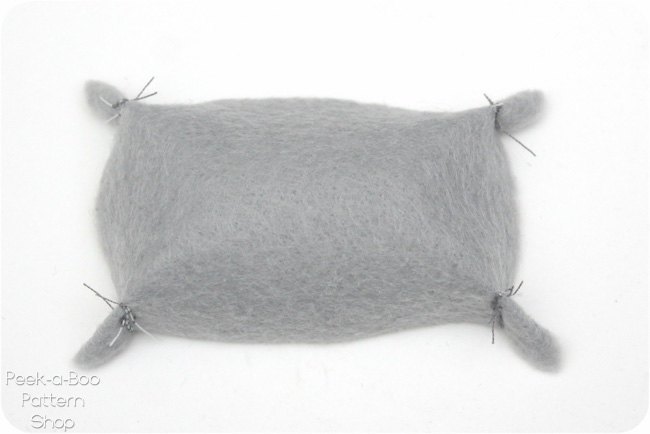 3. Sew 3 sides of each ammo piece to the brown sash. Stop with your needle still in the fabric, stuff with polyfill and then sew the final side.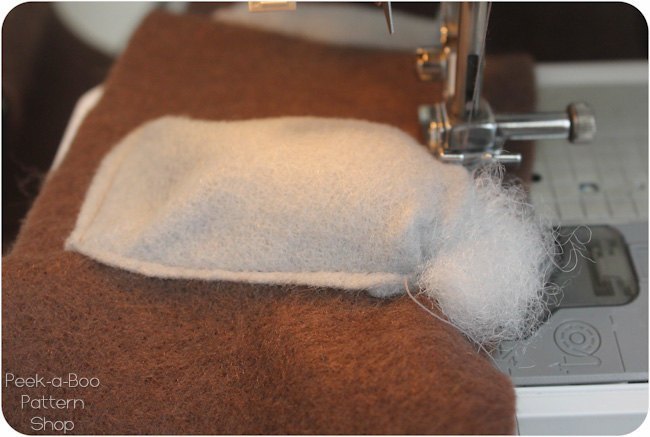 I just did 4 pieces of ammo down the front since he will probably be sitting in a stroller. For an older kid you could make them go down the back too
4. Next sew a strip of leather over each piece of ammo. I did individual pieces but you could do one long strip

5. To keep the sash in place I cut a slit in one end and knotted the other end for a simple closure

6. To finish the DIY Chewbacca costume I hand sewed the ammo belt to the body at the shoulder to keep it from slipping off

And that's it! Now just remember…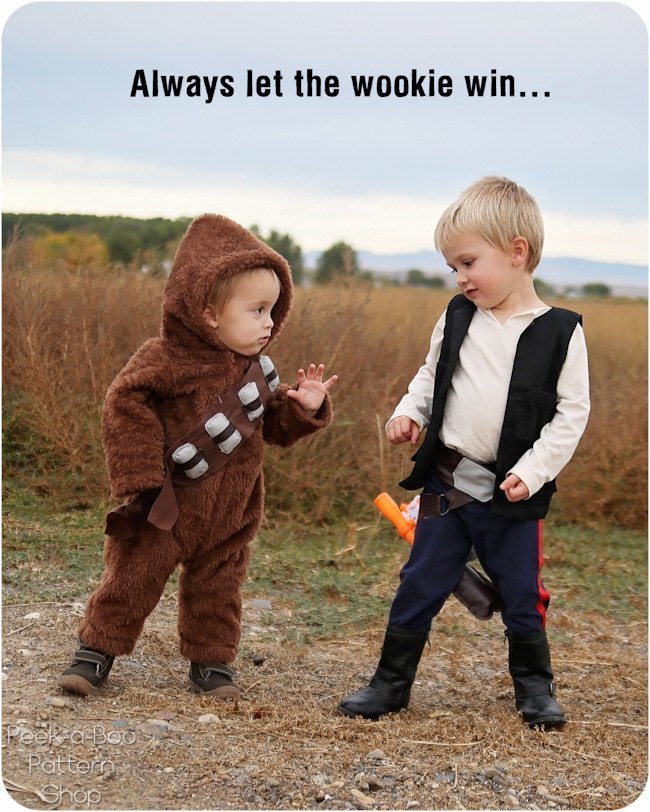 Happy Sewing!
If you enjoyed this costume, you'll have to be sure to check out our Han Solo Costume Tutorial.
If you need help with your sewing projects, come join our Peek-a-Boo Pattern Shop Facebook Group.