Remember my post on zipper pouches last month? Well, another favorite of mine are drawstring bags. Just like the zipper pouches, they can be used for anything and everything and are a super fast sewing project. So, to get in the mood for Halloween and all other Fall festivities, I decided to make some drawstring bags to package Halloween candy in, for Trick & Treat. Of course if you get hundreds of kids at your door it is a bit too time-consuming, but then they might be perfect for Fall or Halloween party favors? And even without any party, those bags are a fun sew, that can be made in any desired size. These ones are really small, I used a piece of A5-paper as a template, but if you'd use A4, it would be perfect as a bag for marbles or the like and with an A3 piece of paper as a pattern piece, it would make a lovely gym bag. The sky is the limit!

Requirements
(for one bag, though the photo above shows the materials for two of them, just because they're such a fun matching pair!)
– Fabric, one A5-sized piece of woven fabric, not too heavy if you're making a small bag. Quilting cotton works fine.
– Matching bias tape or ribbon.
– Thread and the usual sewing supplies.
Finish the edges of your rectangle with serger or zigzag.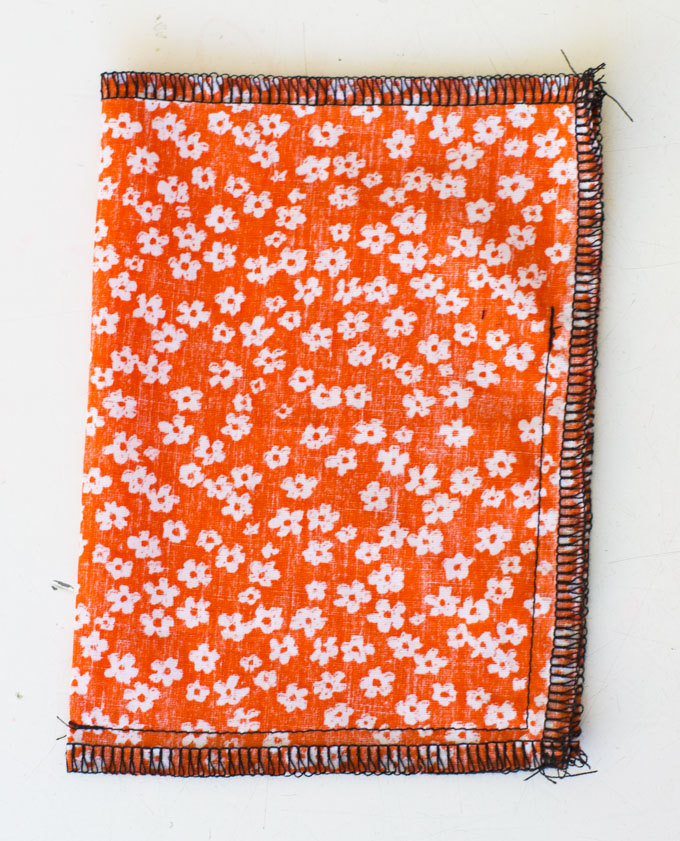 Fold the fabric in half, right sides together. Now stitch along the bottom and the longer side with a 1/4″ seam allowance. However, do not sew all the way to the top. The last two inches should stay open. Make sure you secure your stitching at beginning and end by sewing back and forth a few stitches.
Press the seam allowance on the long side open, not just along the seam, but especially along the open top.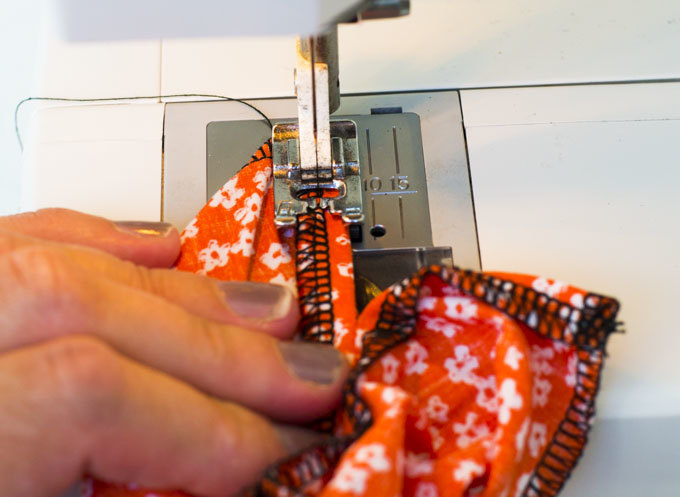 Top stitch along the edge of the opening, where you just pressed the seam allowance to the side. These are just lines of topstitching, parallel to the seam you just made. They are meant to keep the seam allowance at the opening in its place, to prevent it from popping out when you pull the ribbons later on.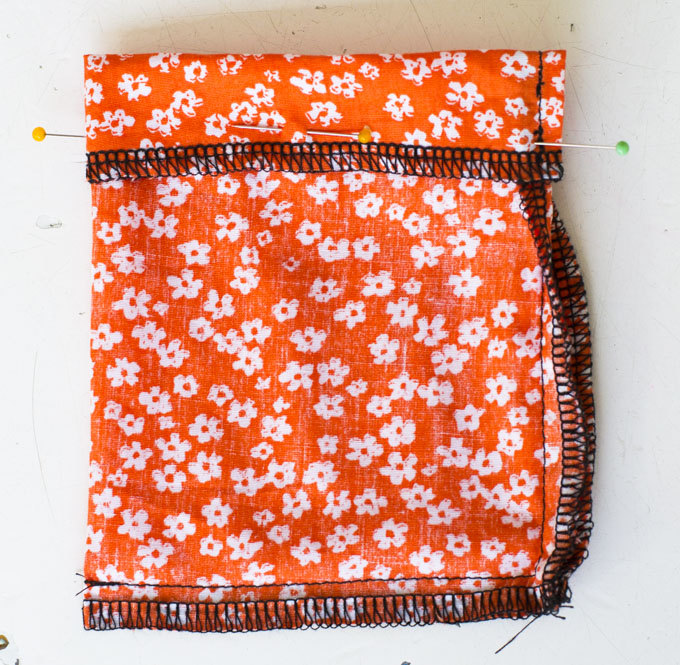 Now fold the top one inch towards the wrong side of the fabric. Press or pin into place.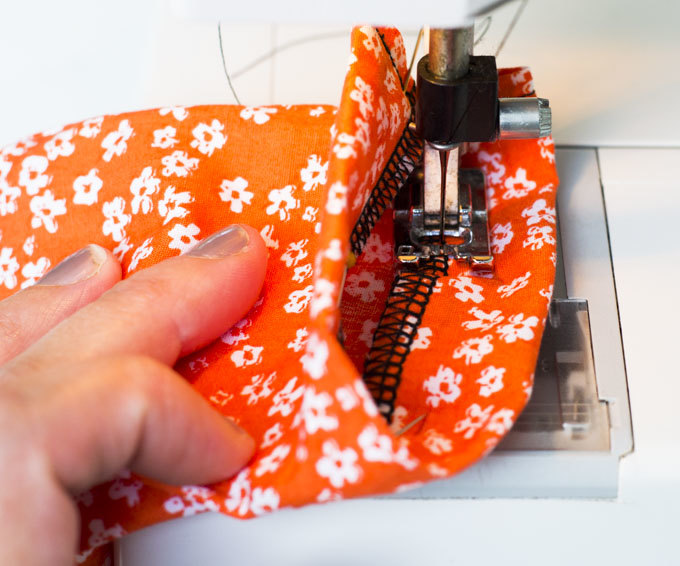 Stitch this wide hem into place, close to the edge of the fabric, as pictured above. Sewing the hem on such a small tube is easiest when you place your presser foot inside the tube!
Now the bag is done, turn it right side out, give it a quick press and on to the ribbon.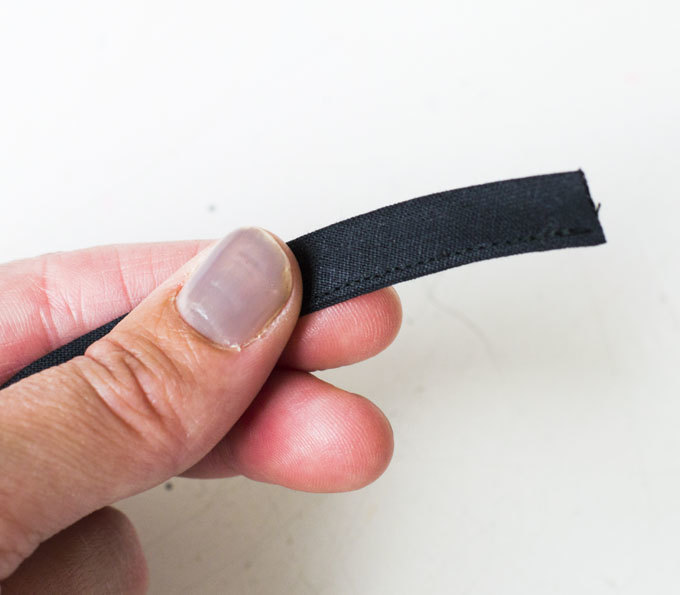 If you use real ribbon, you can skip this step: press the bias tape in half lengthwise and stitch along the long open side to create a smaller, finished ribbon.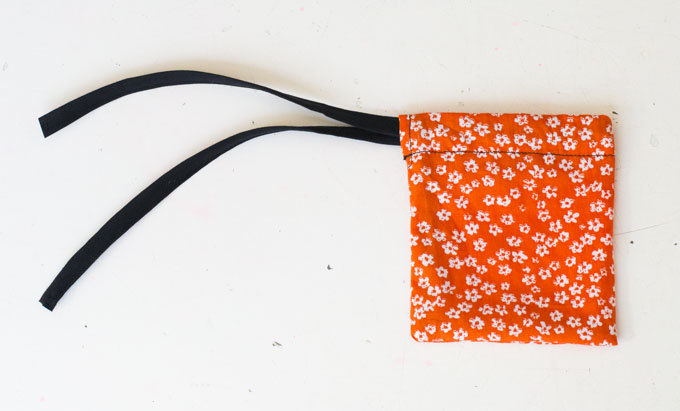 Thread your ribbon or bais tape through the tunnel at the top of the bag.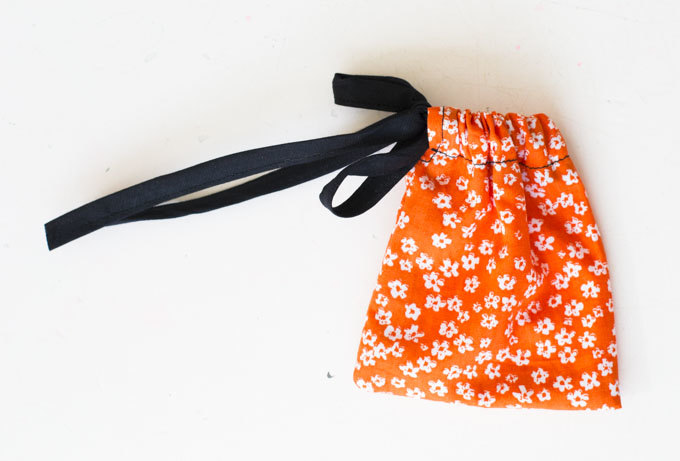 Make a nice bow and you're done! Now off to make gazillions more, for all these Trick & Treaters…