I hear this question all the time… "Can sewing save you money? " The answer is Yes! Read below to find out how sewing can save you money!
Since I hear it so often, I did a little research. It's generally well accepted that if you want a boutique dress from a specialty shop that you can save money sewing it yourself but what about the everyday items?
The short answer is…
YES!
Sewing can definitely save you money!
I compiled a list of basic clothing items and found a similar item at Gap and Target. If you normally shop somewhere more or less expensive you'll have to keep that in mind when looking at the chart but this gives a good benchmark. All pricing is based on a child's size 5.
Handmade Cost:
I did not factor in pattern price. If you already own a pattern that will work for you, then your cost is $0! If you need to purchase one I recommend dividing the pattern price by the number of times you know you will use it. For example, if the pattern is $8 and your child is still at the low end of the size range and it's an everyday item, it's reasonable to assume you will use it at least 8 times making your pattern cost $1. If it's for a special occasion and you might only use it twice your pattern cost is $4.
For knit items I used a "Designer" price of $18/yard (Art Gallery, Riley Blake, Birch, custom knits, etc.) and a "Bargain" price of $7/yard.
If the yardage required for an item is 1/2 yard but you'll have enough width on the bolt to make 2 items I divided the cost by 2. Use those scraps!
I did not factor in time. I assume you are reading this post because you love to sew 🙂
For items with buttons or zippers I did include that in the cost. I didn't factor in thread, scissors and other basic supplies you should have on hand.
If the fabric price was pulled from Joanns I factored in a 30% discount because it really is almost always on sale or you can use a coupon
Caveats:
Yes retail clothing goes on sale but fabric goes on sale too. You never know what type of discount you might score so I didn't factor it in. I've found amazing clothing at a yard sale for $1 and I've also found amazing cuts of fabric and large items that can be re-purposed at yard sales for a $1 or even less
Price doesn't always equal quality. A Target dress might hold up just as well as one from Gap and your $7 knit might be just as good as an $18 knit. Typically it's a good indicator but not always. Hopefully by having both prices to look at will help you determine the comparative cost depending on your particular fabric and the item in question.
There are lots of other reasons to make handmade: custom sizing, it's fun!, creating a one-of-a-kind piece for your child, you don't have to drag all of the kids to the store with you, and it's made by you instead of in a sweatshop (while it might not be true of everything you buy a majority of the time that is the sad reality of the fashion industry)
Patterns Used:
The Breakdown: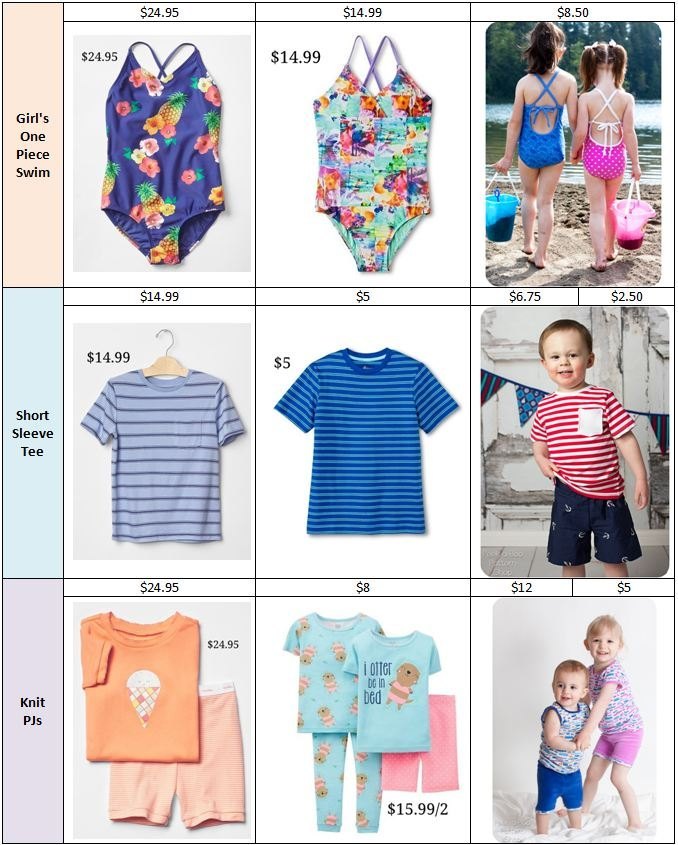 What are you waiting for? Can Sewing Save You Money!
YES!
Let's get sewing!