Hi, Peek-a-Boo readers! It's Kelly and I have a quick and easy project for you today that will not only help you bust some of that scrap stash that you have, but also get your kids moving ( and maybe even learning!) as well! And, it's something the kids can even help sew! DIY Bean Bag Games!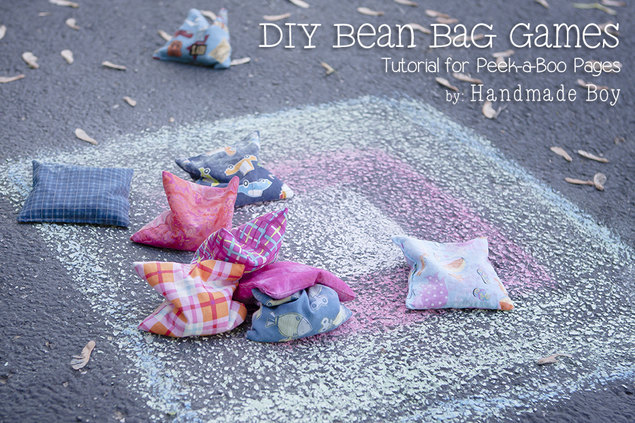 To make the bean bags, you will need
scraps of fabric 6″x6″ square
a bag of dried northern beans
and basic sewing supplies
(I made 10 bean bags, 5 in each color scheme.)
Take two 6″x6″ scraps of fabric and line them up right sides together. Stitch around all four sides leaving a 2-3″ gap in the middle of one side.  Make sure you backstitch on both sides of your gap. Clip your corners.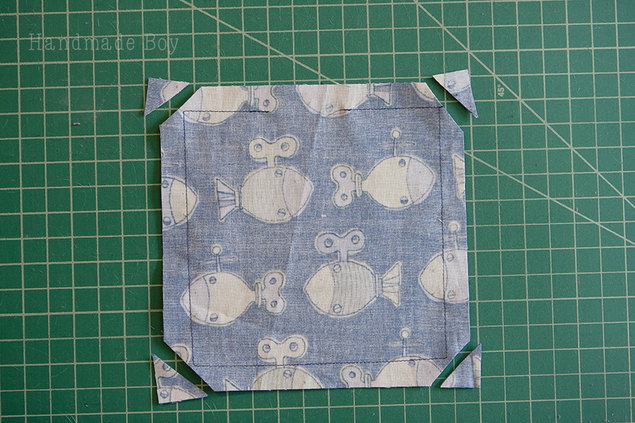 Turn right side out and use a blunt object to push the corners out. I like to use a large bamboo knitting needle. Tuck in the seam allowance in the gap and press flat. (Like in the image below.)
Now it's time to fill your bag with beans! I don't have a funnel, so I made one with a piece of paper.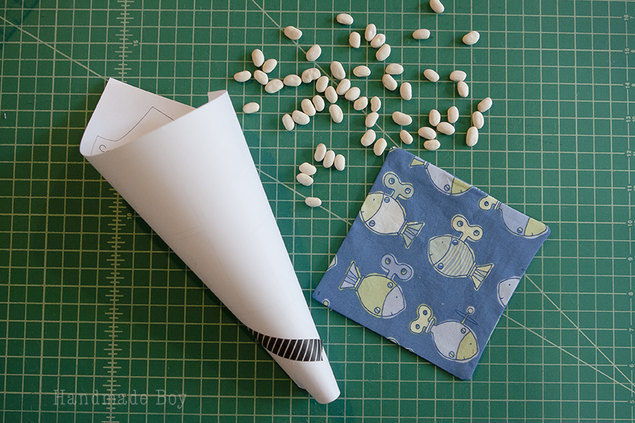 Fill your bag to weigh approx 4oz. That was about 3 large handfuls of dried beans for me. Just put the end of your funnel into the gap and dump the beans in.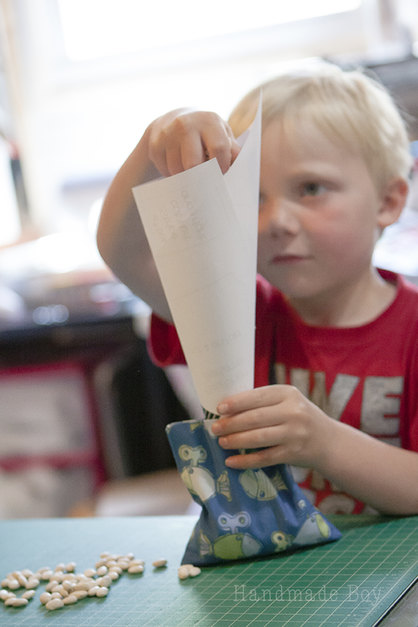 Now sew the gap shut. You can make it pretty and do a ladder stitch so it is hidden, but I felt that machine stitching this close would make it stronger.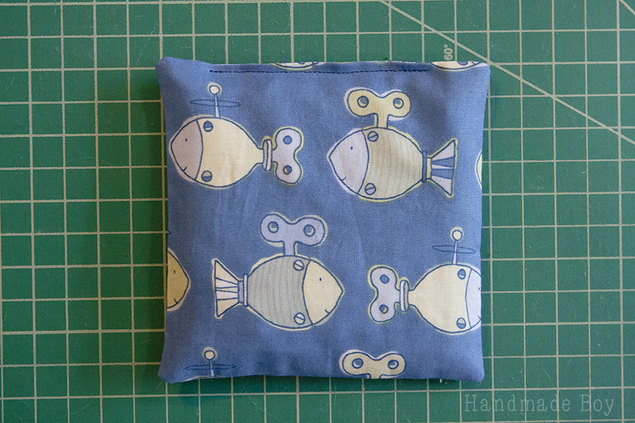 That's it! Repeat till you have the number of bags you want! This easy project is perfect for kids. Thomas loved helping make the bean bags. If your child can't reach the peddle of the sewing machine, you can always just put a box under it like we do. I also have a speed control on my machine, so I make sure I turn that down to a turtle's speed.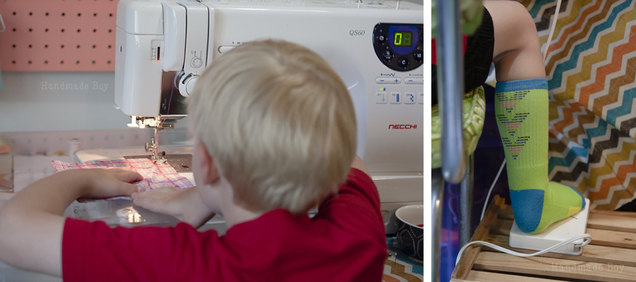 After you get your bean bags sewn up, it's time to grab some chalk and head outside! We called the first game "Bull's Eye Toss". Simply draw a bull's eye on the pavement in chalk. Then draw a line to stand behind and take turns tossing into the square. You can simply see who can get closest, or assign each area of the bull's eye a value and keep points. Making each area a small points value, like 1 for the outer part, 2 for the second ring and 3 for the center, makes the math easy for kids just learning to add. I love to sneak in a bit of education whenever I can. 😉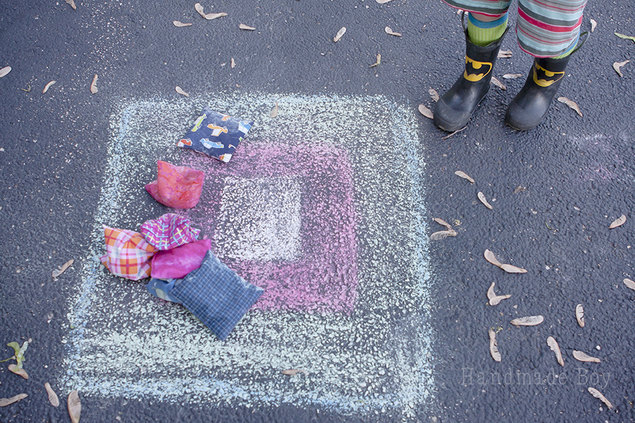 We stood approx 15′ away. It was a good distance for both my 5 year old and 13 year old.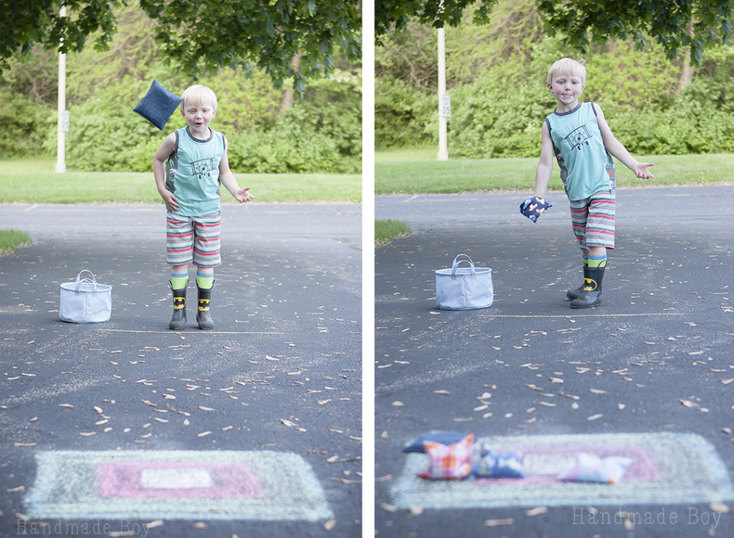 Another great bean bag game is tic tac toe. Just draw a large tic tac toe board on the pavement with chalk. My squares were about 12″.
Then stand back about 15 feet and take turns tossing your bag into the square you hope to get! This was challenging for both my kids. And both had a lot of fun with it! You will need to have "sets" of bean bags to play this game. We have a set of 5 with blue fabrics and a set of 5 with pink fabrics. I do think a few more bean bags in each color would be better, because the kids didn't always hit the square they wanted.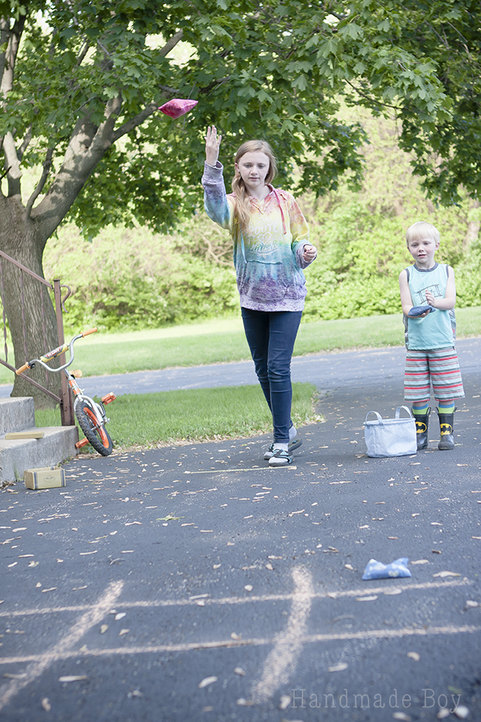 Our next game would be perfect for little ones learning their shapes. The kids drew a variety of shapes on the ground. Then, Thomas took turns tossing the bags at the shapes we told him to aim at. You can focus on shapes, or colors. Or you could do giant letters and have your child toss the bag at the letter you call out. For a slightly older child, have them say what sound the letter makes before throwing the bag. Or you can draw letters that will make a series of words and have the child spell a word. For example you can draw A, B, C, D, O, G, T, S on the ground. Then ask the child to spell cat. The child then throws the bags at the letters C, A, T in the proper order. Fun and learning!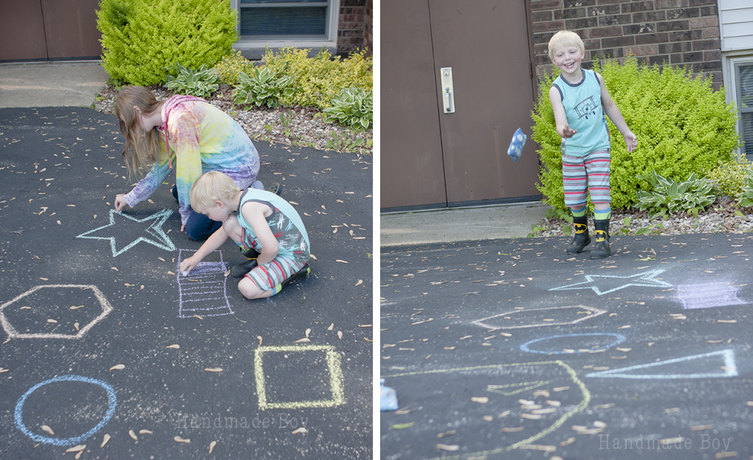 Another game we made was what I call the "Bozo Game." Yeah, I just dated myself.  My daughter drew circles about 18″ in diameter and two feet apart and gave each one a point value. The kids stood back behind a line and took turns tossing the bags to get the highest points. They really didn't keep score, but they had fun competing anyway. LOL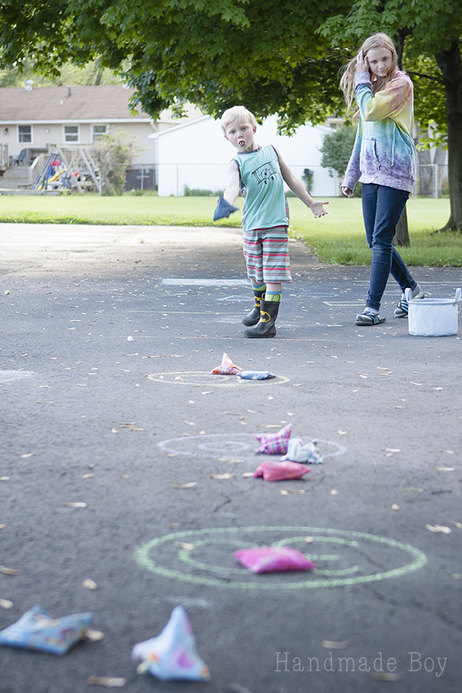 Stuck inside on a rainy day? Just grab a basket and place it on one side of the room, or down the hallway and let your child see how many baskets he can make! My little competitive guy spent nearly an hour doing this today! He was trying to see how many bags he could get into the basket in each set. It was a great way to get him moving even though it was too wet outside to play.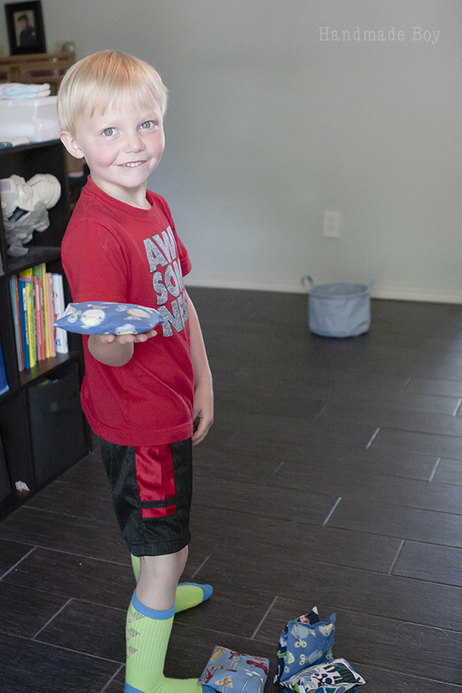 Bean bags are such a classic toy. There are so many different games you can play with them! Hot potato, catch, Doggy Doggy Where's Your Bone, relay races, juggling, balancing games, the list goes on and on! I would love to know what games you think are perfect for bean bags!