Hi! This is Sara here from Made by Sara for this month's tutorial! Since Spring is in full swing around here (except for some rain in these last days) I thought I would make something that my girls could wear along with their light and bright Spring wardrobe. I picked some yellow, orange and pink knit scraps and I was able to make them a few knit head wraps and headbands on a whim.
This is the perfect project to give some use to all those jersey and interlock knit scraps you have around. You can use a single print or mix & match colors.
Today I am sharing with you a simple tutorial on how to make five different headbands.  They are stylish, they are cute and they are functional to keep all the hair away from the little eyes.
Go and grab those knit scraps and let's get started!
Basic Knit Headband
1. Start by checking your child's head circumference. Both of my girls measure about 20" so that is the width I am using.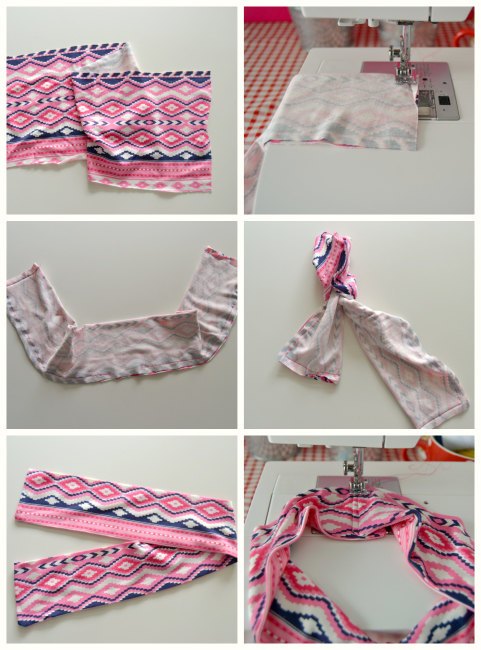 2. Cut 1 strip of knit with 20"x6" (width x length).
3. Fold it half lengthwise with right sides together (RST). Stitch one short end and the open long edge with a 1/4" seam allowance (SA). Turn right side out through the open short end. Press.
4. Overlap the short edges by about 3/8" and stitch.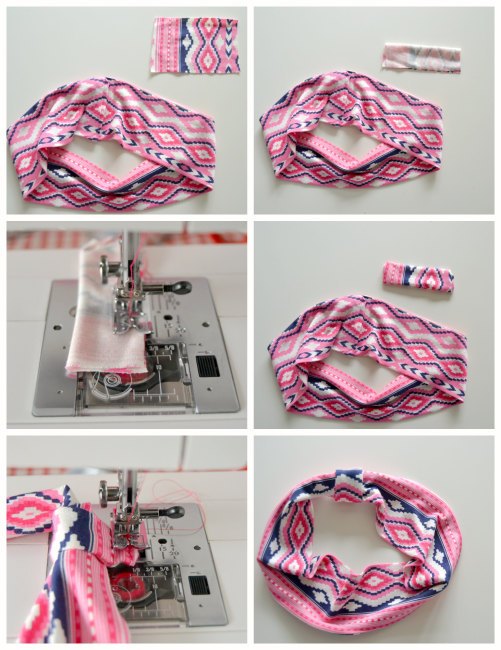 5. Cut a little strip of 2" x 3.5". Fold lengthwise RST and stitch. Make sure to leave a 1" gap to turn RSO. Turn and press. Wrap it around the headband's seam. Stitch the edges together.
You're done!
Flower Headband
Make a basic headband following the previous steps.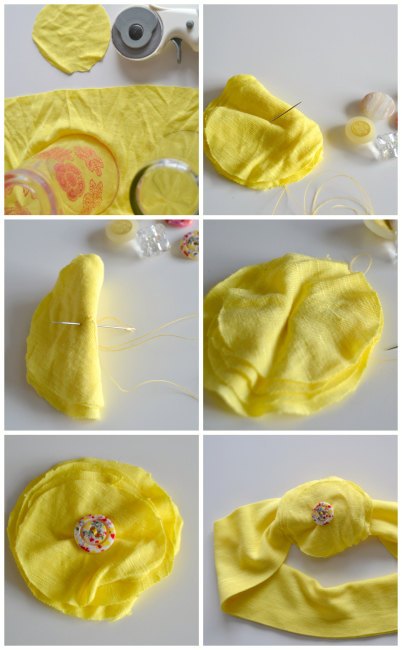 Cut 6 to 8 circles total  (in the same knit or using a contrasting one) of two or three different diameters. Stack them on top of each other.
Grab a needle plus coordinating thread. Run a few stitches right at the middle – just go up and down a few times to hold all the circles together.
Grab all the circles from the bottom and stitch that little pinch to give the flower some shape.
Choose some embellishments – buttons, beads, sequins, little scraps of lace – and sew them to the flower top. Sew the flower to the headband, over the strip.
You're done!
Braided headband
Make three Basic headbands (see tutorial above) up to step 3. You should add 2-3" to the width of the strips (so in this case it would be 22-23").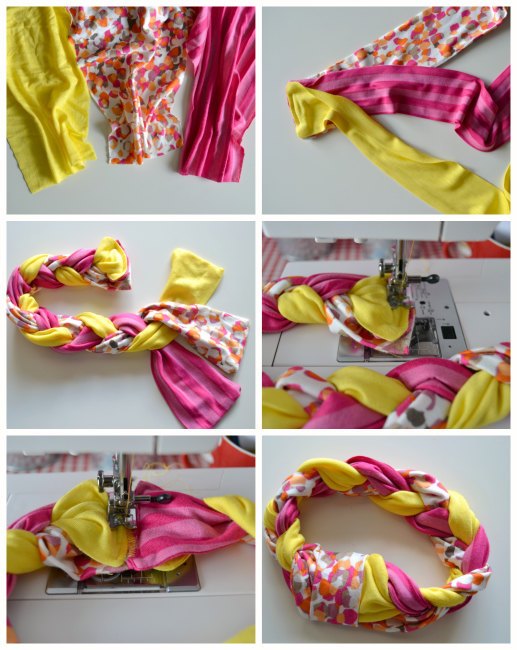 Overlap all three edges and stitch them together. Make a loose braid. Overlap the remaining three edges and stitch.
Join the two edges together and run a wide zig zag stitch  (width 5) so it catches both edges. You may want to stitch backwards all the way, or stitch again to secure well.
Make a small strip and wrap it around the zig zag seam to hide it. Stitch both ends together.
You're done!
Turban Head Wrap Headband
Make two Basic headbands (see instructions above) up to step 3.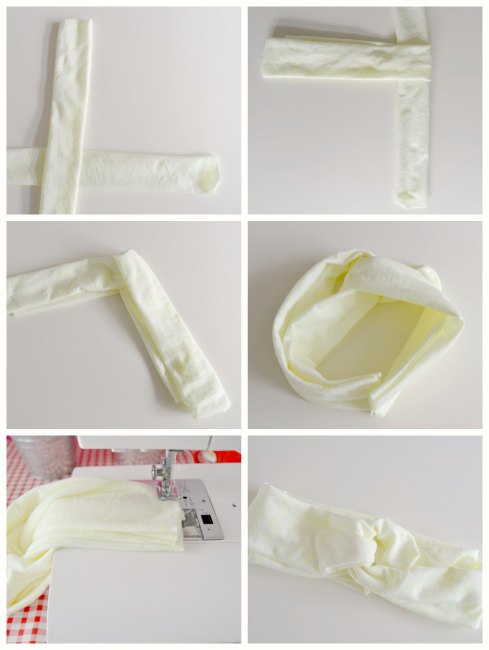 Hook them together at the center. Overlap all four edges and stitch.
You're done!
Bow Knot Headband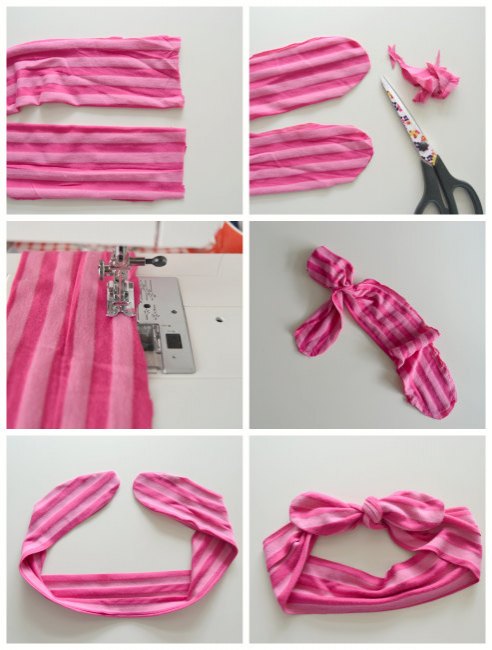 Cut the headband piece a bit longer – about 5′-6" (it depends on how long you want the bow ties).
Fold it in half lengthwise with RST. Cut the edges on the round.
Stitch all around, leaving about 2" to turn. Turn RSO and press.
Double knot around your kid's head.
You're done!

Easy peasy right? You can make tons of these in one hour or two!
These little girls are asking me to make several more. In all the rainbow colors and shapes… Well, how can I say no to these two? 🙂
Please share with us over Peek-a-Boo's Facebook group the headbands you'll be making!
Happy sewing!