Joining In:
I'm so excited to have you sewing along with us! Here's how to join in the fun
1. Pick up a copy of the Maui Muscle Tee or Rio Racerback (or both!)
2. Check here on the blog everyday this week (see schedule below)
3. Join the Peek-a-Boo Pattern Shop Facebook Group: Participants are encouraged to post in-progress photos, ask for help and advice, etc. throughout the week
4. Upload your Finished Photo to the Maui Muscle Tee Album or Rio Racerback Album for your chance to win a gift card!
Prizes:
Sew Along Winners will be drawn from each albums (from the photos uploaded this week) for $20 store credit to Peek-a-Boo Pattern Shop
1. Fan Favorite: Based on number of photo likes
2. Designer Choice
3. Random Draw
Sew Along Schedule: 
Monday: Choosing Your Size &  Fabric
Tuesday: Tips for Sewing with Knits
Wednesday: Knit Bindings Tips & Tricks
Thursday: Ruffle Dress Racerback Variation
Friday: Muscle Tee Romper Variation
Saturday-Sunday: Sewing/Catch-Up Days 🙂
Monday: Winners announced and a few features shared
Let's get started!
Choosing Your Size:
Make sure you measure your child's chest and choose the correct size for your child. The Muscle Tee has a boyish, athletic fit. If you want a more fitted look I recommend going down one size and lengthening. If you are sewing the Rio for a slim child make sure you check the size chart and adjust accordingly or it will gape at the chest. For Anne I do a 3t width and then lengthen to the size 5. Here's Will in a size 2t Muscle Tee. He is very slim but he loves this fabric so I stuck with the 2t width and added 1″ to the length so he can wear this for a couple years. You can see on him it is a bit baggy (he has a 6 mos. chest circumference) but personally I don't mind it.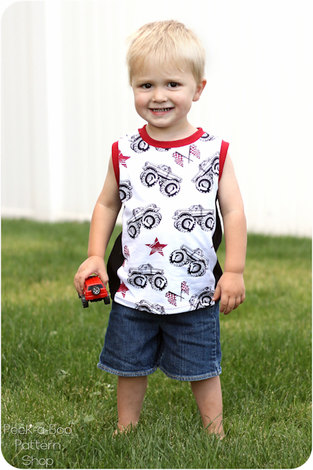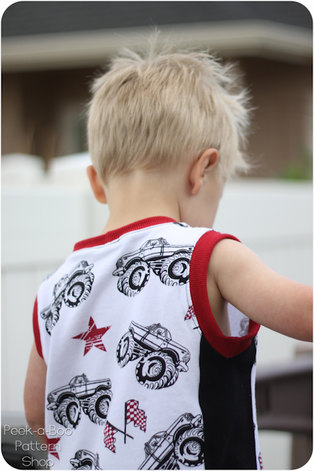 Choosing Your Options:
Both of our sew along patterns include a couple options. For the Maui you can go with the basic version or the colorblock. If you are using strips I recommend the color block version and then you don't have to worry about lining them up exactly 🙂 The Rio includes a top and a dress and NEW to the shop is the Rio Racerback Add-On for a plain neckline variation instead of gathers. This option is a bit quicker and easier to sew and has a more sporty finish.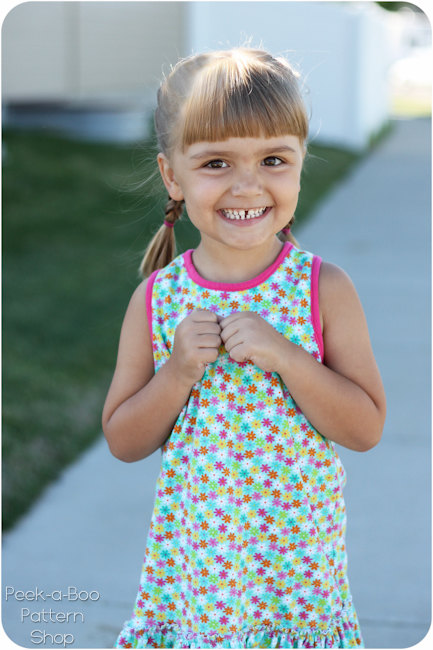 Choosing Your Fabrics
Both the Maui and the Rio are designed for knit fabrics. For your main fabric you can use jersey, interlock, cotton/lycra, etc. For the bindings you need to make sure you have something with good stretch AND recovery. I recommend fabrics with at least 30% stretch.  To help you out I have a FREE knit stretch printable to share with you! Download it on Craftsy and then print it out at 100%.
Place 2 pins in your fabric 4″ apart. Stretch the fabric across the chart to the point it will comfortably stretch to to determine the stretch. This fabric has 25% stretch.

Let go and let the fabric spring back. If it's back at 4″ it has good recovery. As you can see this fabric did not return to 4″. Given it's stretch of less than 30% and poor recovery this is not a good choice for a binding.

This red rib knit stretches beyond the 50% mark and it has good recovery making it an excellent choice for a binding.

Come back tomorrow for some tips for sewing your bindings!