When I made Anne's Easter dress I had just enough fabric left for a little purse and I just couldn't help myself.
Check out my Free Toddler Purse Sewing Tutorial to Make One for Your Girly Girl!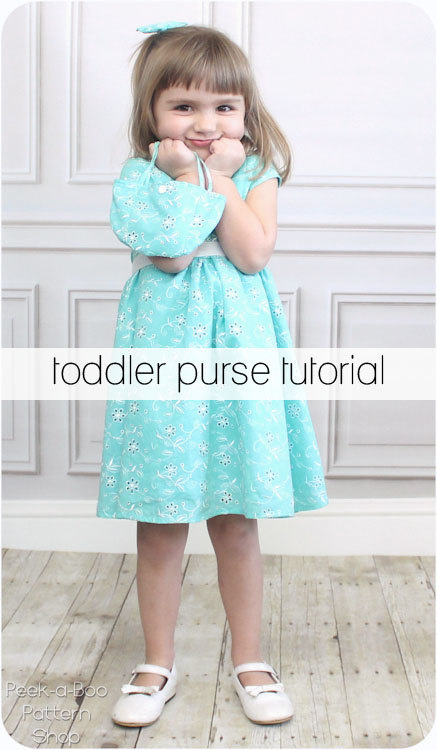 Clearly this little purse brings out the silly!

So she can't quite figure out how a lady might hold a purse but she does love swinging it around and stashing her chapstick in it

Her dress is the Savannah Party Dress from last week's Sew Along
It's nothing fancy but if you have 10 minutes and some fabric scraps it's a fun little addition to any outfit!

1. Cut out your purse pieces. 2 for the outside and 2 for the lining. I was up-cycling so you can ignore those odd seams 🙂 My straps came off the dress but you can easily make your own from some long fabric strips or coordinating ribbon

2. Sew the strap ends to the outside of the purse with the strap pointed towards the bottom of the purse. The 2nd photo shows what it will look like when the purse is finished not as you're sewing them down

3. With right sides together (RST) sew the 2 lining pieces together and the 2 outer pieces together along the outside edge leaving the top open. Make sure your handles don't get caught in the seam.

4. With RST slide the outer bag over the lining and sew together along the top edge leaving a 1-2″ gap for turning.

5. Turn right side out and press flat. Topstitch around the upper edge, add a snap, and you're done!