Welcome to photography week! All week we'll be discussing tips and tricks to help you discover the wonderful world of photography!
I am not a professional photographer but I am learning more everyday and would love to help you along in your journey to becoming a better photographer. Today we're going over DSLR photography for beginners. Yes you can get some decent shots with other cameras but if you really want to improve I highly recommend taking the plunge and getting a DSLR. I use mine for business occasionally, but the main reason I own a DSLR is to photograph my own children.
After a lot of research I went with the Canon EOS Rebel T3 (affiliate link) which I purchased on Amazon. For $450 you get all the basics plus some fun extras (tripod, memory card, spare battery, etc.). I've had my camera for just over 2 years now and haven't had any trouble with it. I use it almost everyday and love it! A serious photographer might need a more expensive model but if you are just getting started I would really recommend this model.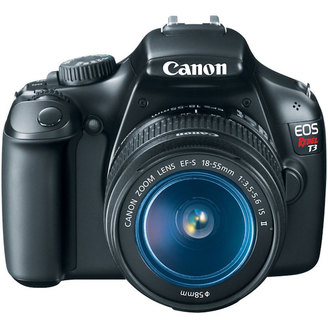 I also highly recommend spending an extra $100 to get the 50mm lens. This lens has a lower aperture which allows you to get shots with beautiful bokeh effect (blurry background). I waited a year before purchasing this lens and wish I had bought it right away. I love using it for portraits!

Now that you have your equipment it's time to learn what to do with it 🙂 My #1 tip is to put your camera into manual and learn the ropes. Practice, practice, practice! When I was first learning I used the "Just Say No to Auto" e-book and it made a huge difference for me in learning how ISO, aperture, and shutter speed work together. It also has really helpful diagrams for where to change your settings on various camera models.
Tons of information is available on this but in a nutshell here's my low-tech intro. to manual mode on your camera:
ISO:  how bright is it? Outside on a sunny day you'll use a low number (100 or 200). In darker conditions (indoors, late afternoon, etc.) you'll use a higher number number (1600, 3200, etc.). At higher ISO levels things tend to get a bit grainy
Aperture: If you want a small portion of the image to be in focus (portrait of one person for example) use a low number (f-1.8). If you want most of your image in focus use a higher number such as f-5.6. When I'm just snapping away I tend to use a higher number; with a low aperture your subject can often end up out of focus if you aren't careful
Shutter Speed: When you look through your camera's view finder you'll see a sliding scale to guide you in choosing the correct shutter speed for a properly exposed photo. I tend to overexpose slightly (+1) and it seems to turn out just right. Higher shutter speeds are better for moving subjects (like toddlers!). If your shutter speed is too low (generally below 1/125) you will need to use a tripod or you will end up with a blurry photo. To avoid this you can increase your ISO instead
Sound scary? Let's look at an example as to why you really really should learn how to use manual 🙂
I took this a couple years ago during the photoshoot for the Sadie nightie. This was in auto. mode and since the room wasn't brightly lit my camera chose to use the flash which led to huge shadows…

Same photoshoot now in manual mode. This is 100% unedited and while certainly not perfect it is 100x better. I chose an ISO appropriate for the lighting and the result is a properly exposed photo without those big, ugly shadows.

Still with me? Let's go over just a few more basics for outdoor photography. These tips apply even if you aren't using a DSLR 🙂
Ideally I like to shoot in open shade (gives you lots of light but no shadows) or on a day with high clouds (again lots of light but no shadows). Of course you can't always wait for the perfect moment but you can keep a few things in mind that make a big difference…
#1 Avoid a back-lit photo: In this picture the sun was directly behind Anne leaving her face completely shadowed. Instead she should have been facing the other way looking into the sun. Yes it can get a bit squinty on a full sun day but at least you will be able to see those cute little faces.
#2: Pay attention to shadows: On a sunny day you will have shadows and you will have to deal with it. Make sure you don't end up with one person in the sun (Anne) and one person stuck in their shadow (Will). You want to aim for everyone in the sun or everyone in the shade. This also comes into play with the shadows cast by buildings, trees, etc.  
Remember this photo from earlier in the post? This was taken at the same time of day but on a day with high clouds. Both kids are now evenly lit. I'm so glad I came back and tried again 🙂
Another common mistake is having the subject shaded but sun in the background or off to one side. Even though the subject is properly lit the background is incredibly distracting and ruins the shot. This can often be fixed by changing your camera angle a bit or having the subject scoot over.

#3 Aim for the golden hour: If you can control it the ideal time to take photos is the hour after sunrise or the hour before sunset. When I did this photoshoot I woke both the kids up to haul them out to Utah lake to catch those first rays of summer sunshine. Well worth it and they had a blast 🙂 Anne is in the Anchors Aweigh Sailor Dress
#4: Be Creative with Backgrounds: Open up your eyes and look around…you'll be amazed what you find! We're in rural Idaho now and finding pretty backdrops is somewhat challenging. While I might not be able to find trees and greenery (what I'd usually look for) I have found some great rural backdrops just by driving through my neighborhood. Thank you Mr. Farmer for parking your tractor on the edge of your field for a week 🙂  Keep your eyes open for fun fences, brick walls, orchards, fields, etc. Beauty is all around if you search with a photographer's eye

Come back tomorrow for some tips on shooting indoors!