When I started decorating for #3 I knew I wanted some nursery canvas wall art as the statement focal point of the room. Since we don't know what we're having I kept it gender neutral
I ended up going with "You Are My Sunshine" and "I Love You to the Moon and Back" and I love them! Classic and cheerful 🙂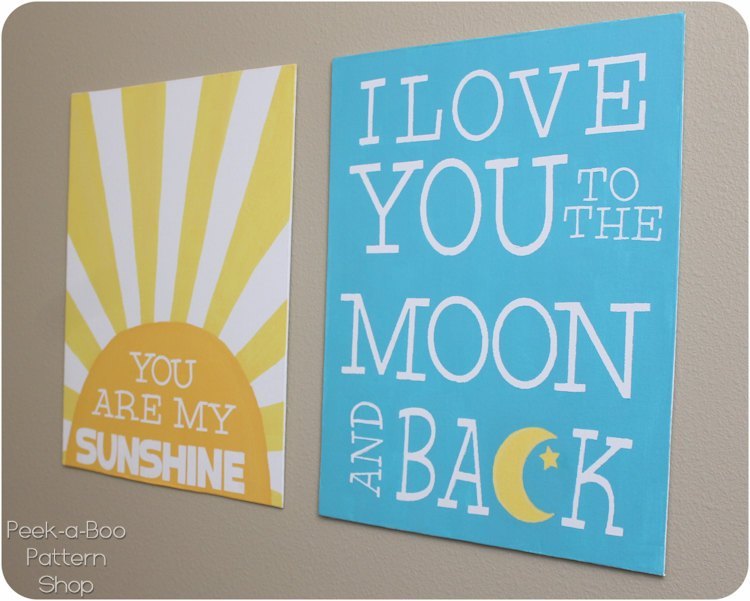 The rest of the nursery plays off those colors and has a bird theme which works well with the canvases

The fun part about making these yourself is you can do any saying you'd like and any color scheme! The canvases are surprisingly affordable too. I can't find the pack I bought but here's a 16×20″ 5 pack at Jo-Anns for $25 and you can always bring a 40 or 50% off coupon 🙂 So it works out to around $2.50-$3 for each canvas
Let's get started with the Nursery Canvas Wall Art!
Paint your canvas with a base layer in the color you'd like your lettering to be. I just wanted white so I got to skip this step. I did want a yellow moon so I painted a little yellow area for that. After your paint has dried add your lettering. I used my cricut and cut the lettering out of vinyl but you could also use contact paper. These letters will be peeled off at the end so you can use any color for this step. Alternatively you can just do vinyl lettering at the end but I wanted the entire canvas to be painted
For the sun I blocked off the white section in-between each ray and then painted the rays
I've heard that painting over your stencil with the base coat paint will help seal it so I tried that on one canvas. Overall I don't think it made a difference with leaks so I probably won't worry about it in the future
To finish up I free-handed my yellow sun shape and painted the moon canvas blue. It took a few coats to get everything evenly coated (make sure you let it dry between each coat) and then once everything was dry I peeled off the vinyl to reveal the white letters underneath. I did have some bleeding but it was easy to touch-up with a small paint brush. No need to panic 🙂 I ended up with a few crooked letters/line spacing issues but I'm ok with a few small imperfections since it was made with a big dose of mommy love!

Need more nursery ideas? Don't miss these posts from earlier this month! And more posts to come 🙂