To complete the nursery I made this fun bird baby mobile and I have a FREE pattern to share with you so you can make your own 🙂
I made my cheerful birds from felt and used my hot glue gun to assemble everything so this was a very quick and easy project

The birds are 3 dimensional so our little bundle of joy will have something fun to look at

For the strings I used baby ric rac and I love the extra bit of fun it adds

The mobile frame is courtesy of Monkey Town Mobiles and I couldn't be happier with it!

It took me all of 2 minutes to pop the pieces together and it was already painted! It was so nice not having to track down wood, find our tools, get my husband to drill the holes (yes I'm a wimp when it comes to power tools), paint it, etc. Some things are definitely worth buying in my opinion and this is definitely one of them! Here's just a portion of their color selection: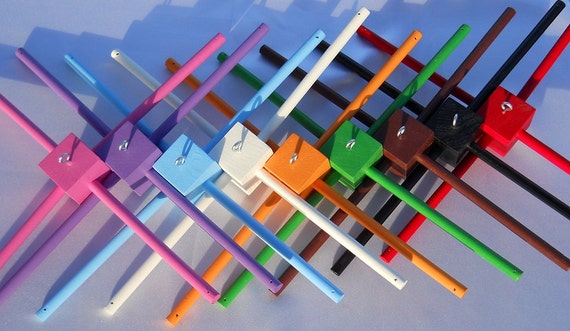 If you're planning to make your own mobile definitely check out Monkey Town Mobiles for your frame. They also sell a few complete versions as well
Let's get started!
Download your FREE bird baby mobile pattern here
1. Use the pattern provided to cut out all of your pieces. I did 4 birds but you could definitely print the pattern off at less than 100% and add in a few small birds to your flock as well. All of my pieces are cut from felt.

2. Cut a slit through each bird piece along the marked line. Slide a wing in about 3/4″ and hot glue it in place on the wrong side of the bird's body

3. To make things secure I slide my ric rac through a button and then hot glued that right on top of the wing. You could use a paper clip too I just couldn't find any

4. Hot glue the other side of the bird in place

5. Repeat until your flock is complete 🙂 For the clouds I did all 3 on one string to hang from the middle of the mobile



6. String them up on your mobile (if you got your frame from Monkey Town Mobiles it has holes pre-drilled for your string) and hang it up. I hung my mobile with an eye hook in the ceiling. Once our baby gets a bit older I'm planning to move it to above the changing table so we can get some more use out of it

I'm participating in the Make It & Love It Linky Party
The following two tabs change content below.
Amy is the founder and owner of Peek-a-Boo Pattern shop. She is a wife and mother to 3 children. Amy loves to sew, read and spend time outdoors.