Joining In:
I'm so excited to have you sewing along with us! Here's how to join in the fun-
1. Check here on the blog everyday this week (see schedule below)
2. Join the Peek-a-Boo Pattern Shop Facebook Group: Participants are encouraged to post in-progess photos, ask for help, etc. throughout the week
3. Upload your Finished Photo to the Sew Along Album for your chance to win a gift card!
Sew Along Schedule: 
This sew along I'm structuring things a bit differently and instead of walking through a few steps each day I'm going to share a few fun variations of the pattern. So if you're sticking with it as-is go ahead and sew up a storm and let me know if you have questions along the way. If you want to try something new here's the schedule:
Tuesday: Ringer Tee Neckline Variation
Wednesday: Bodysuit or Lap Tee Dress
Thursday: Bodysuit Romper Mash-Up
Friday: Finishing Up and Addressing Questions
Saturday: Winners announced and a few features shared
Choosing Your Materials:
For this project you will need knit fabric. For optimal fit I recommend something fairly stretchy (around 30%) but if you're sewing for a slimmer child then less stretch will be fine. The listed choice include interlock or jersey for the body but if you want to mix things up a bit you could use waffle knit, ponte knit, etc. KnitFabric.com also has a good selection of Waffle Knits and a handy Guide to Waffle Knit Fabric.
Let's talk snaps…
I've tried them all so hopefully I can be of some help. The pattern lists size 15 or 16 for the snap size but I've used size 20 and those worked fine too. When it comes to the type you have 3 main options:
1. Metal Hammer-In Snaps
You can find these at Jo-Anns and you either buy pliers to go with them, the little blue tool, or your use a hammer to pound them in. I use these occassionally and I like that they lay nice and flat once they are in. Definitely less noticeable than plastic. I use pliers to put them in and generally have good luck. I've heard bad things about the little blue tool and using a hammer is HARD. They are also a bit pricey but you can use a coupon and it's nice being able to just grab them at the store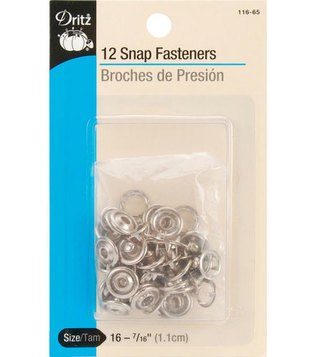 2. Babyville Boutique Snaps
You can also get these at Jo-Anns and they are similar to KAM snaps. They are plastic and come in quite a few colors. I don't know if I just got a bad batch but my first pair of pliers broke and I've had quite a few snaps either break or pop out later. My 2nd pair of pliers (don't worry they were free) is still working and I use them with my KAM snaps. Maybe someone else has had better luck but from personal experience they aren't my favorite.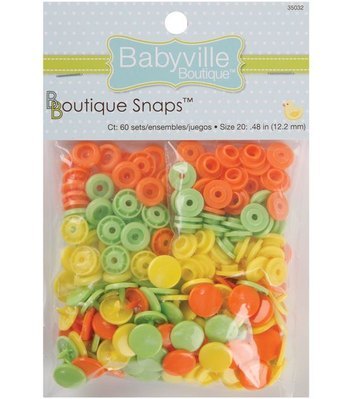 3. Kam Snaps
In the cloth diaper and baby world KAM snaps are definitely considered to be the gold standard. Tons of colors to choose from and they work great. I'm using KAM snaps with my babyville boutique pliers and haven't had any trouble. Seriously love them 🙂 They are also super cheap in comparison to the other options. I did a quick price check and you can get 10 sets for 75 cents. And that only gets cheaper as you buy in larger quantities. Only downside is you have to get them online so you might have to wait a few days longer to get your hands on some. Lots of online stores carry them so shop around. I just placed an order with I Like Big Buttons and shipping was super speedy. Good prices too and I found their color chart to be very accurate. I'm not an affiliate but I would recommend them if you don't know where to start.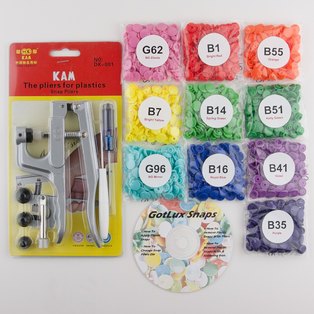 Hopefully that helps you decide which snaps to go with 🙂
Printing Your Pattern
First things first make sure you have your Bodysuit & Lap Tee Pattern printed off and ready to go 🙂 All patterns should be printed at 100% and you should always check your 1″ scale box to make sure it is printed properly. You'll also notice a cutting chart on there for your binding pieces and the optional cuffs for the long sleeve option. 
Choosing Your Options
Next you'll want to choose your options. The pattern includes short and long sleeves in either a bodysuit or a lap tee. A lap tee is named for the "overlapping" shoulders and is basically the tee version of a bodysuit. I've had a few people ask about that 🙂

Cutting Your Pieces:
If you are doing one of the included options then cut away! If you want to do one of the variations you'll want to wait until the scheduled day to cut into your fabric as we'll be making some tweaks 🙂
 I have more to share with you throughout the week but here's a couple basic bodysuits I made for our new arrival (1 for if it's a girl and 1 for it's a boy) to give you a little inspiration

Make sure you stop in tomorrow for the Ringer Tee variation!