Welcome to Day 3 of the Sew Along!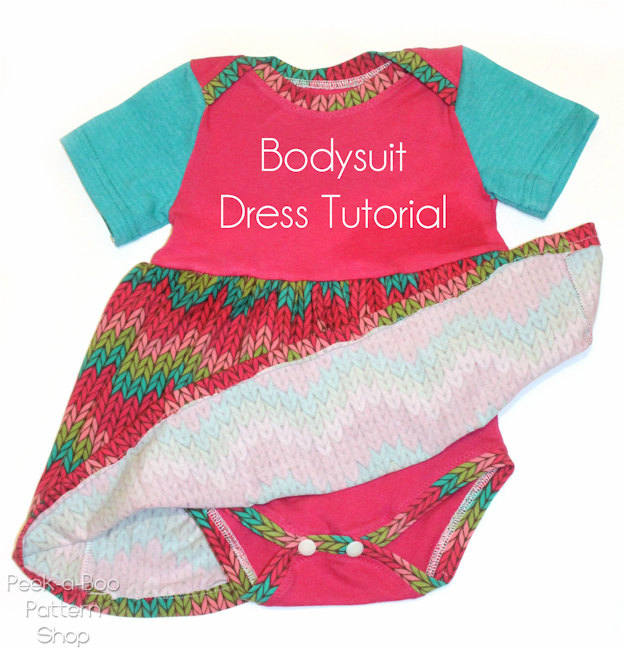 Just now joining us? Make sure you get caught-up on all the fun!
Day 1: How to Participate, Schedule, Choosing Your Supplies, etc.
Day 2: Ringer Tee Neckline Variation
Today we're going over the bodysuit dress variation which just might be my favorite 🙂 All the comfort and coverage of a bodysuit but with a fun feminine touch. I made one for my darling niece who turns 1 next month. I made an 18 months to last through the summer so she still has a bit of growing room

Love those snaps hiding under there! No more digging around to find matching bloomers 🙂 If you want to make this for a toddler you can definitely skip the bottom portion and just do a lap tee dress which is even easier.

If you don't have the Bodysuit & Lap Tee Pattern yet you'll want to go pick up a copy and then come back for the tutorial 🙂
1. Decide where you want the skirt portion to start (mine is a couple inches below the armpit) and cut your pattern in half. Cut out your pieces adding a 1/2″ seam allowance along the bottom edge of your bodice and top edge of the bottom piece. This will give you room to sew on the skirt without losing any length. If you are doing the lap tee version you won't need the bottom portion of the pattern.
2. Next it's time to cut the skirt piece. Decide on your finished dress length. Measure the bodice from the dot on the pattern piece (where the shoulder will be) to 1/2″ above the bottom edge. Subtract that from your dress length and then add 1″ for the seam allowance and hem. For my 18 mos. dress I used a piece 12″ long to make an 18″ dress. The width depends on how full you'd like the dress to be. I went with 2x the bodice width.
3. Sew up the top and bottom of the bodysuit by following your pattern instructions

4. Sew up the side seams of the skirt and hem. Gather the top edge to match the bodice width and then slide it over the bottom portion of the bodysuit.
5. With right sides together sew the skirt/bottom to the bodysuit bodice. Make sure you don't stretch out the bodysuit as you sew or you will end up with a wavy seam. Mine stretched just a tiny bit but not enough to bother with it
And that's it! Now go make a dozen more for all the little girls in your life 🙂
Happy Sewing!
Come back tomorrow for the romper mash-up!