To ring in the New Year I'm answering some of your questions about me and about Peek-a-Boo Pattern Shop. I feel like I know many of you so well just through Facebook and hopefully this will help all of you to get to know me a bit better as well. For starters go ahead and check out the About section of the blog for some general info:
And now onto your questions! I will try to answer everything but I have grouped similar questions together so you might not see your exact question in here. There a lot of questions so feel free to skim and read up about what interestes you 🙂
What's your favorite treat?
I love ice cream but during the winter when I'm always cold I love hot chocolate with cookies
What kind of music do you listen to while you work?
Most of the time I don't listen to anything since I'm busy with the kids but if they're ever gone for the day I love Coldplay, U2 and Jack Johnson
What do you like to do on your downtime?
Sleep 🙂 And when I have some extra time I love to read and just relax watching tv with my husband. When I'm not busy growing a baby I love to run and snow ski.
How do you manage your time?
Running the pattern shop is a full time job and although I don't keep track I'm sure I work fairly close to 40 hours a week. Some weeks I work more and others I work only an hour or so each day. My sewing studio/office is on the same floor as the kitchen and toy room so I can work while the kids play. And yes I am interrupted every 30 seconds but I'm ok with that and just work in bits and spurts. Most days we go do something for a bit in the morning (library, grocery store, fabric store, post office, park, etc.). It doesn't happen everyday but the kids are always better behaved once they've had a little break from the house. I can generally get all my emails answered in the morning and some sewing time. After lunch Will naps and Anne goes to preschool for 2 hours 3 times a week. On non-school days I let her watch a movie so most days I can get at least an hour and a half of good work time in during the afternoon. Then we do the chaos of dinner and bed and by 8 the kids are normally down for the night and I work until 11. Our family room is right next to my office so I listen to tv while my husband watches and we chat while I work. I always save my hand sewing and cutting to do at night when I can bring it into the family room and work while we spend some time together.
Being home with my kids and being there for my kids is super important and I don't want them to grow up thinking all I ever did was work. If there is something fun to do I take them and I never turn down an invitation to do something because of work. That being said I think children should learn to play on their own and don't feel bad when I only play one game of Candy Land instead of 5 because I have things to get done. We're lucky enough to have Daddy come every night in time for dinner which is super helpful. I cook 4 times/week, we eat out or get take-out 1 time/week and he cooks the other 2 meals. We tidy up every night and I keep the house cleanish but it certainly wouldn't pass a white glove inspection. I can handle a mess for a couple days but I really don't work well unless things are relatively sane in our house so I hit my breaking point a couple times and spend a couple hours getting caught up with any neglected house work.
Really what I comes down to is I love my job so I fit it in. I have always liked to be busy and enjoy working. I love my children but as all mothers know you need some sort of outlet to keep your sanity and for me it's my job. I love designing and sewing and having an online community to connect and chat with that shares similar interests is very valuable to me. Being a wife and a mother is the most important thing to me and always will be but having an additional purpose to my life aside from changing diapers and wiping noses definitely makes me happier and having a happy mom is a great gift to give to your children. I take sundays off no matter what and that gives me the perfect chance to rest, be with my family, attend church and re-charge for the week ahead.
Phew…a bit of a novel there but lots of people asked so I wanted to do my best so answer 🙂 Onto the next question…
What was the first thing you ever sewed?
I have always loved to sew and spent many hours hand sewing little outfits for my Calico Critter squirrel family. I still have them at my parent's house so I'll have to dig them out for a photo sometime. One year when I was maybe 8 or 9 I made this dress for my mom's doll with a little embroidered sun on the front. I felt bad that her fancy doll only came with one dress 🙂
The first thing I ever sewed for Anne was this little strip-work dress for the 4th of July. I used a tutorial I found online and I remember just barely being able to get it on her chubby little body 🙂 I quickly became addicted to sewing for her and starting blogging just a couple months after this.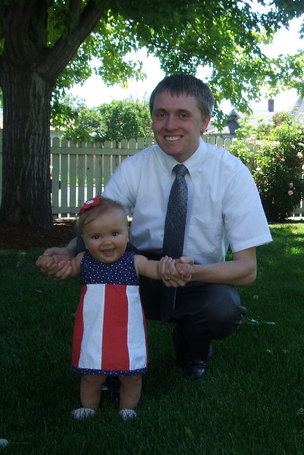 How did you learn to sew? Do you have a mentor? Do you have any professional training?
My mom knows how to sew and made us some outfits when were little and got her sewing machine out a few times a year for mending and household sewing like curtains. She taught me the basics of using a sewing machine but I didn't spend much time using a sewing machine during my childhood. I did sew a lot by hand though (see previous question). My grandma used to let us pick out our favorite outfits from the American Girl doll magazine and they she would sew up her interpretation for us. She made some amazing outfits and I can't wait to pass them down to Anne in a couple years.  In my final year at BYU I took Sewing 101 and I absolutely hated it. If I didn't have my sister-in-law in there with me to guide along I probably would've had to drop it. It was a good background but I was pretty frustrated with the paper patterns and that we would spend 3 weeks sewing something and then the end result was rather poor. Good techniques are important to learn but I definitely prefer to get the job done a bit more quickly. When Anne was a baby I discovered the world of blogs and sewing tutorials and I was instantly hooked. Seeing a photo for each step along the way made such a huge difference for me and my knowledge of sewing. A majority of what I've learned about sewing has come from the generous bloggers who provide such wonderful tutorials. The rest I've learned by trial and error. I spent a lot of time with my seam ripper as I learned 🙂
Are most of the clothes your kids wear made by you or do they wear store-bought as well? And do your kids have a favorite outfit you've made for them?
I love to sew for my kids! They also get a ton of amazing hand-me-downs though so I don't sew for them super often since the closet is already packed with things we received for free. I do always sew outfits for Christmas, Easter and the 4th of July and they love it when I make them pjs so I sew a lot of those. Anne is a dress fanatic so I make most of her dresses as well. She definitely has a few more than necessary 🙂 Will could care less either way but Anne's favorite outfit hands down was my trial run of the Jasmine which she calls her "fishy dress". She's already worn it for her 2 summers and I think we'll get it out again this coming summer as a shirt. Her other favorite is the "ruffly dress" which she managed to squeeze into for 3 years and she's getting a new Vivienne for her birthday next week before she busts a seam on the original.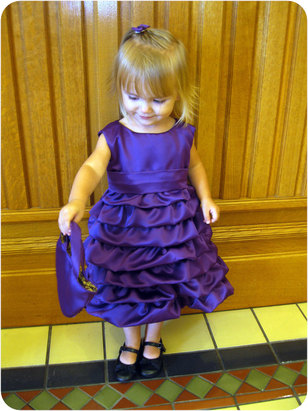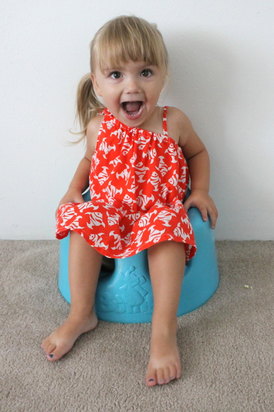 My favorite thing I've sewn for them was the Anchors Aweigh Dress and Romper
What pattern are you the most proud of and why? Which has been the most successful? What do you enjoy sewing the most?
I am probably the most proud of the Skinny Jeans. They took a lot of work and in my mind homemade jeans have a pretty bad reputation. Now tons of kids are wearing mommy-made jeans they can be proud of 🙂 I haven't done my year end look at stats yet but if I had to guess I think the Hangout Hoodie has been my best seller. I love sewing anything from knits because they're quick 🙂 I've made loads of pjs for my kids and it's very satisfying to sit down and have a finished pair in under an hour. 
Do you use patterns from other designers? Do you sew for yourself?
I've made a handful of items from other designers back before I started my own pattern shop but nothing recently at least for kids. For myself I've sewn up a Go-To Patterns Anywhere Dress, a Seafarer Top and a Rose T-Shirt. I don't sew for myself very often mostly because I hate printing/taping so many pages to get the pattern ready. I'm also a bit hard to fit so I stay away from more complicated patters as I don't want to bother making a muslin first. 
What does your sewing space look like?
I used to do all of my sewing on a desk in our family/play room but when we moved into our own home this last summer I got my own office which as been amazing! I'll be doing a full tour in a few weeks but here's a sneak peek:
How do you draft patterns?
I won't go into too many details here but for those who are curious I draft all of my patterns in photoshop. Most designers use illustrator but I started with photoshop and already own it and love it so I've stuck with that. I've developed all of my own size charts, slopers, grading criteria, etc. on my own with a lot of hard work. While I have a good starting point to work from now each pattern requires lots of individual customization depending on the style and the fit I'm looking for. Being a pattern designer requires a lot of math and I am a bit of a nerd so it's worked out well 🙂
What is the design process from start to finish?
I follow the same process with every pattern I make. First I dream up the idea which can come from something I see (this can be in a shop window, on a child at the park, on an adult, etc.) or something I just come up with from scratch. After I have it sketched out I draft a trial pattern in one size and start sewing. Generally my vision changes along the way and I end up with the prototype for that pattern. If I love it and the fit is good I send it off to be photographed. Otherwise it's back to the drawing board for another try. As I'm sewing I take photos of each step along the way. Then comes the pattern drafting and grading (definitely the lengthiest part) and writing the tutorial. Next the pattern goes out to testers. If the results are good I make some minor revisions and it's ready to market. If not it goes back for an additional round of testing. Typical I can get things done with 1 round of testers but some patterns have taken 2 or even 3 rounds of testing to perfect. 
How do you choose testers and what makes a good/bad tester?
As my business has grown choosing testers has become increasingly difficult. I typically have 100-150 volunteers and I only take 1 tester/size. So if you don't get chosen no hard feelings. I love using tester photos in my listings so I do give photographers priority but being a good photographer is not a requirement although it does increase your odds of getting picked. I generally choose a couple people I know and test each around along with lots of new testers. Testing calls are always done in the Facebook Group by filling out the tester form. Once I close the testing call I start the results by size and choose from there. Sometimes only 1 person signs up for a size so they get the spot automatically (this mostly happens on the extreme ends of the size range) and other times I have 30 people for one size and I just scan through and make a choice. It's become impossible for me to remember everyone so it helps me a lot when testers include a link to their flickr pool, blog, etc. so I can see their work (both sewing and photography). My favorite testers communicate well, ask questions when they are stuck instead of assuming and making things up along the way, turn in thorough feedback on time or early and provide high quality photos that I can use in my listing. I especially appreciate testers who really do a thorough job proofreading and thinking through each step to see if there might be a better way for me to explain it. A bad tester fails to submit feedback on time, provides insufficient/unclear feedback, and/or submits photos that are blurry/dark and impossible for me to assess the fit of the item. Emergencies happen and I understand but if someone does not complete a test and fails to communicate why I generally will not allow them to test again since I have so many willing volunteers. 
How did you get your name out there? How did you start/grow your business?
I started out with my blog and those first few months were difficult and exciting. It's a little embarrassing to be posted when you don't know if anyone will read it but after a lot of hard work doing guest posts and participating in several linky parties each day my blog began to grow. Getting exposure in the world of craft blogs is hard and I never would've made it without the generous bloggers who had already grown a following and let me share a bit of the spotlight by featuring some of my projects and allowing me to guest post. After a few months of blogging I started offering patterns for sale on etsy for baby booties. Eventually I worked my way up to clothing and started offering my first clothing patterns in the fall of 2011.  I really got serious about pattern designing and expanding my business around the time Will was born in the spring of 2012. There is no secret to successful marketing in my opinion (and I have a business degree with a marketing emphasis). It all comes down to hard work and a touch of good luck.
Any plans to expand into tween/womens's patterns?
Not currently. The demand is lower and the time required to create the patterns is at least double so it's not one of my goals for this year. Personally I don't like use adult PDF patterns anyway because it's just too much printing/taping. 
Do you do any other crafts?
Yes! Although not very well 🙂 If you hit the Tutorial page here in the menu you can check out almost everything I've ever made craft wise 🙂
What's the most challenging thing about designing/owning your own company?
Definitely time management. There is a lot get done and I do not hire any help. It all comes down to priorities and a lot of organization but it isn't always easy. Being my own boss is wonderful but it would sometimes be nice to have someone tell me it's quitting time, shut off the lights and send me home for the night. The toughest part of the design process for me is grading patterns for each size. 
Hope you all feel like you know me now 🙂