With a recently potty trained toddler and lots of road trips this summer I decided to take some precautions…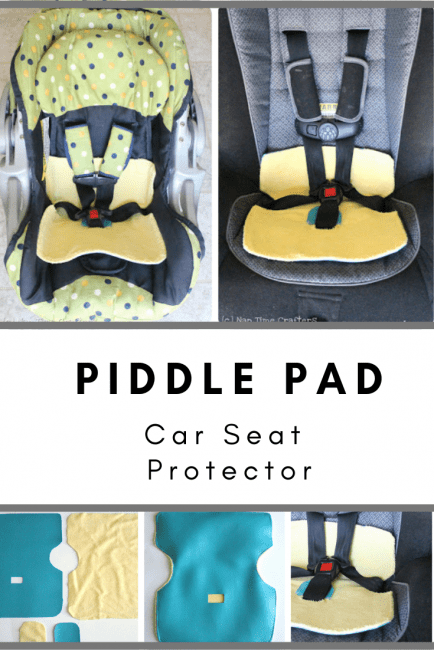 Because I really can't think of much worse than having to sit in a soggy car seat for 4 hours- ick…
But… even if you aren't potty training right now you could also whip one of these up for trips home from the pool- sitting on a towel is a little tricky in a car seat. And… they also fit in infant car seats which is great if your little one has infamous diaper blow outs
This whole project takes less than an hour- well worth my peace of mind. I put it through a test run and it held about 1/2 cup before it started spilling over. If you want a little more protection I have some tips that too
Let's get started!
Materials:
1/3 yard terry cloth- the thicker the better
1/3 yard vinyl- I used marine vinyl left over from my storage bin project
1. Cut your vinyl to fit your car seat- remember you'll have a seam allowance so cut it a bit bigger- I should have made my cut outs by the straps a bit smaller
2. Cut a 2nd layer from your terry cloth- if you want extra protection cut 2 layers- don't make a cut-out for the center buckle just yet. I also cut 2 small pieces as some extra protection by the buckle
3. With right sides together sew your vinyl and terry cloth together leaving a gap along the bottom edge
4. Turn right side out and topstitch around all the edges. Apply some scotch tape to the bottom of your presser foot to help it slide along the vinyl
5. Cut a hole in your terry cloth for the buckle and snip towards each corner of the opening. Fold back the flaps and stitch down. For extra reinforcement and to prevent fraying I went around the whole opening with a zig-zag stitch
6. With right sides together sew your flap pieces together around the curved edge. Turn right side out and topstitch around all edges
7. Sew in place with the terry cloth sides together. This will flip up between your tot's legs to protect the buckle
Happy Travels!
The following two tabs change content below.
Amy is the founder and owner of Peek-a-Boo Pattern shop. She is a wife and mother to 3 children. Amy loves to sew, read and spend time outdoors.