How are those audition projects coming along??? Remember it's up to our judges who makes the cut, so I hope you're excited to meet all of them:)
Drumroll please for our second judge….
Marni from Sassy Sites!
Maybe you remember her from Season 2???
I'm still drooling over some of her amazing projects!
This door photo collage is definitely my fav!
Marni is always hosting fantastic parties and featuring amazing blogs and tutorials! Definitely add
Sassy Sites
to your daily reads:)
enough jabber from me- I'll let Marni introduce herself:
Hey Nap time readers! I am so happy to be a judge this season on American Crafters! This is so exciting! It seems like it was years ago that I was one of the contestants here at American Crafters… and made it to the last round… and then was beat out by my good friends from Lolly Jane… who remind me every time I see them that they beat me… UGH! Soooo close! 😉 A BIG THANKS to Amy for having me! I'm Marni  from Sassy Sites! Here's a little something about "The Girl Behind the Blog"
–I am the youngest of 6 children. I grew up
the most spoiled, and I still am.
–If I would have been a boy, my mom
would have had the "Brady Bunch" family.
–My mom and sisters are some of my
most VERY favorite people in the world!
–My husband is a U.P.S. driver.
(everyone LOVES the UPS man!)
–My 10 year old is quite the "lady's man"
–His dream is to be a professional dirt bike racer
 or an NFL player when he grows up!
–I am the mom to a sweet little girl,
who passed away at birth.
–She reminds me everyday to
 try harder and be better!
–My 6 year old is my "baby" and is enjoying 
his first year in kindergarten.
–His dream is to be just like his big brother!
(our Christmas card 2010)
–I wish I still played volleyball
as good as I did in high school.
–I am deathly afraid of cockroaches!
–I hate seeing old people lonely.
–I am scared of hurting other people's feelings.
–I am addicted to blogging.
–I am a germ-a-phob!
–I LOVE to clean and organize
–I LOVE to talk …alot!
–But not so much on the phone
–I hate cooking …alot!
–People say I'm HAPPY too much… 🙂
–People say I'm "too nice" –The last two, make me VERY happy!!!
So, about
Sassy Sites!
 I run a blog called "Sassy Sites" because…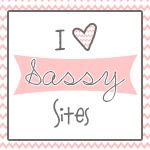 I was blog hopping one day and LOVED lots of ideas that everyone had on their blogs. That gave me an idea…to feature YOUR Sassy Sites! I am a little obsessed with organization… and I thought what better than to organize the blog world! So, that's exactly what I did. I choose a topic for the day and find the cutest stuff out there to show off. Some days it's cupcakes, somedays it's curtains. Here's a run down of how it goes over at Sassy Sites!
Monday- Made by ME!
Tuesday- Trash to Treasure link up
Wednesday- your sassy sites
Thursday- your sassy sites
Friday- Featuring YOU link up
Saturday- Shout Outs!
Sunday- Sassy Spotlight! 
My favorite thing about crafts is featuring other people! I love to see the projects come together and get to know the person behind the craft at the same time! It's been a fun experience! I look forward to many more crafts, hot glue guns burns, and making lots of new friends!
sassy.sites {@} hotmail {dot} com