With #2's arrival growing closer I'm starting a few baby crafts! One thing you can never ever have enough of is burp cloths so when flannel was on sale at JoAnns I just couldn't resist. This baby burp cloth tutorial will give you all the tips to make a stack of your own!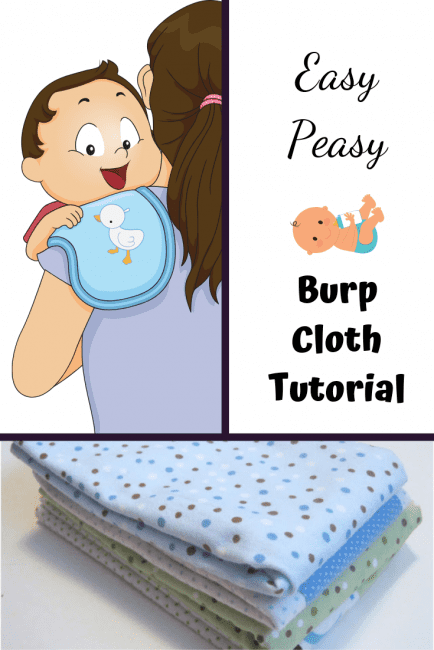 I think the hormones might be getting to me because something about a freshly folded pile of burp clothes makes me really happy. And since we don't have a washing machine I know I'll get a lot of use out of these!
And they have a nice extra panel down the middle to soak up the big messes. Maybe if I make a few more to add to my current stash I can spare little man from being carried around with pink and purple burp cloths (ah…the joys of having an older sister)
I used 1/3 yard flannel in 4 different prints. And if you get a bit extra while you're at it you'll have enough leftover to make a cute and simple rag quilt- tutorial coming Wednesday:)
A standard burp cloth is 12×18″ so I cut 2 rectangles for each burp cloth and then a 5×12″ (I used leftovers from my stash) panel for the middle.
1. Iron the edges of the panel in towards the wrong side
2. Topstitch to 1 side of the burp cloth along each long edge
3. With right sides together sew 2 burp cloth pieces together going around all the edges. Leave a 3″ gap on one side.
4. Turn right side out, tuck in the raw edges and topstitch around all edges
So quick and if you catch a sale you can make these for a lot less than the store-bought ones. I spent about $2 on all 4 of these. I hope this baby burp cloth tutorial gave you some inspiration for your own baby. Time to put those fabric scraps to work 🙂
The following two tabs change content below.
Amy is the founder and owner of Peek-a-Boo Pattern shop. She is a wife and mother to 3 children. Amy loves to sew, read and spend time outdoors.