First off- I'm so happy to welcome
Baby Blvd.
to my sponsor team!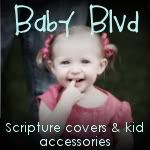 I was even happier when I received this in the mail…
A brand new scripture cover!
That fits so perfectly 
And makes me very happy:)
Not only does
Baby Blvd.
have adorable scripture covers- they also have
And darling baby clothes and accessories!
So make sure you take a stroll down
Baby Blvd
!
On a completely unrelated note my blog button broke:(
No worries though- just head on over to the sidebar and grab a new one
It's good as new!

The following two tabs change content below.
Amy is the founder and owner of Peek-a-Boo Pattern shop. She is a wife and mother to 3 children. Amy loves to sew, read and spend time outdoors.