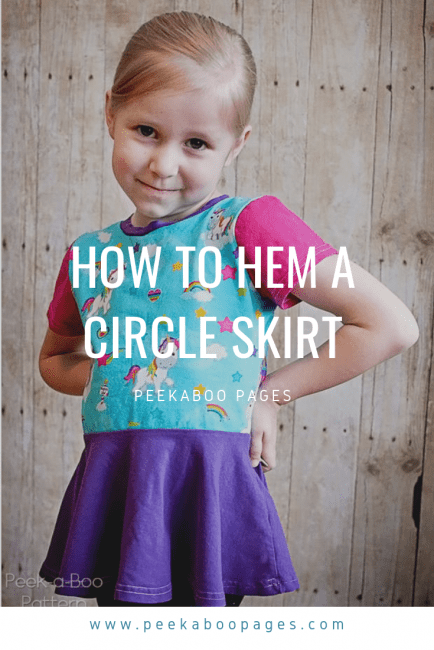 Hello! Welcome back to Peekaboo Pages! Today I'm bringing you a tutorial on hemming circle skirts in both woven and knit. First up—knit skirts! For my example, I'm using the Madeline Peplum Top.
The tools and notions I use when hemming a knit circle skirt are Best Press, Wash Away Wonder Tape, and a Dritz Ezy-Hem Gauge.
Hemming a Knit Circle Skirt
When hemming a knit circle skirt, first serge around the bottom with the differential turned up just slightly. I find it helps my hem lay flatter. Next, using the curved edge of my hem gauge, press the hem up while also using Best Press spray starch.
After pressing, apply Wonder Tape to the edge of the hem. Next, peel off the paper backing and finger press the hem back into place.
Then stitch around the hem using your favorite stretch stitch. I chose to use the lightning bolt stitch on my machine this time.
After sewing, press the hem again.
Hemming Woven Circle Skirts
Now onto woven skirts! For my example, I'm using the Wildflower with a twirl skirt. I have found the easiest way to hem a woven circle skirt is with single fold bias tape. For this example, I'm using store bought bias tape, but homemade bias tape can be used as well.
First, attach the bias tape to the right side of the skirt using a 1/4″ seam allowance. Leave the first two inches of bias tape unattached.
When you reach the end of the skirt, fold under the final end of the bias tape and overlap it with the beginning to cover the raw ends.
After the bias tape is stitched all the way around the right side of the skirt, iron the bias tape to the wrong side of the skirt.
Finally, top stitch making sure to catch the edge of the bias tape. I top stitched with  a 3/8″ seam allowance.
Using the bias tape method will leave a slightly longer skirt that the pattern is designed for because the entire hem allowance isn't being folded up. If you prefer a shorter skirt, trim the skirt before attaching the bias tape. The bias tape also adds a fun pop of color along the inside of the skirt.
I hope this tutorial helps you to hem circle skirts more professionally. Make sure to hop over to the Peek A Boo Pattern Shop Facebook group to share your creations!